Street Vibes Vol 33 - Dancehall, Bashment, Urban Reggae Up To The Time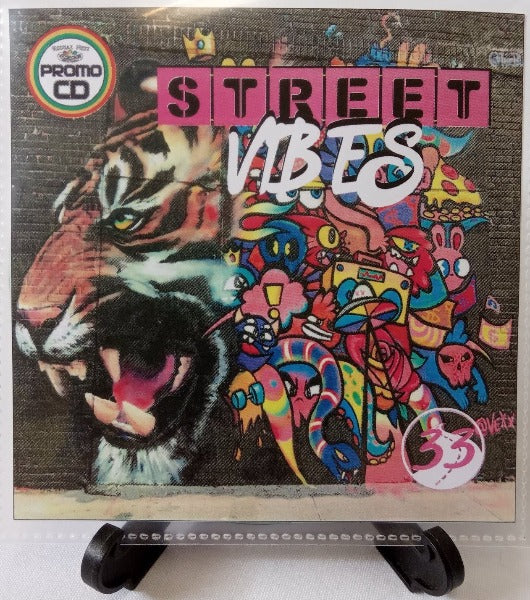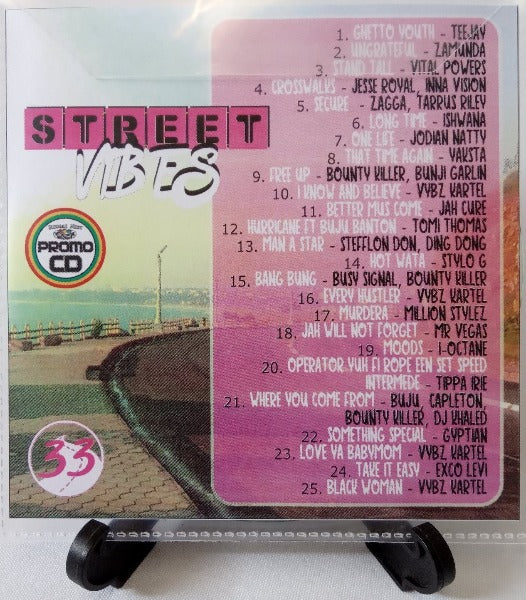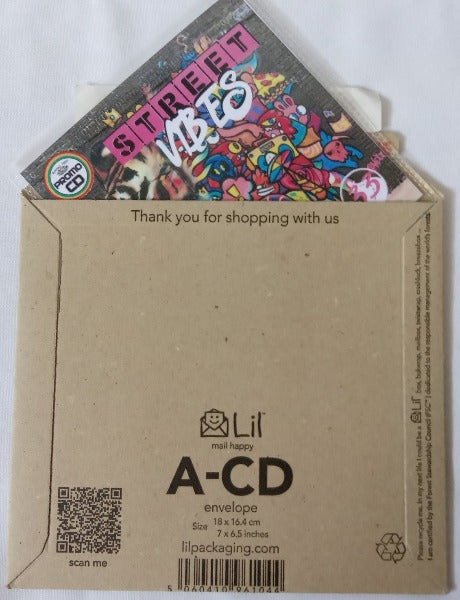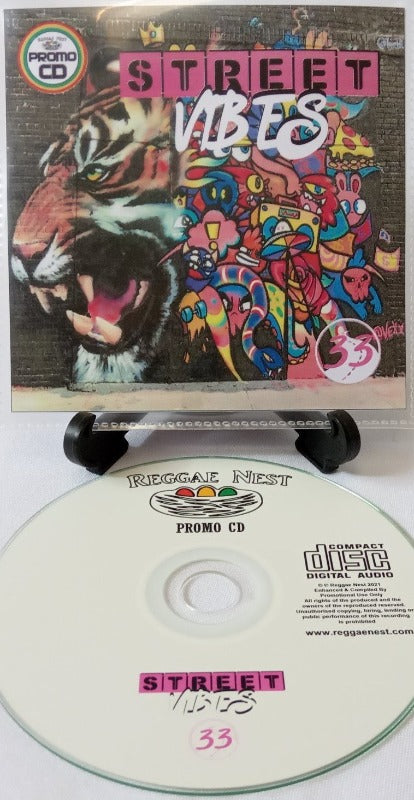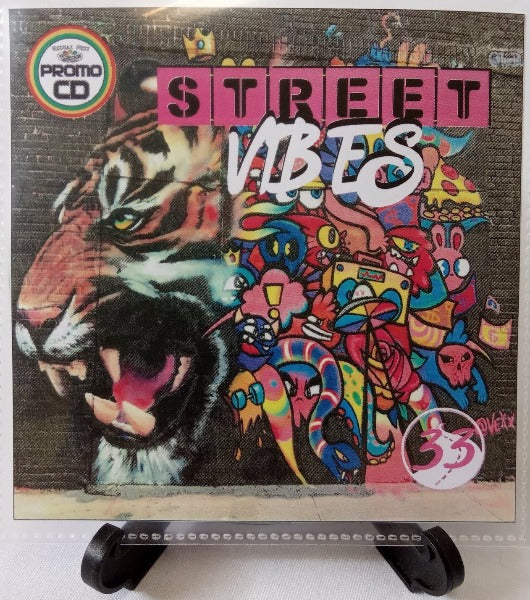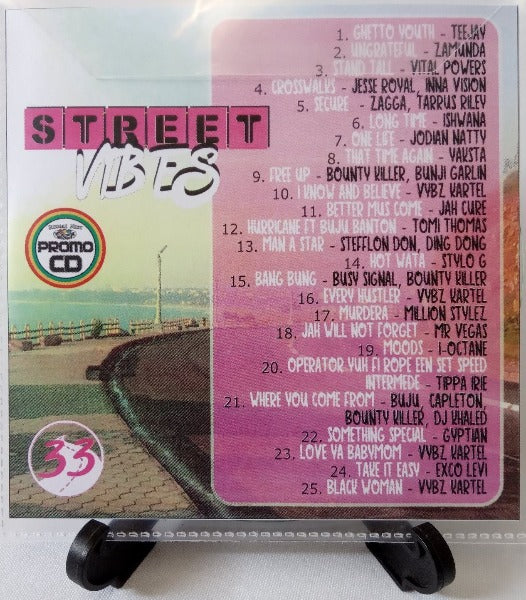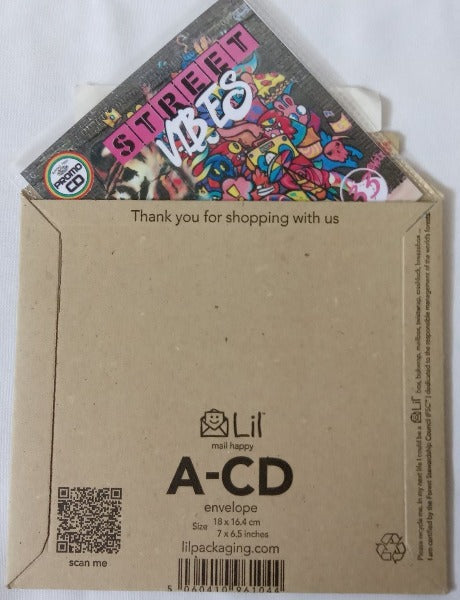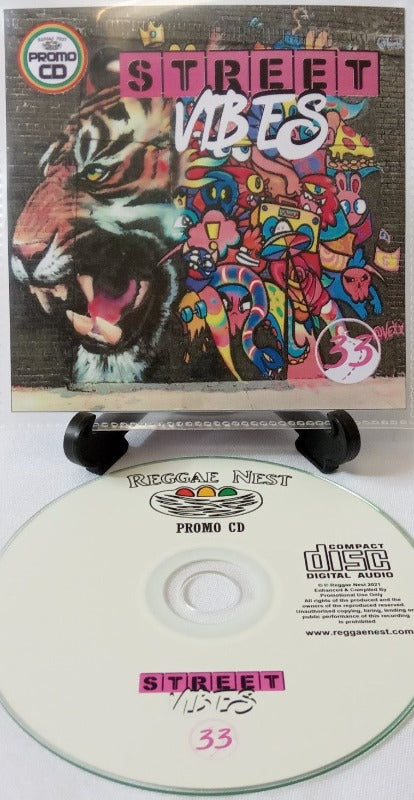 Street Vibes Vol 33 - Dancehall, Bashment, Urban Reggae Up To The Time
Product description
Street Vibes Vol 33

Goods: A brand new promo CD
Music: Volume 33 of the 'Street Vibes' Series
Released: JUL 2021
Number of Tracks: 25
CD Description: The latest in this monster collection of modern Urban Dancehall. Please be aware that there may be some explicit language used in some of the tracks, although the discs steer away from the real hardcore 'slackness'.  The lyrics are fresh, crisp and enjoyable to listen to.
Age of Music: 2021
Genres: Dancehall, Bashment, Urban Rggae, Crossovers
Suitable for: New Dancehall/Reggae fans & Collectors, DJ's
Audio Quality: Audio from FLAC/WAV files
Duration: 79 mins
Product Description: CDs are fully printed and brand new in plastic sleeves, wrapped in packs and are sealed with 'Promo CD' stickers. They are not available anywhere else, they are promotional cds, for promotional use.
Tracklist for the disc is as follows:
Street Vibes Vol 33 - Total Playback = 79 min 20 sec
1. Ghetto Youth - Teejay (3:34)
2. Ungrateful - Zamunda (2:55)
3. Stand Tall - Vital Powers (3:37)
4. Crosswalks - Jesse Royal, Inna Vision (3:30)
5. Secure - Zagga, Tarrus Riley (2:28)
6. Long Time - Ishwana (3:09)
7. One Life - Jodian Natty (3:09)
8. That Time Again - Yaksta (3:43)
9. Free Up - Bounty Killer, Bunji Garlin 3:28)
10. I Know And Believe - Vybz Kartel (2:46)
11. Better Mus Come - Jah Cure (3:10)
12. Hurricane ft Buju Banton - Tomi Thomas (3:51)
13. Man A Star - Stefflon Don, Ding Dong (3:09)
14. Hot Wata - Stylo G (2:57)
15. Bang Bung - Busy Signal, Bounty Killer (3:34)
16. Every Hustler - Vybz Kartel (2:45)
17. Murdera - Million Stylez (3:32)
18. Jah Will Not Forget - Mr Vegas (2:32)
19. Moods - I-Octane (2:29)
20. Operator Yuh Fi Rope Een Set Speed Intermede - Tippa Irie (2:31)
21. Where You Come From - Buju, Capleton, Bounty Killer, DJ Khaled (3:39)
22. Love Ya Babymom - Vybz Kartel (3:53)23. Something Special - Gyptian (2:59)
24. Take It Easy - Exco Levi (2:53)
25. Black Woman - Vybz Kartel (2:50)

What is 'Street Vibes' Music?
Street Vibes is full of tracks that have been written and constructed to reflect modern influences, experiences and subjects. Some of these tracks may contain explicit lyrics. There are some tracks in this collection that feature combinations with other artists toasting in the track. The music often captures unique feelings, thoughts, moments and combined with the infectious dancehall beats that make a very pleasurable listen. Also, great to work out/exercise too!  Pumps real hard on big sound system speakers or pro car systems.
Postage:
UK (Inc Mainland Scotland & Northern Ireland) 1st Class Standard Royal Mail 48-hour Post. Worldwide using Royal Mail International. 
Packaging:
Orders of quantity 4 CDs or less will be packaged and posted in cardboard sealed CD envelopes. Orders of 5 or more CDs will be packaged and posted in bubblewrapped envelopes.  Larger orders 20+are sent as parcels.
Eco-Friendly Packaging
We care for the environment
Get more Savings
Create a free account & get the latest news
FREE UK Delivery
Tracking provided for all orders over £24