Deluxe Christmas - Sumptious selection of superior Classic & Rare Christmas Songs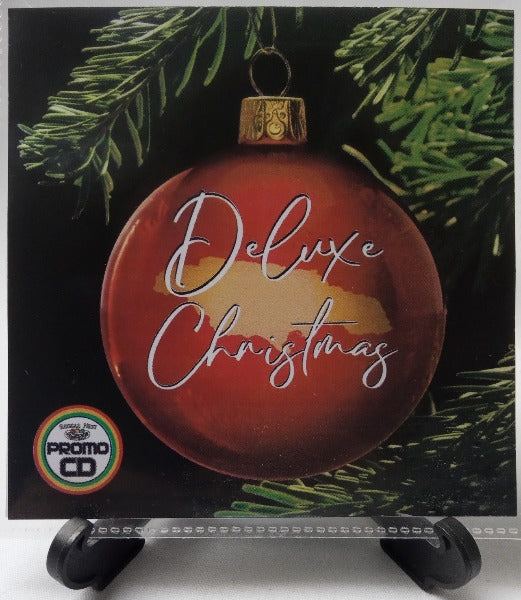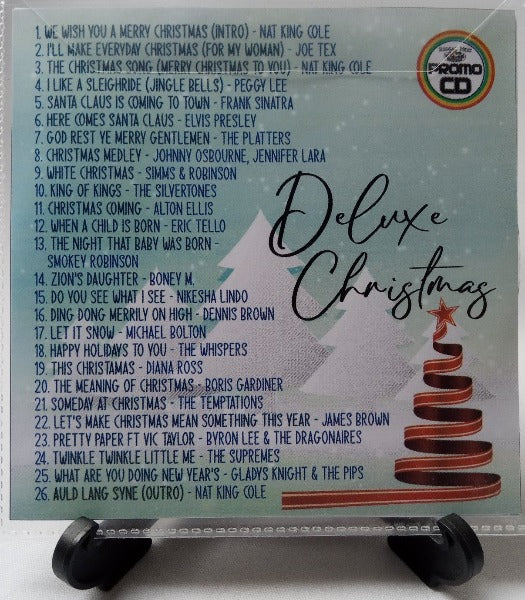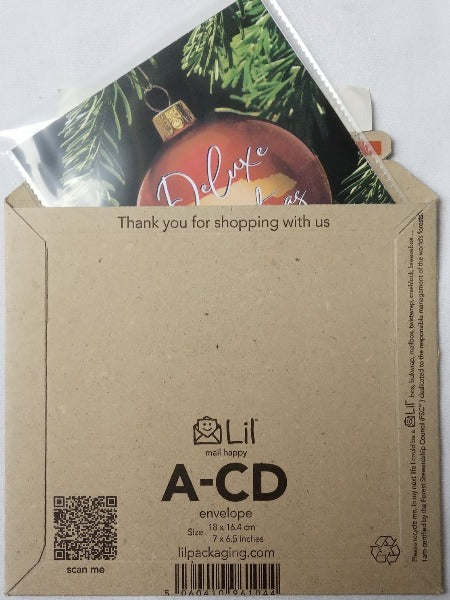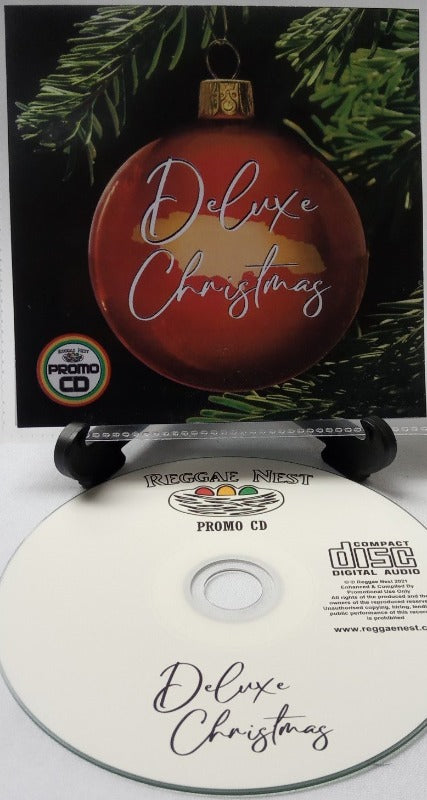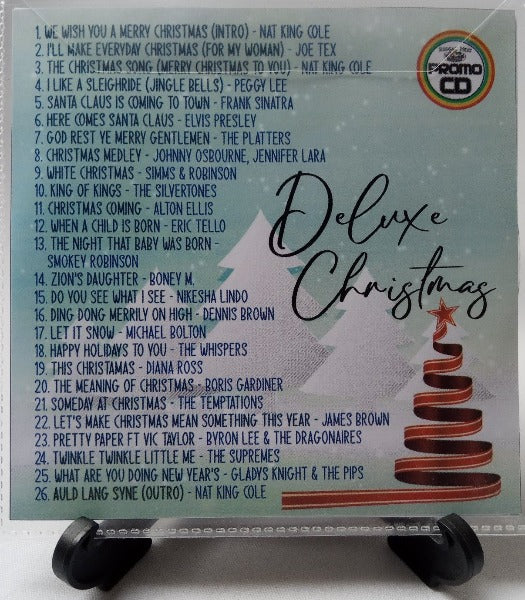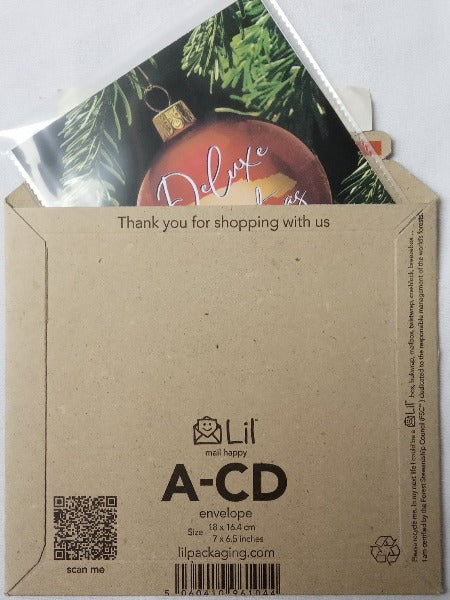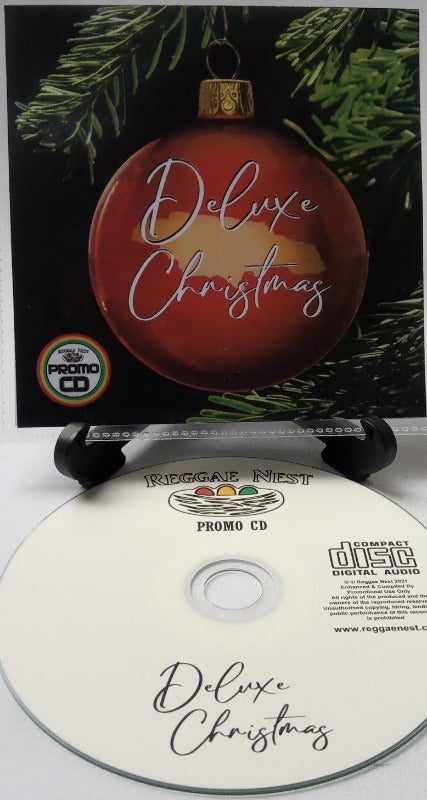 Deluxe Christmas - Sumptious selection of superior Classic & Rare Christmas Songs
Product description
Deluxe Christmas

Goods: A brand new promo CD
Music: Luxury Christmas themed songs 'Deluxe Christmas'
Released: DEC 2021
Number of Tracks: 26
CD Description: Here is a Christmas CD that you will want to know where you've put it this Christmas, cause you'll definitely be using it again.  Featuring some of the absolute musical legends like Nat King Cole & Frank Sinatra to lesser known but equally as festive Alton Ellis & Johnny Osbourne.  No matter where you are from or where you may be this Christmas, this CD has to get a spin!
Age of Music: 1948-2017 (Mainly 60's-80's)
Genres: Original Soul, Rhythm & Blues, Reggae, Doo-Wop 
Suitable for: All the Family
Audio Quality: Audio from FLAC/WAV files
Duration: 79 mins
Product Description: CDs are fully printed and brand new in plastic sleeves, wrapped in packs and are sealed with 'Promo CD' stickers. They are not available anywhere else, they are promotional cds, for promotional use.
Tracklists for the disc is as follows:
Deluxe Christmas - Total Playtime = 79 mins 15 secs
1. We Wish You A Merry Christmas (Intro) - Nat King Cole (0:41)
2. I'll Make Everyday Christmas (For My Woman) - Joe Tex (3:26)
3. The Christmas Song (Merry Christmas To You) - Nat King Cole (3:09)
4. I Like A Sleighride (Jingle Bells) - Peggy Lee (2:03)
5. Santa Claus Is Coming To Town - Frank Sinatra (2:32)
6. Here Comes Santa Claus - Elvis Presley (1:54)
7. God Rest Ye Merry Gentlemen - The Platters (2:55)
8. Christmas Medley - Johnny Osbourne, Jennifer Lara (3:26)
9. White Christmas - Simms & Robinson (3:06)
10. King Of Kings - The Silvertones (3:08)
11. Christmas Coming - Alton Ellis (2:19)
12. When A Child Is Born - Eric Tello (3:32)
13. The Night That Baby Was Born - Smokey Robinson (4:33)
14. Zion's Daughter - Boney M. (3:48)
15. Do You See What I See - Nikesha Lindo (3:09)
16. Ding Dong Merrily On High - Dennis Brown (3:38)
17. Let It Snow - Michael Bolton (3:27)
18. Happy Holidays To You - The Whispers (4:34)
19. This Christmas - Diana Ross (4:04) 
20. The Meaning Of Christmas - Boris Gardiner (2:32)
21. Someday At Christmas - The Temptations (3:23)
22. Let's Make Christmas Mean Something This Year - James Brown (2:51)
23. Pretty Paper ft Vic Taylor - Byron Lee & The Dragonaires (2:51)
24. Twinkle Twinkle Little Me - The Supremes (3:02)
25. What Are You Doing New Year's - Gladys Knight & the Pips (4:35)
26. Auld Lang Syne (Outro) - Nat King Cole (0:32)

What is 'Deluxe Christmas'? 
A people's choice CD featuring legends like Elvis, Peggy Lee, Diana Ross, Gladys Knight and other musical genius'. Christmas is a time for family, reminiscing and enjoying one another's company.  Turn off your telly, put this luxury CD on in the background and listen and watch the magic.  A Family disc to enjoy time and time again.

Deluxe Christmas
Made Christmas the whole family enjoyed listening
Eco-Friendly Packaging
We care for the environment
Get more Savings
Create a free account & get the latest news
FREE UK Delivery
Tracking provided for all orders over £24