Life - a reflective reggae selection. Ponder and reminisce with superb music by Various Artists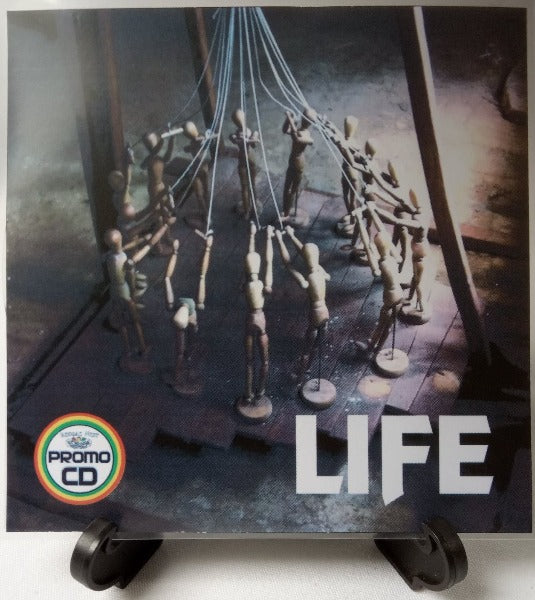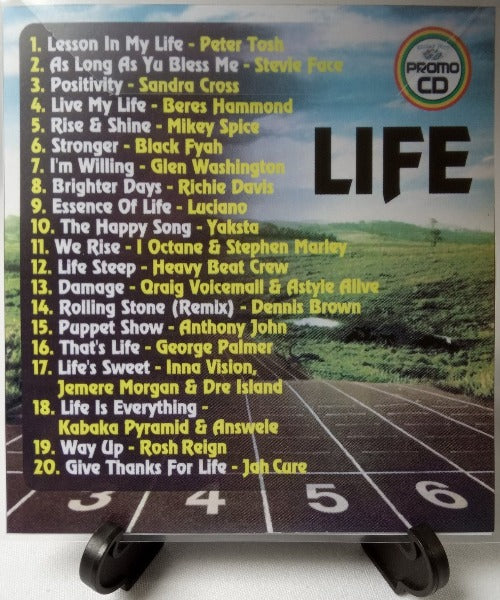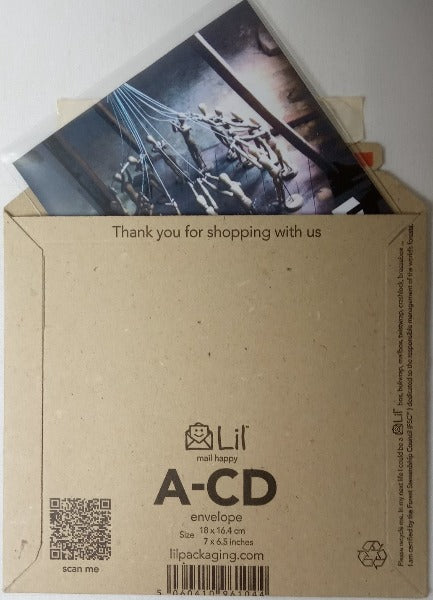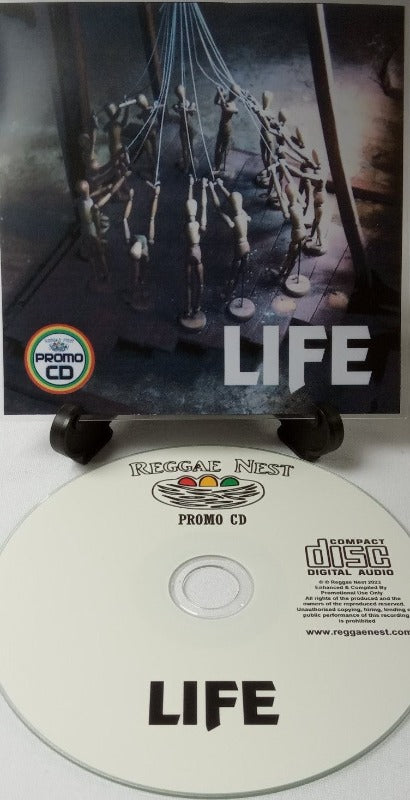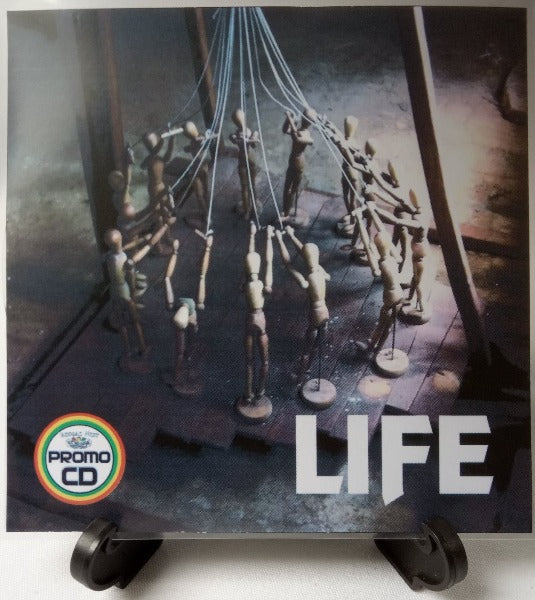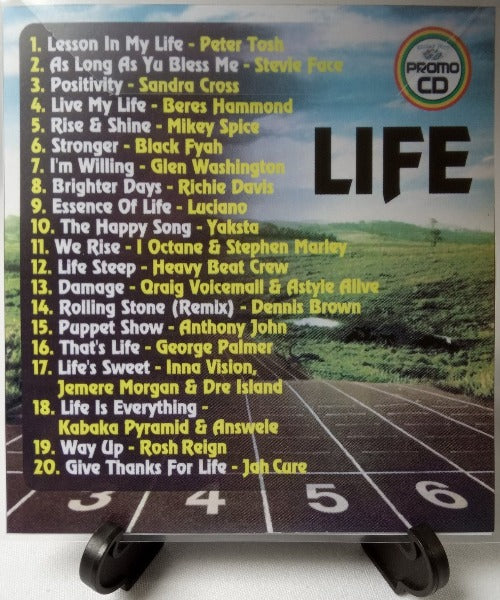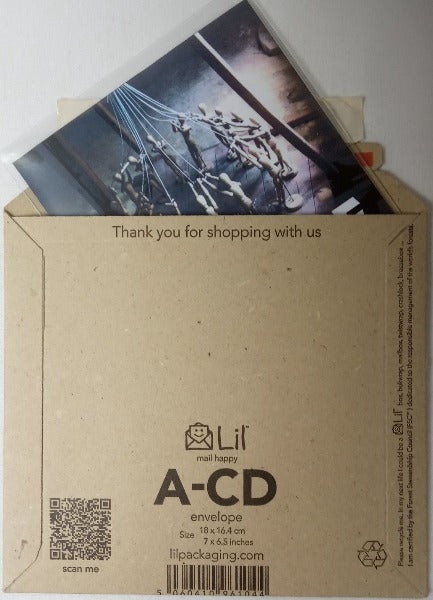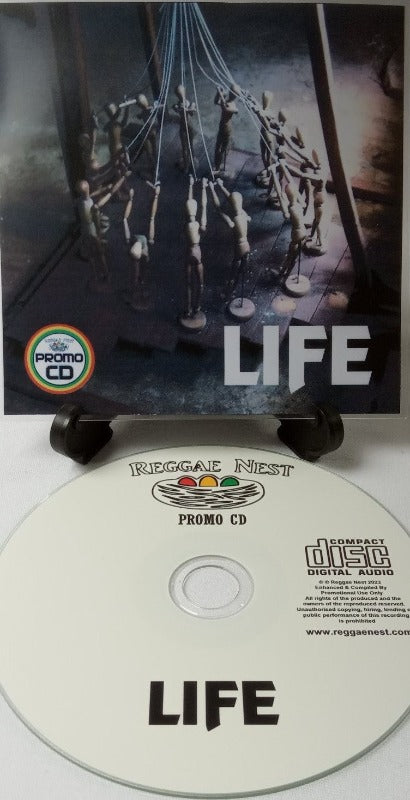 Life - a reflective reggae selection. Ponder and reminisce with superb music by Various Artists
Product description
LIFE

Goods: A brand new promo CD
Music: Reggae music with a reminiscing feel about Life
Released: FEB 2023
Number of Tracks: 20
CD Description: A cool, calm and collective selection of reggae vibes.  Sometimes we just want to put a CD on in the background that can never sound tired, one to enjoy more and more as its played.  Well here we go! Genuinely mellow & satisfying.
Age of Music: 1978-2023
Genres: One Drops, Conscious Reggae, Vocal
Suitable for: All Reggae Fans
Audio Quality: Audio from FLAC/WAV files
Duration: 79 mins
Product Description: CDs are fully printed and brand new in plastic sleeves, wrapped in packs and are sealed with 'Promo CD' stickers. They are not available anywhere else, they are promotional cds, for promotional use.
Tracklist for the disc is as follows:
LIFE – Total Playback = 78 mins 51 secs
1. Lesson In My Life - Peter Tosh (5:30)
2. As Lon As Yu Bless Me - Stevie Face (4:18)
3. Positivity - Sandra Cross (3:16)
4. Live My Life - Beres Hammond (3:51)
5. Rise & Shine - Mikey Spice (4:28)
6. Stronger - Black Fyah (3:50)
7. I'm Willing - Glen Washington (3:56)
8. Brighter Days - Richie Davis (3:39)
9. Essence Of Life - Luciano (5:22)
10. The Happy Song - Yaksta (3:07)
11. We Rise - I Octane & Stephen Marley (3:43)
12. Life Steep - Heavy Beat Crew (3:57)
13. Damage - Qraig Voicemail & Astyle Alive (3:24)
14. Rolling Stone (Remix) - Dennis Brown (4:04)
15. Puppet Show - Anthony John (4:10)
16. That's Life - George Palmer (4:05)
17. Life's Sweet - Inna Vision, Jemere Morgan & Dre Island (3:59)
18. Life Is Everything - Kabaka Pyramid & Answele (3:32)
19. Way Up - Rosh Reign (2:51)
20. Give Thanks For Life - Jah Cure (3:46)

What is 'LIFE'?
This reflective reggae selection provides an uplifting soundtrack to help you ponder and reminisce. Featuring superb music by Various Artists, Life - a reflective reggae selection will set the right tone for your moments of gratitude, contentment, and joy. Enjoy the recurrence of such phrases as 'Give Thanks' and 'Life is Sweet' - perfect for an evening of personal reflection.

Postage: UK (Inc Mainland Scotland & Northern Ireland) 1st Class Standard Royal Mail 48-hour Post. Worldwide using Royal Mail International. 

Packaging: Orders of quantity 4 CDs or less will be packaged and posted in cardboard sealed CD envelopes. Orders of 5 or more CDs will be packaged and posted in bubblewrapped envelopes. Larger orders 20+are sent as parcels.
Eco-Friendly Packaging
We care for the environment
Get more Savings
Create a free account & get the latest news
FREE UK Delivery
Tracking provided for all orders over £24