Modern Ska Moods 3 - Various Artists who says SKA is dead? 22 Tracks say not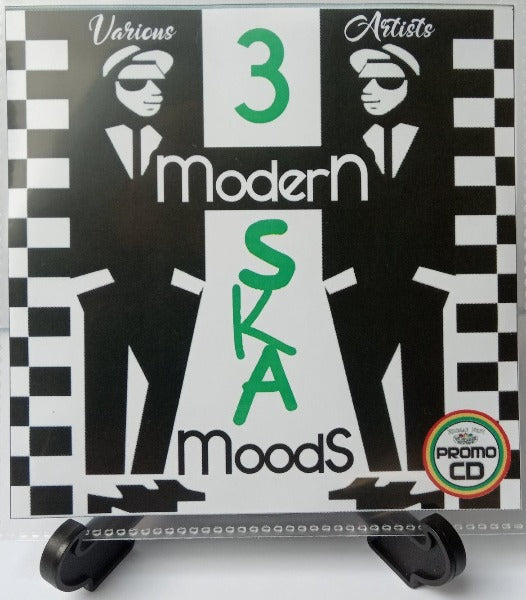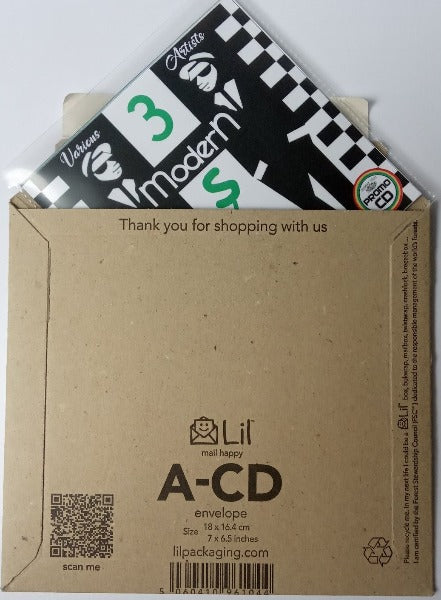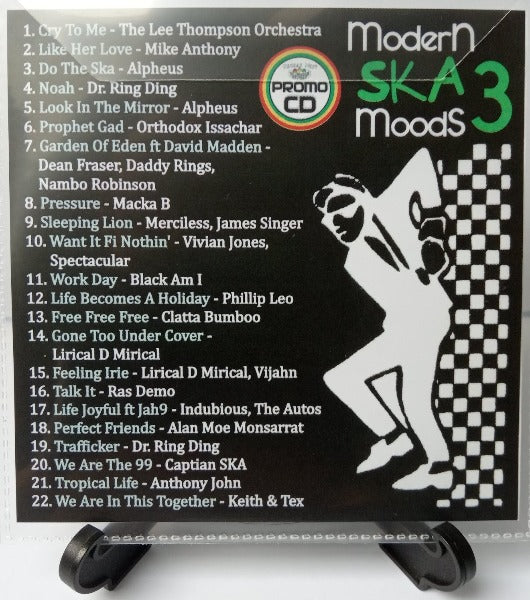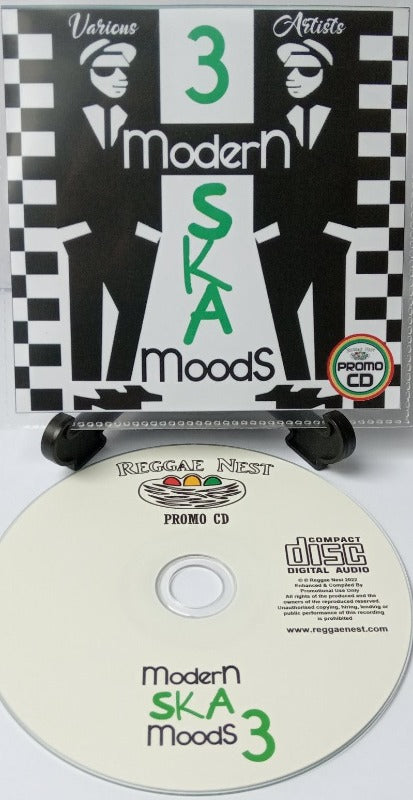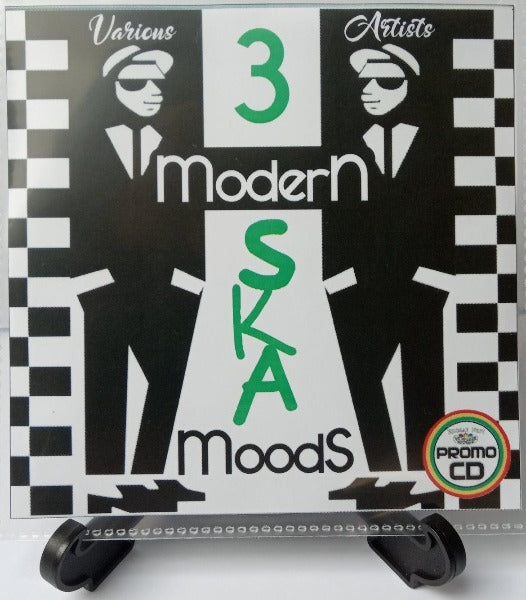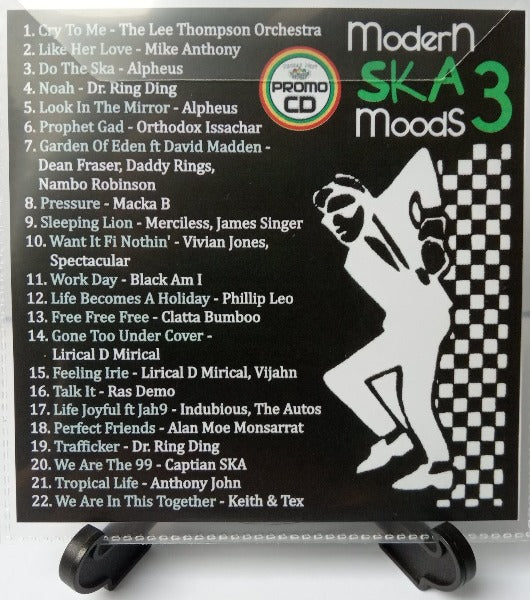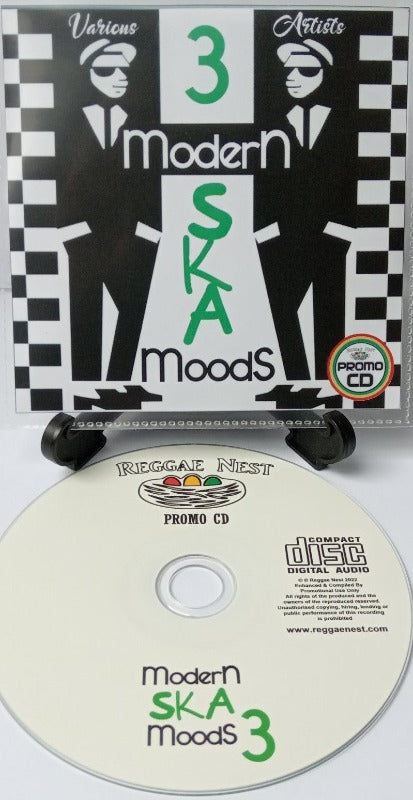 Modern Ska Moods 3 - Various Artists who says SKA is dead? 22 Tracks say not
Product description
Modern Ska Moods 3

Goods: A brand new promo CD
Music: Various Artist CD 'Modern Ska Moods 3' 
Released: AUG 2022
Number of Tracks: 22 
CD Description: A brand new Modern Ska CD featuring popular artists riding Ska riddims.  Energetic, lively, fun, a must have for all Ska fans!  Proving that Ska music is just as appealing and popular as it's ever been!
Age of Music: Modern day Ska, Popular artists
Genres: Ska
Suitable for: All ska fans
Audio Quality: Audio from FLAC/WAV files
Duration: 79 mins
Product Description: CDs are fully printed and brand new in plastic sleeves, wrapped in packs and are sealed with 'Promo CD' stickers. They are not available anywhere else, they are promotional cds, for promotional use.
Tracklist for the disc is as follows:
Modern Ska Moods 3 - Tracklist total Playtime = 78 min 46 secs
1. Cry To Me - The Lee Thompson Orchestra (3:05)
2. Like Her Love - Mike Anthony (2.55)
3. Do The Ska - Alpheus (2:53)
4. Noah - Dr. Ring Ding (4:14)
5. Look In The Mirror - Alpheus (2:29)
6. Prophet Gad - Orthodox Issachar (4:09)
7. Garden Of Eden ft David Madden - Dean Fraser, Daddy Rings, Nambo Robinson (4:14)
8. Pressure - Macka B (3:20)
9. Sleeping Lion - Merciless, James Singer (3:41)
10. Want It Fi Nothin' - Vivian Jones, Spectacular (2:52)
11. Work Day - Black Am I (4:00)
12. Life Becomes A Holiday - Phillip Leo (4:10)
13. Free Free Free - Clatta Bumboo (4:09)
14. Gone Too Under Cover - Lirical D Mirical (3:09)
15. Feeling Irie - Lirical D Mirical, Vijahn (3:07)
16. Talk It - Ras Demo (3:19)
17. Life Joyful ft Jah9 - Indubious, The Autos (5:13)
18. Perfect Friends - Music For Life (4:10)
19. Trafficker - Dr. Ring Ding (3:21)
20. We Are The 99 - Captian SKA (3:05)
21. Tropical Life - Anthony John (3:57)
22. We Are In This Together - Keith & Tex (3:06)

What is 'Modern Ska Moods'?
These tracks prove without doubt that ska music is still alive & kicking.  A popular genre due to its energy, dance-ability, fun and general appeal, Ska music remains popular worldwide.  On this disc you can hear some modern day reggae stars ride Ska riddims.  A great CD for first timers & collectors alike.

Postage: UK (Inc Mainland Scotland & Northern Ireland) 1st Class Standard Royal Mail 48-hour Post. Worldwide using Royal Mail International. 
Packaging:
Orders of quantity 4 CDs or less will be packaged and posted in cardboard sealed CD envelopes. Orders of 5 or more CDs will be packaged and posted in bubblewrapped envelopes.  Larger orders 20+are sent as parcels.
Very good cd
Very good cd great quality and a very prompt delivery
MODERN SKA ISN'T TWO TONE
Modern Ska Moods 3 is the best one of the 3. It has ska numbers like the 'Hey Bartender' original then more up to date, better produced ska and improved sounding 'modern' ska.
The best track for me is 99 per cent by Captain Ska - the chorus is already being shouted by me on cost of living protests my samba band plays on.
A fair few of these would be played by me at a reggae DJ night. These are not two tone though. There is only so much 2 tone that was good stuff, most of it was pretty unimaginative and samey. I look forward to more 'Modern Ska' if they are as well sourced as the stuff on MS No.3!
Modern ska moods 3
It's not often you can find some new groups that may not of heard off and some already established all on one cd but these cds put them all together, so you can listen to songs you already know and get to sample new groups and new songs
Eco-Friendly Packaging
We care for the environment
Get more Savings
Create a free account & get the latest news
FREE UK Delivery
Tracking provided for all orders over £24