Perfect - Various Artists - One Drop CD featuring Rubadub & Upbeat Reggae 20 BIG Songs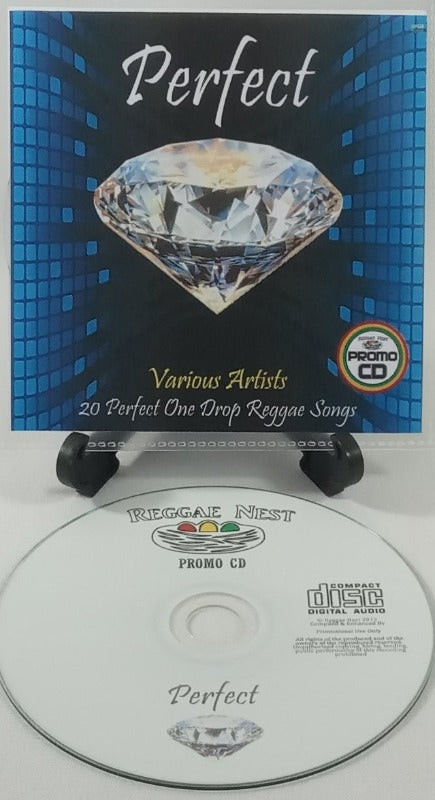 Perfect - Various Artists - One Drop CD featuring Rubadub & Upbeat Reggae 20 BIG Songs
Product description
Perfect

Goods: A brand new promo CD
Music: Various artist CD 'Perfect'
Released: 2019
Number of Tracks: 20 
CD Description: a 20 mega hit track CD featuring easy listening reggae with great songs for all ages and levels of reggae listenerships. A very popular disc.
Age of Music: Modern Reggae with a few Classics
Genres: Vocal, One Drops, Remixes, Reggae, Easy Listening
Suitable for: All reggae fans
Audio Quality: Audio from FLAC/WAV files
Duration: 77 mins
Product Description: CDs are fully printed and brand new in plastic sleeves, wrapped in packs and are sealed with 'Promo CD' stickers. They are not available anywhere else, they are promotional cds, for promotional use.
Tracklist for the disc is as follows:
Perfect – Total Playback = 76 mins 53 secs
1. Perfect - Ed Sheeran (4:20)
2. Perfect - Ed Sheeran (Waiting In Vain Riddim) (4:33)
3. Lets Stay Together - Steele (4:09)
4. Ain't That Loving You - Beres Hammond (3:45)
5. Don't Stay Away - Sanchez ft. Marcia Griffiths (4:07)
6. One Drop (Remix) - Tarrus Riley (5:01)
7. Really Like You - Sara Lugo ft. Protoje (3:45)
8. Love You More - Mink Jo ft. Busy Signal (3:47)
9. That Girl - Jah Cure (3:24)
10. Bubble My Way - Maxi Priest ft. Assassin (2:50)
11. Fight This Feeling - Beres Hammond ft. Shaggy (3:18)
12. I'm Alive - Beres Hammond (4:02)
13. Smile Jamaica - Chronixx (4:33)
14. Majesty - Chronixx (3:04)
15. Baby Don't Do It - Christopher Martin (4:13)
16. Let It Be Me - Freddie McGregor ft. Etana (3:35)
17. Stay With Me - Romain Virgo (3:37)
18. Nobody Has To Know - Kranium (3:42)
19. All Night Long (Remix) - Lionel Richie ft. Busy Signal (4:14)
20. Fire - Cocoa Tea (2:45)
What is 'Perfect'?
This CD is jam-packed full of hit songs.  its classed as a one drop CD, great for playing at parties, in the car, DJ's will love it, it's a great disc, very easy to listen too and surely will have you reaching back for it from time to time!
Postage: UK (Inc Mainland Scotland & Northern Ireland) 1st Class Standard Royal Mail 48-hour Post. Worldwide using Royal Mail International.
Packaging: Orders of quantity 4 CDs or less will be packaged and posted in cardboard sealed CD envelopes. Orders of 5 or more CDs will be packaged and posted in bubblewrapped envelopes.  Larger orders 20+are sent as parcels.
Eco-Friendly Packaging
We care for the environment
Get more Savings
Create a free account & get the latest news
FREE UK Delivery
Tracking provided for all orders over £24