Roots & Truths Vol 31 - Classic, Deep & Rare Roots Reggae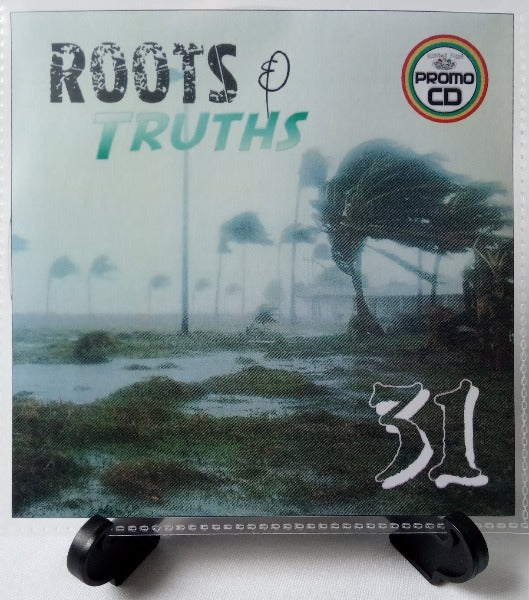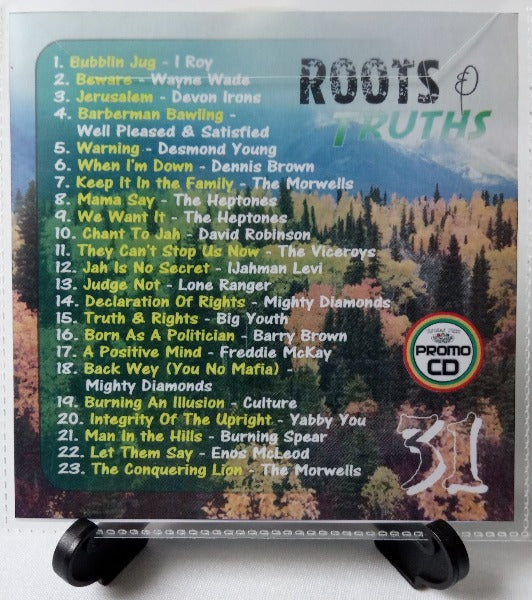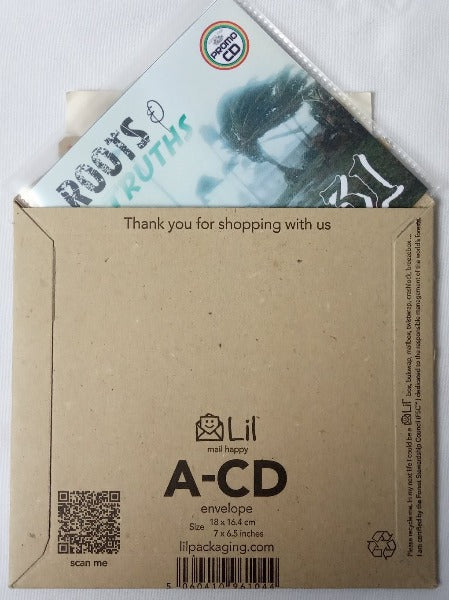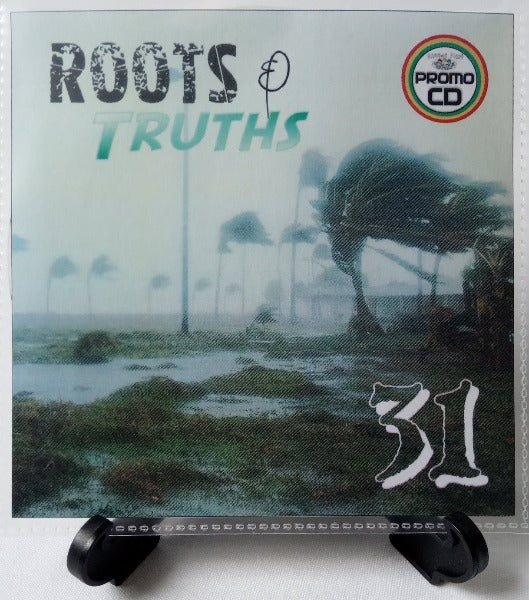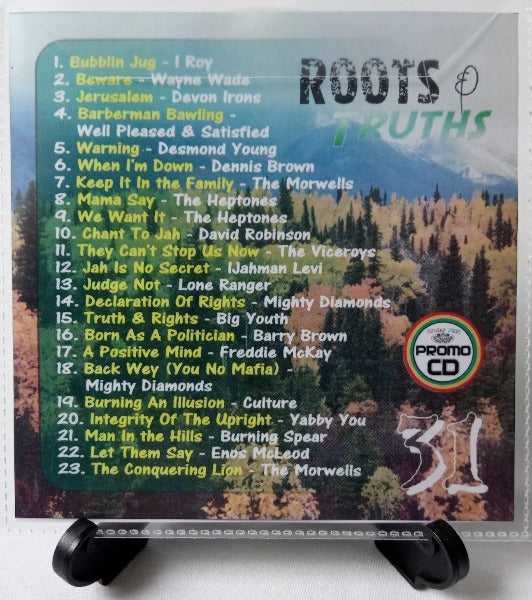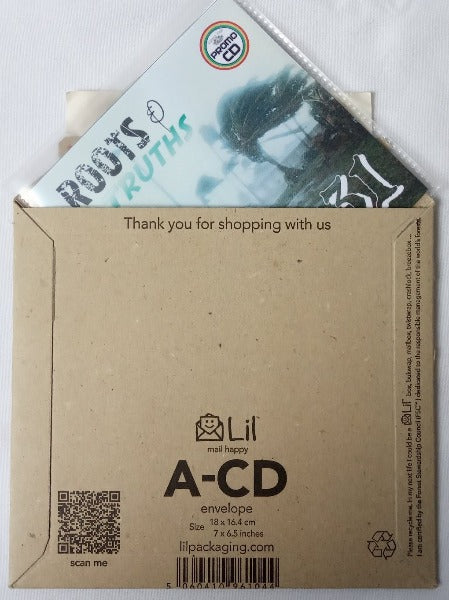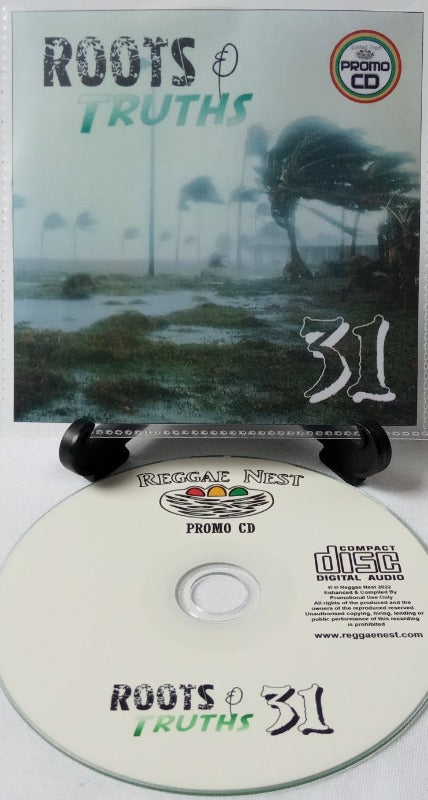 Roots & Truths Vol 31 - Classic, Deep & Rare Roots Reggae
Product description
Roots & Truths Vol 31

Goods: A brand new promo CD

Music: Volume 31 of the 'Roots & Truths' series
Released: JUN 2022

Number of Tracks:  23
CD Description: A series dedicated to highlighting non-commercial vintage roots and culture reggae music, assembling them together creates a fantastic listen.  These are not your everyday roots tunes, some of these tracks are rare, some are album cuts, some 7" and a few 10 & 12" dotted in the collection.  Full of culture, reality, knowledge and upliftment.
Age of Music: 1972-1999
Genres: Classic & Rare Roots, Culture, Dub
Suitable for: Roots Fans (all levels), DJ's, Collectors
Audio Quality: Audio from FLAC/WAV files
Duration: 78 Mins
Product Description: CDs are fully printed and brand new in plastic sleeves, wrapped in packs and are sealed with 'Promo CD' stickers. They are not available anywhere else, they are promotional cds, for Promotional use. 
Tracklists for the disc is as follows:
Roots & Truths Vol 31 - Total Playtime = 77 mins 35 secs
1. Bubblin Jug - I Roy (3:38)
2. Beware - Wayne Wade (3:17)
3. Jerusalem - Devon Irons (2:44)
4. Barberman Bawling - Well Pleased & Satisfied (2:47)
5. Warning - Desmond Young (2:56)
6. When I'm Down - Dennis Brown (3:44)
7. Keep It In the Family - The Morwells (2:35)
8. Mama Say - The Heptones (3:08)
9. We Want It - The Heptones (2:46)
10. Chant To Jah - David Robinson (2:35)
11. They Can't Stop Us Now - The Viceroys (2:57)
12. Jah Is No Secret - IJahman Levi (5:50)
13. Judge Not - Lone Ranger (3:40)
14. Declaration Of Rights - Mighty Diamonds (3:54)
15. Truth & Rights - Big Youth (3:30)
16. Born As A Politician - Barry Brown (3:55)
17. A Positive Mind - Freddie McKay (2:41)
18. Back Wey (You No Mafia) - Mighty Diamonds (3:30)
19. Burning An Illusion - Culture (2:51)
20. Integrity Of The Upright - Yabby You (3:51)
21. Man In the Hills - Burning Spear (3:58)
22. Let Them Say - Enos McLeod (3:20)
23. The Conquering Lion - The Morwells (3:13)

What Is 'Roots & Truths'?
'Roots & Truths' is rammed full of vintage, classic, rare and underrated Roots & Culture music stretching all the way back to late 60's, the golden era of the 70's for roots, also the 80s which was rich with roots music.  In the collection there are a handful of 90's/early 2000's roots tunes . The music is spiritual, sometimes deep, socially aware, reflective, full of reality and a great source of cultural vibes.

Postage:
UK (Inc Mainland Scotland & Northern Ireland) 1st Class Standard Royal Mail 48-hour Post. Worldwide using Royal Mail International. 
Packaging:
Orders of quantity 4 CDs or less will be packaged and posted in cardboard sealed CD envelopes. Orders of 5 or more CDs will be packaged and posted in bubblewrapped envelopes.  Larger orders 20+are sent as parcels.
Roots
These 2 cds full of classics from back in the day nice hear them again post was quick sufficient keep them coming reggae nest
Eco-Friendly Packaging
We care for the environment
Get more Savings
Create a free account & get the latest news
FREE UK Delivery
Tracking provided for all orders over £24