Smokers Delight Ep. 22 - Herbal Session Reggae (2023 Release)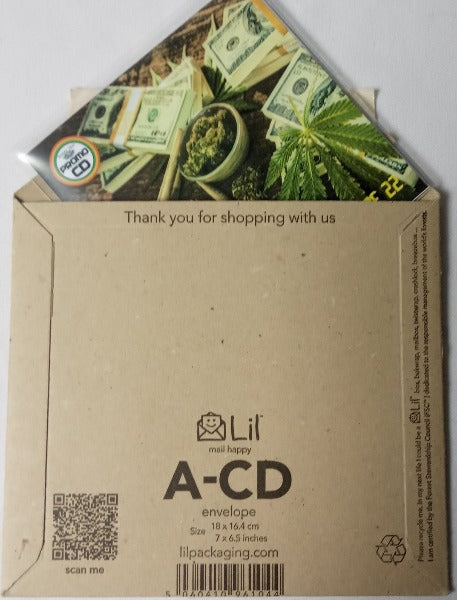 Smokers Delight Ep. 22 - Herbal Session Reggae (2023 Release)
Product description
Smokers Delight Episode 22

Goods: A brand new promo CD
Music: Episode 22 of the 'Smokers Delight' series
Released: MAY 2023
Number of Tracks: 22
CD Description: The 'Smokers Delight' series offers the listener a fantastic accompaniment to any herbal session, or background music on a chill, great for journeys, parties, gifts, also a great addition to any reggae collection.
Age of Music: 1977-2023 
Genres: Reggae, Roots, Dancehall, Vocal
Suitable for: Herbalists, Reggae Fans, Collectors, Smokers 
Audio Quality: Audio from FLAC/WAV files
Duration: 79 mins
Product Description: CDs are fully printed and brand new in plastic sleeves, wrapped in packs and are sealed with 'Promo CD' stickers. They are not available anywhere else, they are promotional cds, for promotional use.
Tracklists for the disc is as follows:
Smokers Delight (Ep.22) Total Duration = 79 mins 30 secs
1. Collie Man - i-taweh
2. Puff Herbs - Josh Hendrichs
3. Lighter Thief - Da Real Storm
4. Green - Anthony John
5. Boom Draw - Micah Shemaiah, Bescenta
6. Ganja Fi Bun - Lutan Fyah, Perfect
7. Light It - Nature Ellis
8. Conscious Smoker - Ras Zacharri
9. Herb - K-Jah Sound, Denham Smith
10. I'm High ft Inna Vision - Hirie
11. Marijuana Love - Ghandi
12. High Grade - Austin James
13. Malawi Gold - Perfect Giddimani
14. Miss California - Anthony B
15. Searching For - Charly Black, Richie Spice
16. Restrictions - Ginjah
17. Thanks To The Ras - Macka B
18. Legal Ina NY - JohnnyGo Figure
19. High Grade - Revelashan
20. Mi Love Marijuana - Chuck Fenda
21. Ganja Town - Fruity Star
22. Marijuana - Menny More, Cultural Dub
What is 'Smokers Delight'? 
For a long time here has been a call for a more intent analysis and widespread acceptance of the medicinal benefits and uses of the cannabis plant. This message has been carried through music, words, sounds and power - none more so than in the reggae movement. These tunes combine classic with rare, new with old, hard with soft. A great session collection a hand picked reggae session accompaniment, also a great addition to any reggae collection. These tunes reflect feelings, experiences and thoughts about smoking. Generally, being a taboo subject there is plenty of great quality music out there but is not being promoted. This series stands to change that.
Eco-Friendly Packaging
We care for the environment
Get more Savings
Create a free account & get the latest news
FREE UK Delivery
Tracking provided for all orders over £24