Soothing Strings Vol 5 - Soft, Mellow, Touching Acoustic Reggae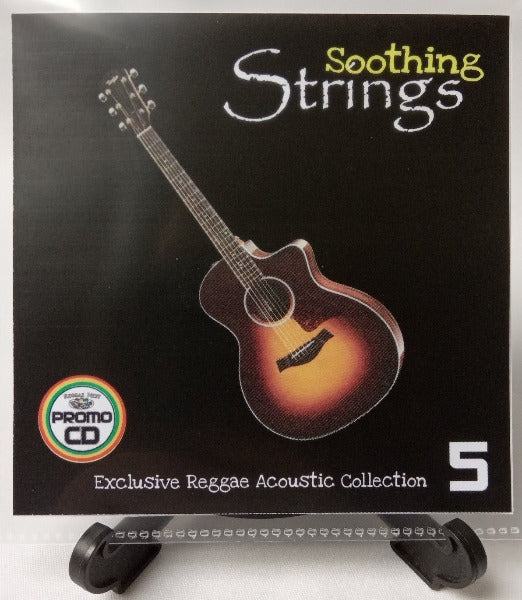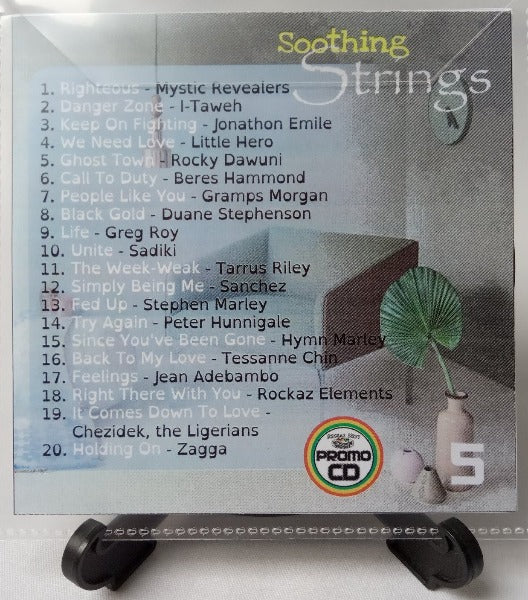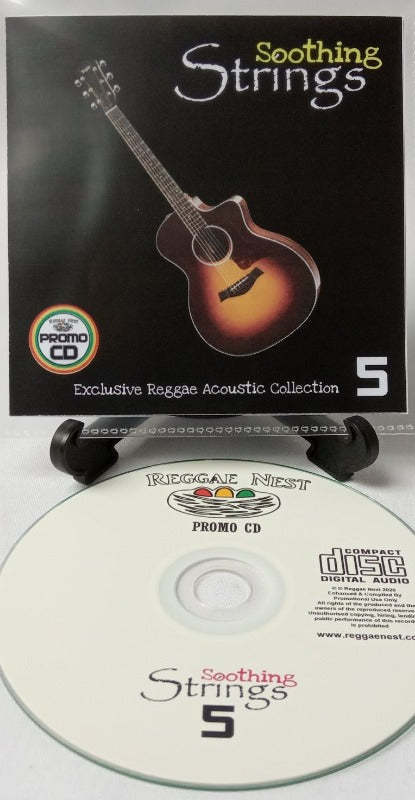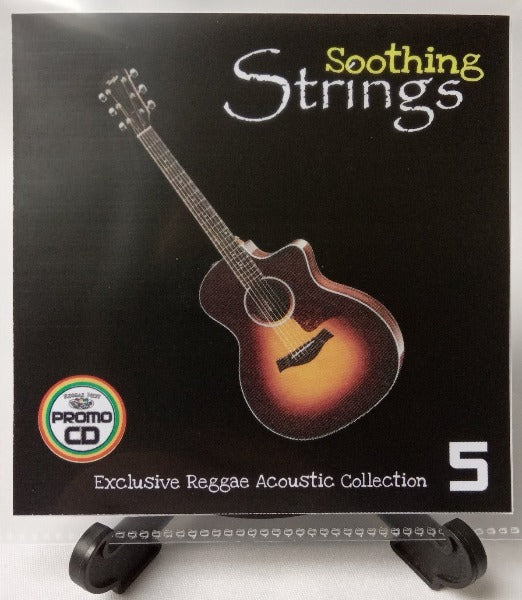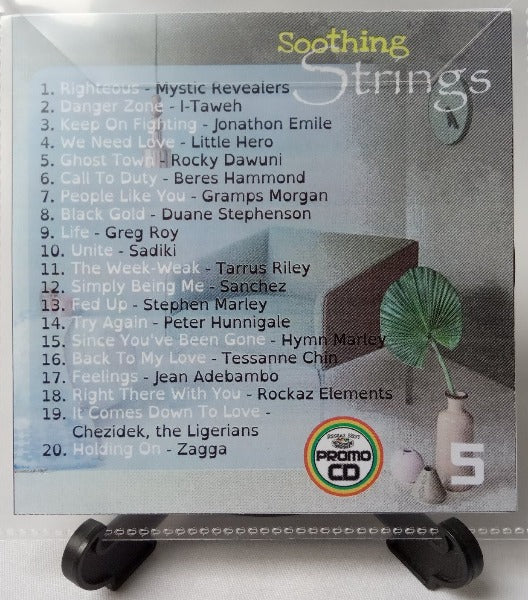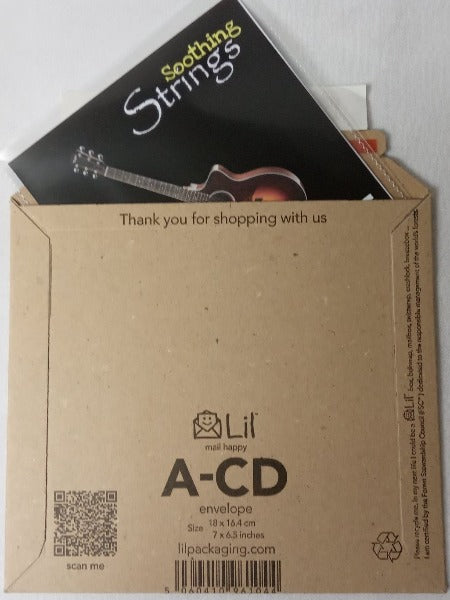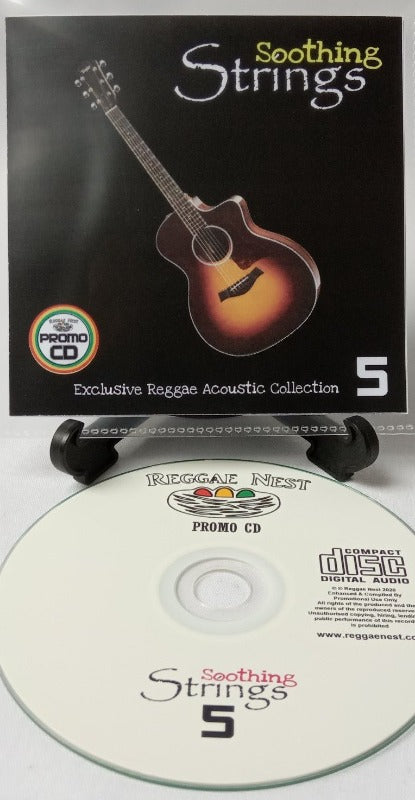 Soothing Strings Vol 5 - Soft, Mellow, Touching Acoustic Reggae
Product description
Soothing Strings Vol 5

Goods: A brand new promo CD
Music: Volume 5 of the 'Soothing Strings' Series
Released: NOV 2020
Number of Tracks: 20 
CD Description: Every track in this collection has a softer, gentlier musical approach and artist delivery.  Mostly acoustic and minimal instrumental accompaniment, allowing the lyric content and vocal capabilities to shine.
Age of Music: 1983-2020
Genres: Reggae, Rocksteady, Gospel, Ska, Revive
Suitable for: Easy Listeners, Reggae Fans (all levels)
Audio Quality: Audio from FLAC/WAV files
Duration: 78 mins
Product Description: CDs are fully printed and brand new in plastic sleeves, wrapped in packs and are sealed with 'Promo CD' stickers. They are not available anywhere else, they are promotional cds, for promotional use.
Tracklists for the disc is as follows:
Soothing Strings Vol 5 - Total Playtime = 76 min 01 secs
1. Righteous - Mystic Revealers (4:02)
2. Danger Zone - I-Taweh (4:31)
3. Keep On Fighting - Jonathon Emile (2:48)
4. We Need Love - Little Hero (5:10)
5. Ghost Town - Rocky Dawuni (3:52)
6. Call To Duty - Beres Hammond (2:42)
7. People Like You - Gramps Morgan (3:56)
8. Black Gold - Duane Stephenson (4:12)
9. Life - Greg Roy (2:43)
10. Unite - Sadiki (3:15)
11. The Week-Weak - Tarrus Riley (2:33)
12. Simply Being Me - Sanchez (4:10)
13. Fed Up - Stephen Marley (4:19)
14. Try Again - Peter Hunnigale (4:12)
15. Since You've Been Gone - Hymn Marley (3:30)
16. Back To My Love - Tessanne Chin (4:09)
17. Feelings - Jean Adebambo (4:14)
18. Right There With You - Rockaz Elements (4:57)
19. It Comes Down To Love - Chezidek, the Ligerians (3:20)
20. Holding On - Zagga (3:21)

What is 'Soothing Strings'?
Sometimes we want to be musically reflective and thoughtful without bass dominating our minds and gripping our body.  Acoustic reggae is a beautiful sub-genre.  A true collector will know where to find their selections whenever the opportunity arises.  'Soothing Strings' is full of beautiful acoustic reggae to suit all moods and moments.

Postage: UK (Inc Mainland Scotland & Northern Ireland) 1st Class Standard Royal Mail 48-hour Post. Worldwide using Royal Mail International.

Packaging: Orders of quantity 4 CDs or less will be packaged and posted in cardboard sealed CD envelopes. Orders of 5 or more CDs will be packaged and posted in bubblewrapped envelopes. Larger orders 20+are sent as parcels.
Eco-Friendly Packaging
We care for the environment
Get more Savings
Create a free account & get the latest news
FREE UK Delivery
Tracking provided for all orders over £24