Street Vibes Vol 45 - Dancehall, Bashment, Urban Reggae Up To The Time 2023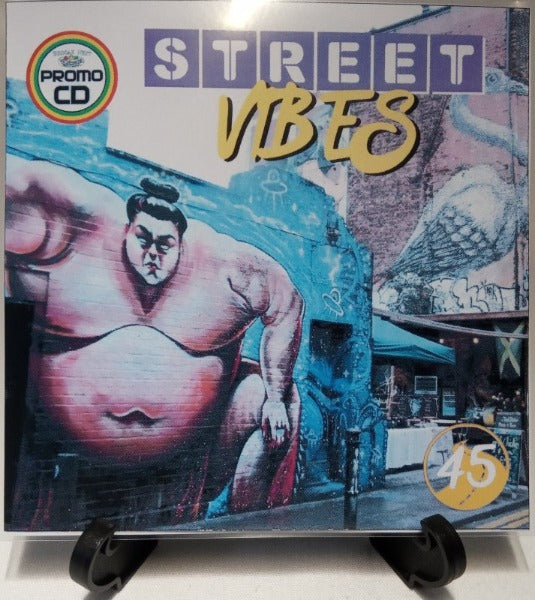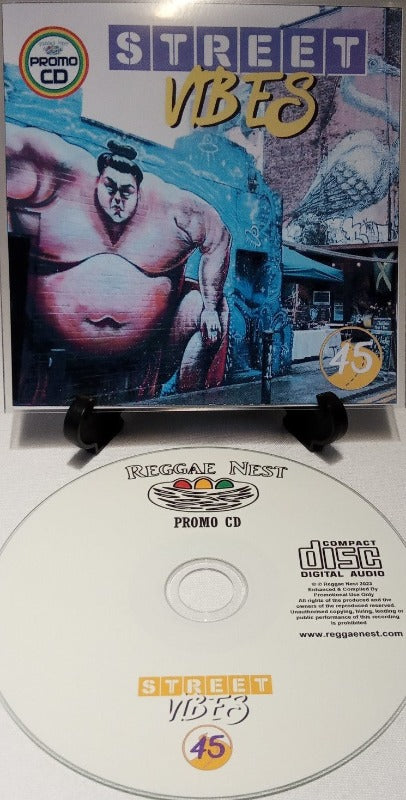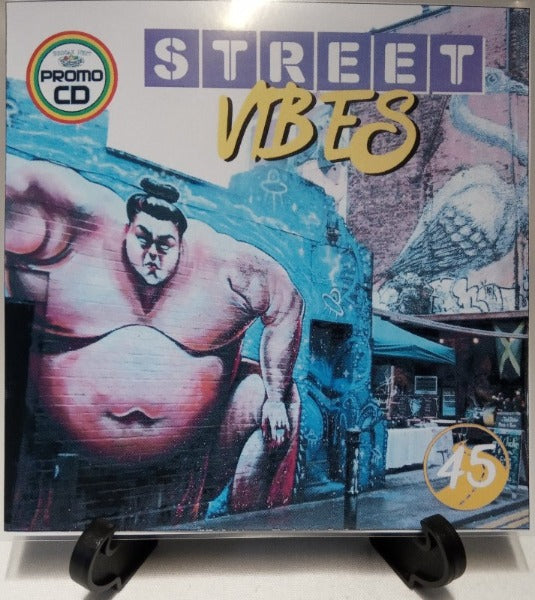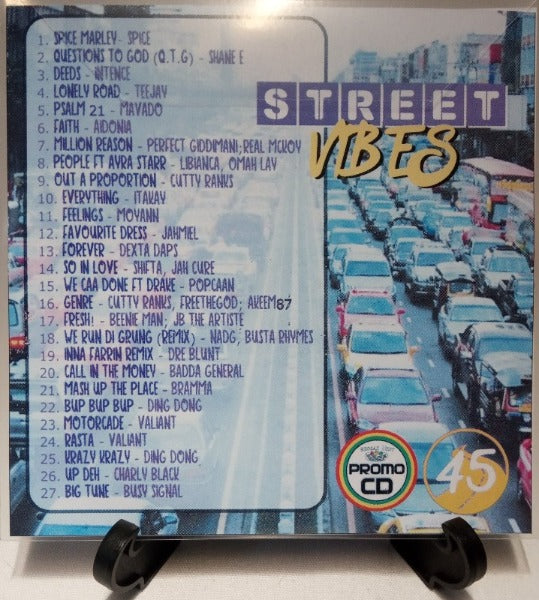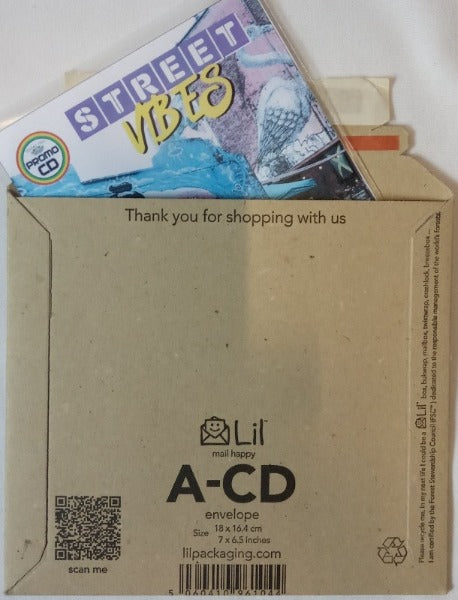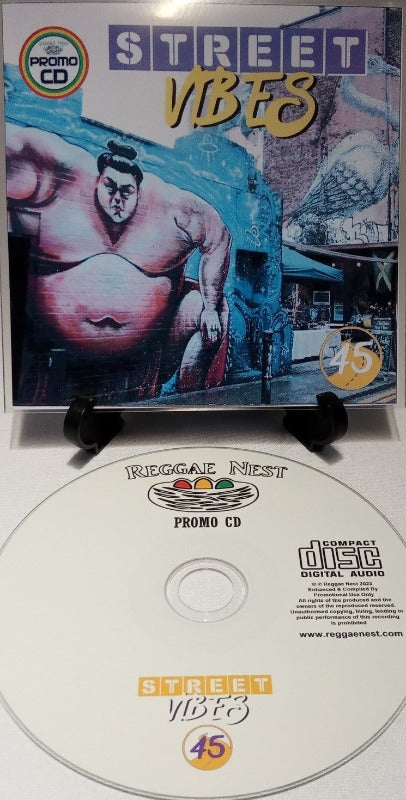 Street Vibes Vol 45 - Dancehall, Bashment, Urban Reggae Up To The Time 2023
Product description
Street Vibes Vol 45

Goods: A brand new promo CD
Music: Volume 45 of the 'Street Vibes' Series
Released: APR 2023
Number of Tracks: 27
CD Description: Street Vibes Vol 45 provides a captivating blend of Dancehall, Bashment, and Urban Reggae beats. Featuring a range of vibrant and energetic music, it serves as a perfect soundtrack for any lively and upbeat occasion. This collection of tracks is sure to keep you moving and grooving to the very latest in urban reggae, up to the year 2023. With over 20 tracks, this collection provides an authentic insight into the cutting-edge sound of the world's most exciting music scene.
Age of Music: 2022/2023 (latest Releases)
Genres: Dancehall, Urban Reggae, Crossovers
Suitable for: New Dancehall/Reggae fans & Collectors, DJ's
Audio Quality: Audio from FLAC/WAV files
Duration: 78 mins
Product Description: CDs are fully printed and brand new in plastic sleeves, wrapped in packs and are sealed with 'Promo CD' stickers. They are not available anywhere else, they are promotional cds, for promotional use.
Tracklist for the disc is as follows:
Street Vibes Vol 45 - Total Playback = 78 min 23 secs
1. Spice Marley - Spice (3:02)
2. Questions To God (Q.T.G) - Shane E (3:04)
3. Deeds - Intence (2:26)
4. Lonely Road - Teejay (3:01)
5. Psalm 21 - Mavado (3:22)
6. Faith - Aidonia (3:05)
7. Million Reason - Perfect Giddimani; Real McKoy (2:39)
8. People ft Ayra Starr - Libianca, Omah Lay (3:02)
9. Out A Proportion - Cutty Ranks (2:29)
10. Everything - Itakay (2:26)
11. Feelings - Moyann (2:33)
12. Favourite Dress - Jahmiel (2:50)
13. Forever - Dexta Daps (3:10)
14. So In Love - Shifta, Jah Cure (4:15)
15. We Caa Done ft Drake - Popcaan (4:05)
16. Genre - Cutty Ranks, FreeTheGod; Akeem87 (3:49)
17. Fresh! - Beenie Man; JB The Artiste (2:32)
18. We Run Di Grung (Remix) - NadG, Busta Rhymes (3:02)
19. Inna Farrin Remix - Dre Blunt (2:03)
20. Call In The Money - Badda General (2:48)
21. Mash Up The Place - Bramma (2:46)
22. Bup Bup Bup - Ding Dong (2:43)
23. Motorcade - Valiant (2:32)
24. Rasta - Valiant (2:31)
25. Krazy Krazy - Ding Dong (2:56)
26. Up Deh - Charly Black (2:58)
27. Big Tune - Busy Signal (2:42)

What is 'Street Vibes' Music?
Street Vibes is full of tracks that have been written and constructed to reflect modern influences, experiences and subjects. Some of these tracks may contain explicit lyrics. There are some tracks in this collection that feature combinations with other artists toasting in the track. The music often captures unique feelings, thoughts, moments and combined with the infectious dancehall beats that make a very pleasurable listen. Also, great to work out/exercise too!  Pumps real hard on big sound system speakers or pro car systems.
Postage:
UK (Inc Mainland Scotland & Northern Ireland) 1st Class Standard Royal Mail 48-hour Post. Worldwide using Royal Mail International. 
Packaging:
Orders of quantity 4 CDs or less will be packaged and posted in cardboard sealed CD envelopes. Orders of 5 or more CDs will be packaged and posted in bubblewrapped envelopes.  Larger orders 20+are sent as parcels.
Reggae Nest
Been a customer of Reggae Nest a few years now and have always found the tunes I love, amazing albums with various artists and great sound. Customer service are so helpful and friendly I could never shop anywhere else.
Eco-Friendly Packaging
We care for the environment
Get more Savings
Create a free account & get the latest news
FREE UK Delivery
Tracking provided for all orders over £24