Strike Gold 3 - Rare 70's Revival Reggae Gems - the Golden Era of Reggae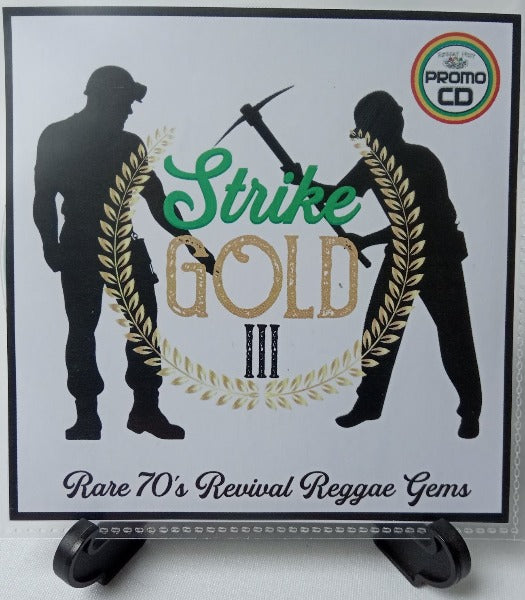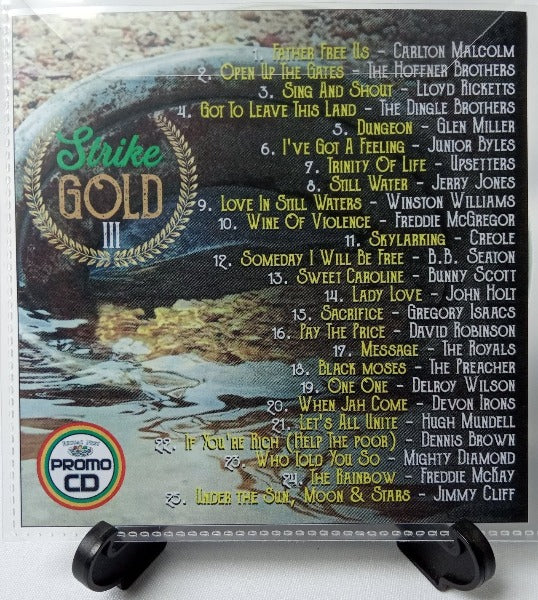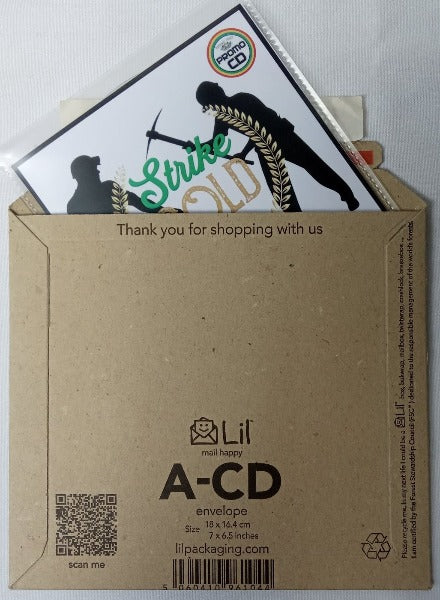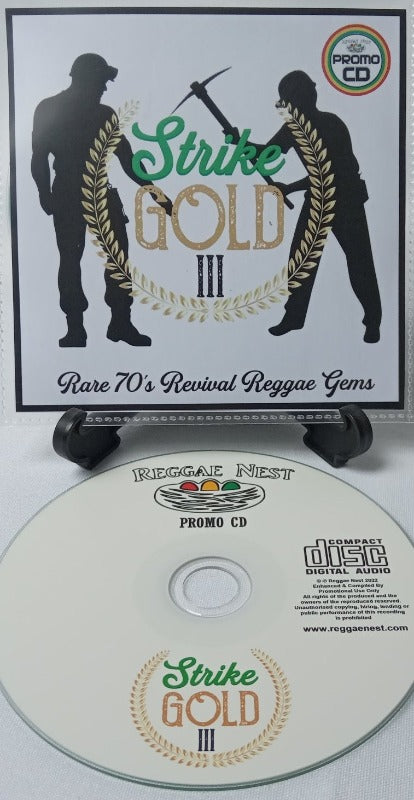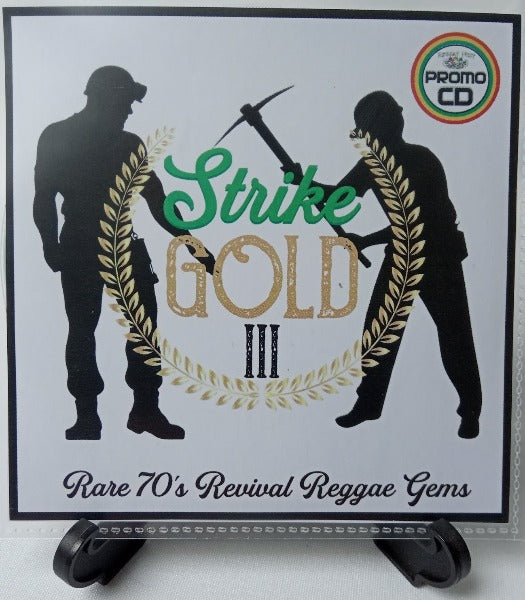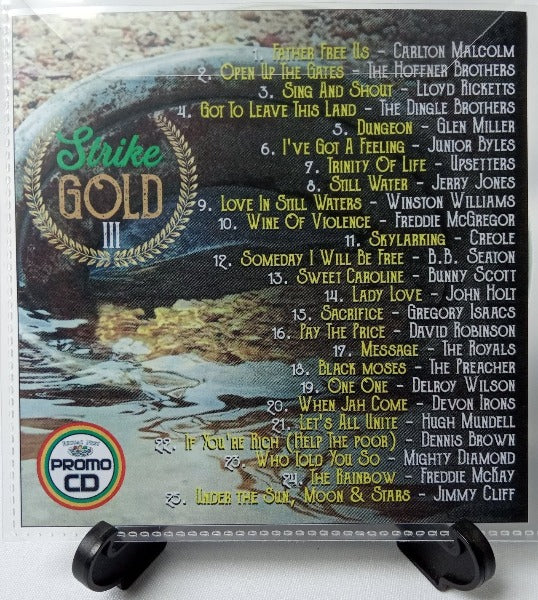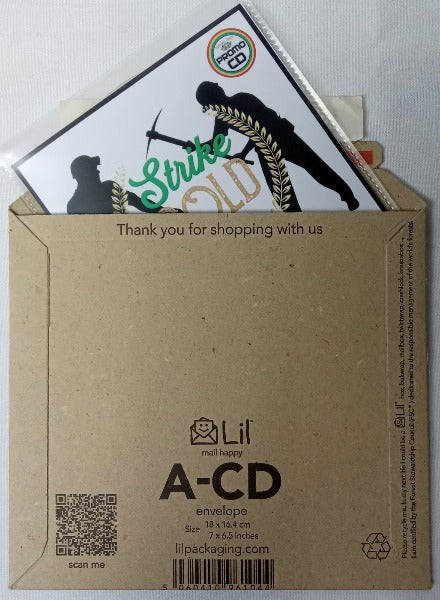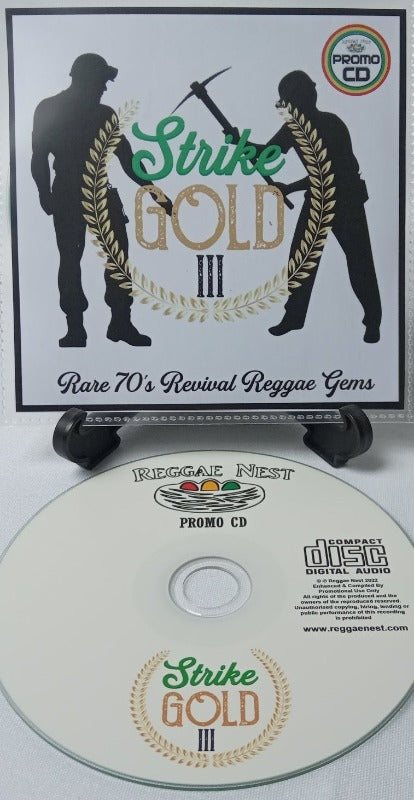 Strike Gold 3 - Rare 70's Revival Reggae Gems - the Golden Era of Reggae
Product description
Strike Gold 3

Goods: A brand new promo CD
Music: 'Strike Gold 3' - 3rd set of Rare 70's reggae - Various Artists
Released: MAY 2022
Number of Tracks: 25 
CD Description: Many reggae enthusiasts agree that the golden era for reggae music was the 70's, much like how we cherish our childhood, memories, lessons and stories.  In the Seventies, Reggae was in its infancy stage meaning all territory was untouched territory.  There are gems tucked away in albums, library's, vaults and dusty record boxes all over the world.  These tunes need to be heard!

Age of Music: 70's & 80's
Genres: Roots, Rockers, Reality, Revival
Suitable for: Revival/Roots Reggae Fans
Audio Quality: Audio from FLAC/WAV files
Duration: 79 mins
Product Description: CDs are fully printed and brand new in plastic sleeves, wrapped in packs and are sealed with 'Promo CD' stickers. They are not available anywhere else, they are promotional cds, for promotional use.
Tracklist for the disc is as follows:
Strike Gold 3 - Total Playtime = 79 min 30 secs:
1. Father Free Us - Carlton Malcolm (2:40)
2. Open Up The Gates - The Hoffner Brothers (3:19)
3. Sing And Shout - Lloyd Ricketts (2:54)
4. Got To Leave This Land - The Dingle Brothers (2:34)
5. Dungeon - Glen Miller (3:00)
6. I've Got A Feeling - Junior Byles (2:21)
7. Trinity Of Life - Upsetters (2:02)
8. Still Water - Jerry Jones (2:47)
9. Love In Still Waters - Winston Williams (2:47)
10. Wine Of Violence - Freddie McGregor (3:21)
11. Skylarking - Creole (3:35)
12. Someday I Will Be Free - B.B. Seaton (3:03)
13. Sweet Caroline - Bunny Scott (3:16)
14. Lady Love - John Holt (3:34)
15. Sacrifice - Gregory Isaacs (3:42)
16. Pay The Price - David Robinson (3:07)
17. Message - The Royals (3:46)
18. Black Moses - The Preacher (3:20) 
19. One One - Delroy Wilson (3:01)
20. When Jah Come - Devon Irons (3:54)
21. Let's All Unite - Hugh Mundell (2:55)
22. If You're Rich (Help The poor) - Dennis Brown (2:50)
23. Who Told You So - Mighty Diamond (3:37)
24. The Rainbow - Freddie McKay (3:56)
25. Under the Sun, Moon & Stars - Jimmy Cliff (4:00)

What is 'Strike Gold'?
That feeling when you unexpectedly discover something valuable relates to the feeling you'll get listening to this collection of rare reggae music from the 70's.  Enthusiasts, collectors, music diggers, this is your disc!  Big respect to anyone who can play this playlist on original 7" vinyl - there's some money there!

Postage: UK (Inc Mainland Scotland & Northern Ireland) 1st Class Standard Royal Mail 48-hour Post. Worldwide using Royal Mail International. 

Packaging: Orders of quantity 4 CDs or less will be packaged and posted in cardboard sealed CD envelopes. Orders of 5 or more CDs will be packaged and posted in bubblewrapped envelopes. Larger orders 20+are sent as parcels.
Eco-Friendly Packaging
We care for the environment
Get more Savings
Create a free account & get the latest news
FREE UK Delivery
Tracking provided for all orders over £24