Strike Gold - Rare 70's Revival Reggae Gems - the Golden Era of Reggae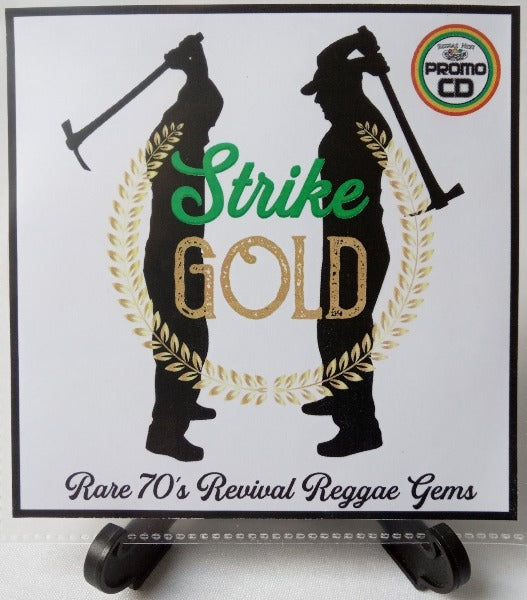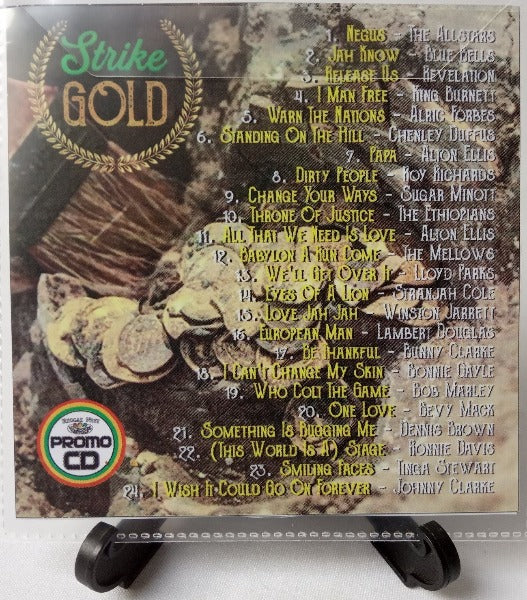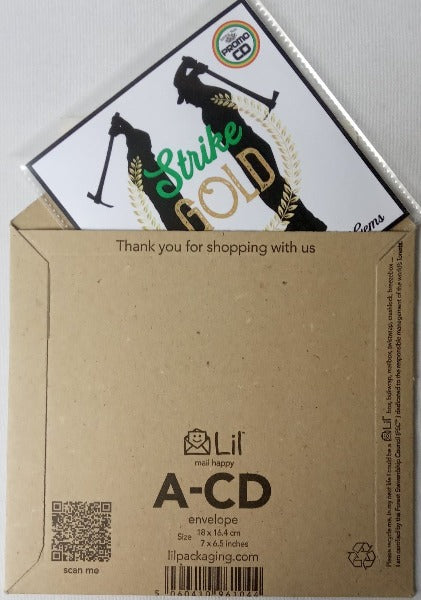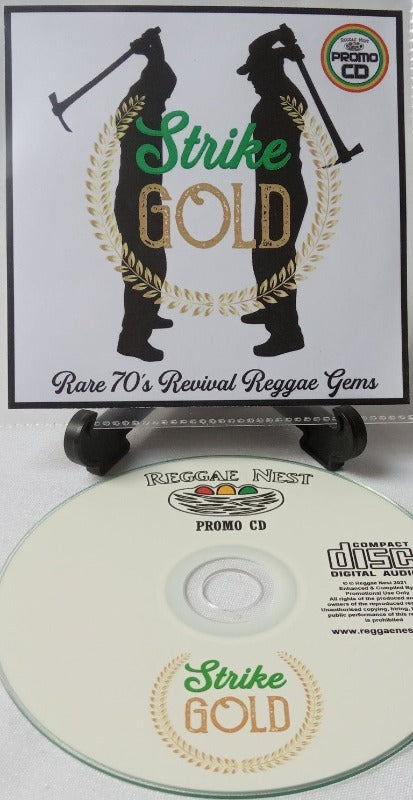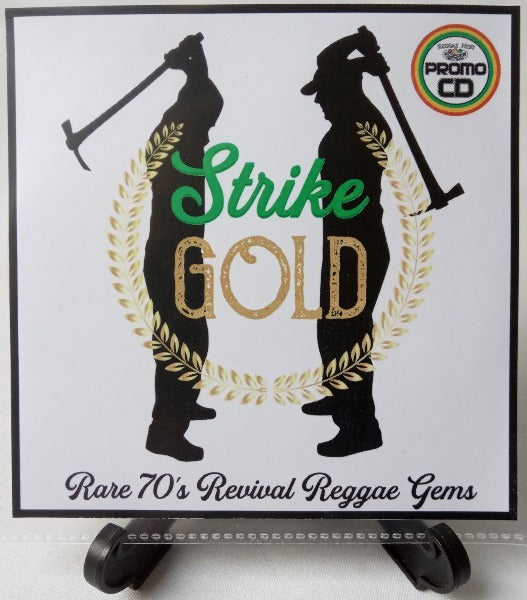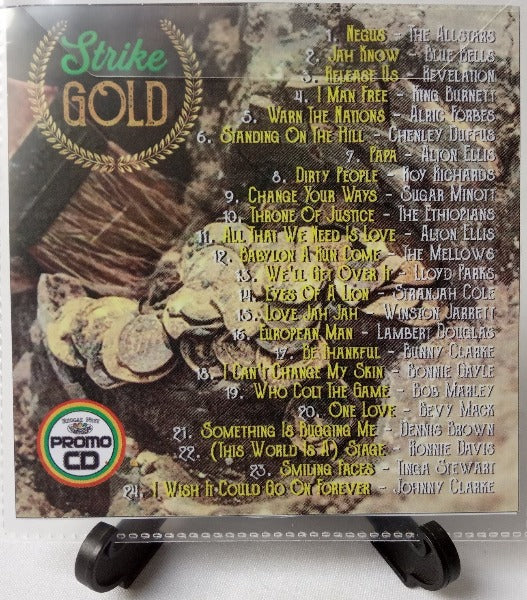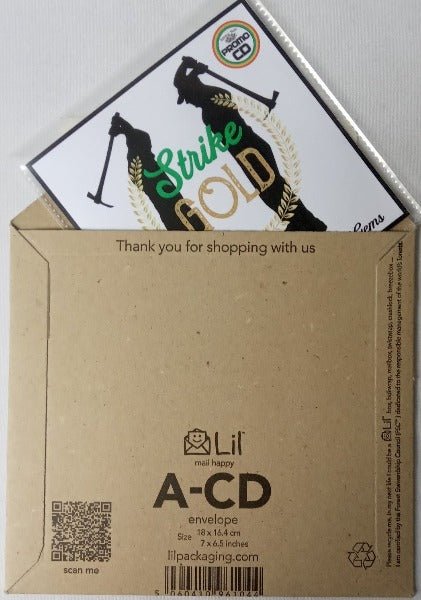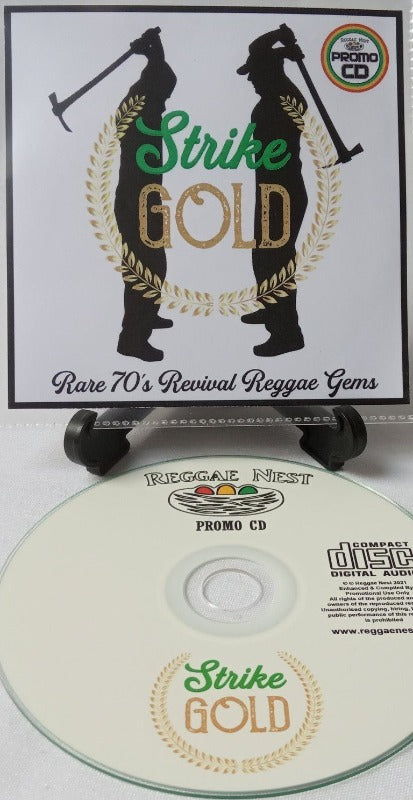 Strike Gold - Rare 70's Revival Reggae Gems - the Golden Era of Reggae
Product description
trike Gold

Goods: A brand new promo CD
Music: 'Strike Gold' - Rare 70's reggae - Various Artists
Released: JUL 2021
Number of Tracks: 24 
CD Description: Many reggae enthusiasts agree that the golden era for reggae music was the 70's, much like how we cherish our childhood, memories, lessons and stories.  In the Seventies, Reggae was in its infancy stage meaning all teritory was untouched territory.  There are gems tucked away in albums, library's, vaults and dusty record boxes all over the world.  These tunes need to be heard!

Age of Music:
 Strictly 70's!!
Genres: Roots, Rockers, Reality, Revival
Suitable for: Revival/Roots Reggae Fans
Audio Quality: Audio from FLAC/WAV files
Duration: 79 mins
Product Description: CDs are fully printed and brand new in plastic sleeves, wrapped in packs and are sealed with 'Promo CD' stickers. They are not available anywhere else, they are promotional cds, for promotional use.
Tracklist for the disc is as follows:
Strike Gold - Total Playtime = 78 min 8 secs:
1. Negus - The Allstars (3:00)
2. Jah Know - Blue Bells (2:55)
3. Release Us - Revelation (4:01)
4. I Man Free - King Burnett (3:21)
5. Warn The Nations - Alric Forbes (3:13)
6. Standing On The Hill - Chenley Duffus (3:04)
7. Papa - Alton Ellis (3:01)
8. Dirty People - Roy Richards (2:51)
9. Change Your Ways - Sugar Minott (2:43)
10. Throne Of Justice - The Ethiopians (2:43)
11. All That We Need Is Love - Alton Ellis (2:24)
12. Babylon A Run Come - The Mellows (2:56)
13. We'll Get Over It - Lloyd Parks (2:53)
14. Eyes Of A Lion - Stranjah Cole (3:40)
15. Love Jah Jah - Winston Jarrett (2:38)
16. European Man - Lambert Douglas (3:39)
17. Be Thankful - Bunny Clarke (6:37)
18. I Can't Change My Skin - Bonnie Gayle (3:28)
19. Who Colt The Game - Bob Marley (3:29)
20. One Love - Bevy Mack (3:09)
21. Something Is Bugging Me - Dennis Brown (3:05)
22. (This World Is A) Stage - Ronnie Davis (2:37)
23. Smiling Faces - Tinga Stewart (3:36)
24. I Wish It Could Go On Forever - Johnny Clarke (2:59)

What is 'Strike Gold'?
That feeling when you unexpectedly discover something valuable relates to the feeling you'll get listening to this collection of rare reggae music from the 70's.  Enthusiasts, collectors, music diggers, this is your disc!  Big respect to anyone who can play this playlist on original 7" vinyl - there's some money there!

Strike Gold - Rare 70's Revival Reggae Gems - the Golden Era of Reggae
Outstanding!
70's reggae is the best imo, I really enjoy listening to this CD
Eco-Friendly Packaging
We care for the environment
Get more Savings
Create a free account & get the latest news
FREE UK Delivery
Tracking provided for all orders over £24