Sundown Reggae - for Funerals, Wakes and Rememberence sessions 24 Revival Tracks 1969-1983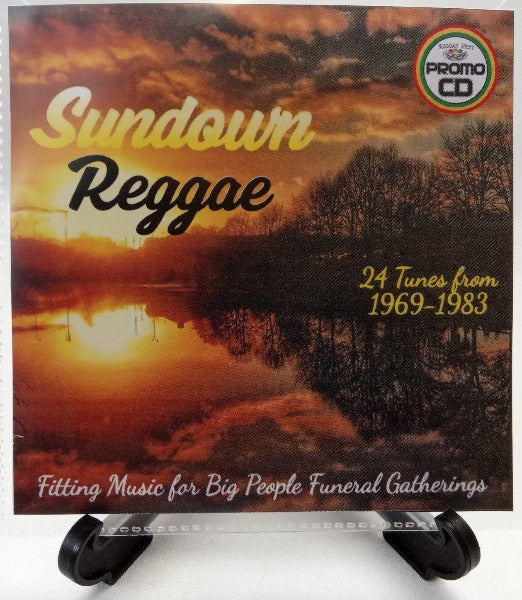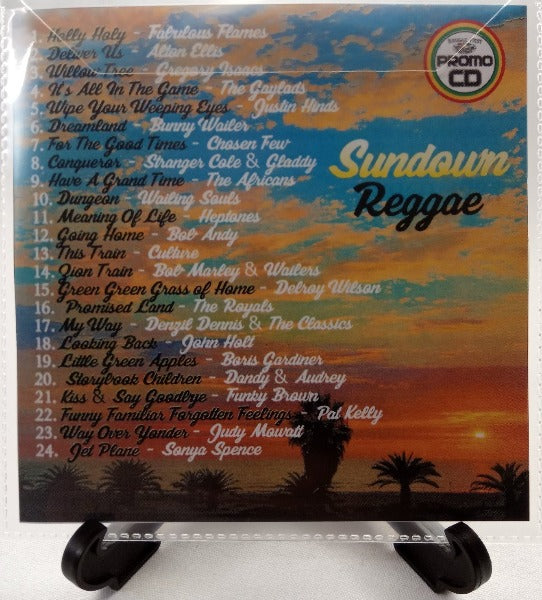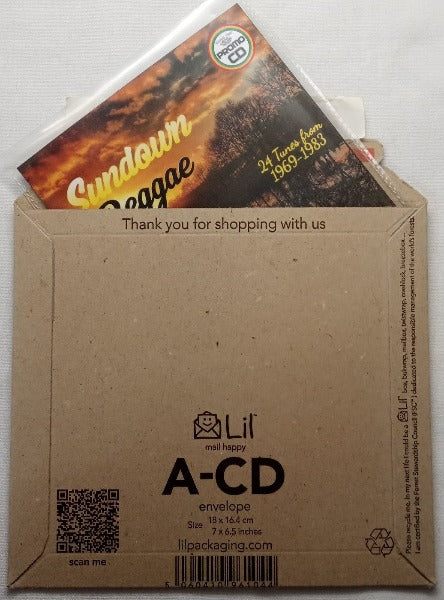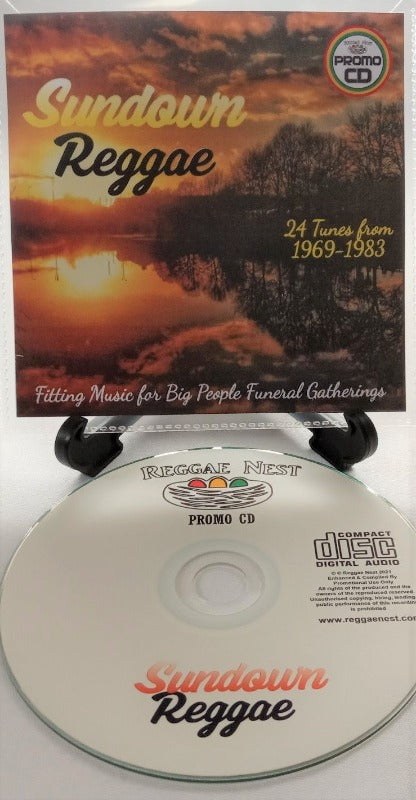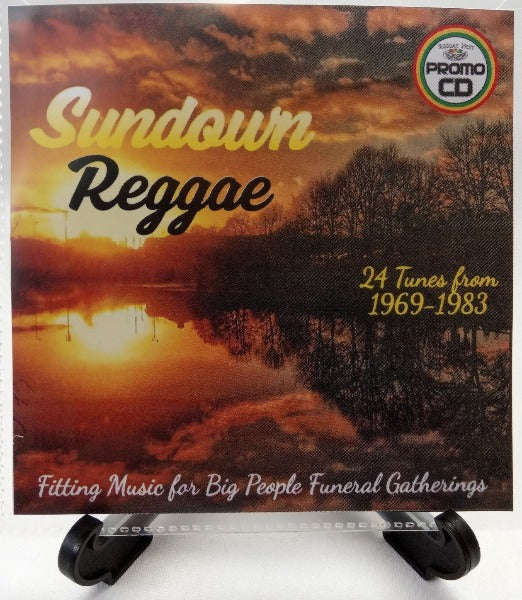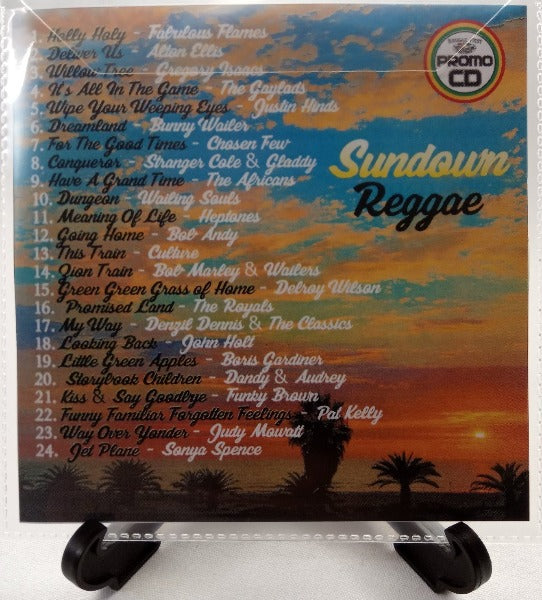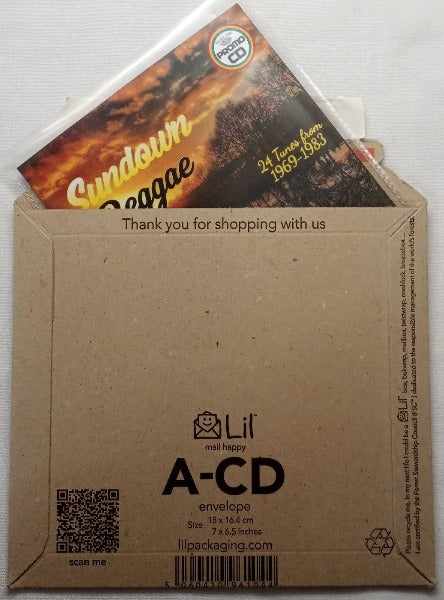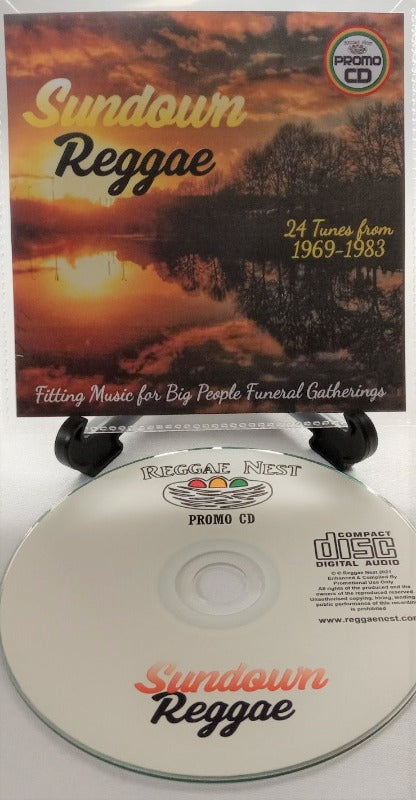 Sundown Reggae - for Funerals, Wakes and Rememberence sessions 24 Revival Tracks 1969-1983
Product description
Sundown Reggae

Goods: A brand new promo CD
Music: 24 tracks selected to aide Bereavement, for funeral play or self-comforting purposes.
Released: OCT 2021
Number of Tracks: 24
CD Description: Rocksteady & Reggae selected from the years 1969-1983 that reflect thoughts, feelings and emotions felt whilst experiencing bereavement and the loss of a loved one. It will particularly suit families & friends of those older in years who have passed away, regardless of gender.  A very useful CD for reggae DJ's to have in your selection.
Age of Music: 1969-1983
Genres: Reggae, Rocksteady
Suitable for: Anyone who has lost a loved one or is bereaving
Audio Quality: Audio from FLAC/WAV files
Duration: 79 mins
Product Description: CDs are fully printed and brand new in plastic sleeves, wrapped in packs and are sealed with 'Promo CD' stickers. They are not available anywhere else, they are promotional cds, for promotional use.
Tracklists for the disc is as follows:
Sundown Reggae - Total Playtime = 79 min 4 secs:
1. Holly Holy - Fabulous Flames (3:04)
2. Deliver Us - Alton Ellis (2:58)
3. Willow Tree - Gregory Isaacs (3:39)
4. It's All In The Game - The Gaylads (2:28)
5. Wipe Your Weeping Eyes - Justin Hinds (3:54)
6. Dreamland - Bunny Wailer (2:31)
7. For The Good Times - Chosen Few (3:32)
8. Conqueror - Stranger Cole & Gladdy (3:25)
9. Have A Grand Time - The Africans (3:01)
10. Dungeon - Wailing Souls (2:12)
11. Meaning Of Life - Heptones (3:16)
12. Going Home - Bob Andy (3:42)
13. This Train - Culture (4:30)
14. Zion Train - Bob Marley & Wailers (3:33)
15. Green Green Grass of Home - Delroy Wilson (2:30)
16. Promised Land - The Royals (3:38)
17. My Way - Denzil Dennis & The Classics (3:54)
18. Looking Back - John Holt (3:14)
19. Little Green Apples - Boris Gardiner (3:40)
20. Storybook Children - Dandy & Audrey (2:50)
21. Kiss & Say Goodbye - Funky Brown (3:31)
22. Funny Familiar Forgotten Feelings - Pat Kelly (3:20)
23. Way Over Yonder - Judy Mowatt (3:04)
23. Jet Plane - Sonya Spence (3:35)

What is 'Sundown Reggae'
Looking for that set of reggae music for a Funeral or Wake? Maybe a Rememberance Dance?  Well here is 24 superb revival tunes that will thrill any listener or crowd.  Music like this simply cannot be ignored and was made for such occasions.  Particularly suited to the elder generations and those who appreciate early foundation reggae music.

Postage: UK (Inc Mainland Scotland & Northern Ireland) 1st Class Standard Royal Mail 48-hour Post. Worldwide using Royal Mail International. 

Packaging: Orders of quantity 4 CDs or less will be packaged and posted in cardboard sealed CD envelopes. Orders of 5 or more CDs will be packaged and posted in bubblewrapped envelopes. Larger orders 20+are sent as parcels.
the truth
hi! unfortunatly the 3 items did`nt arrive yet! the other thing is, that ebay accused me to be a criminal, who got payed from you to write positive about you. we both know, that this is not true! but what can i do against it? they warn now other sellers not to give me money, and what you can read in the internet, is allways true! they will read this and ban me, and i am proud of it! i am 75 years old and i want to live my last days quietly! kind regards wolfgang
Eco-Friendly Packaging
We care for the environment
Get more Savings
Create a free account & get the latest news
FREE UK Delivery
Tracking provided for all orders over £24