Toast This - 25 tunes featuring DJ versions of Big Hit songs (Rare & Classic)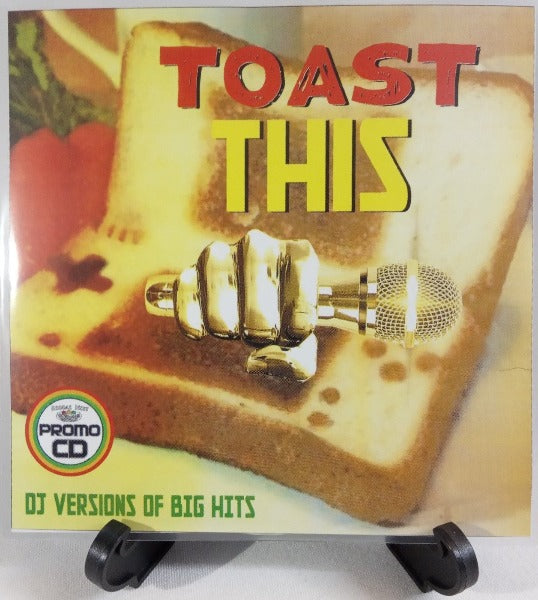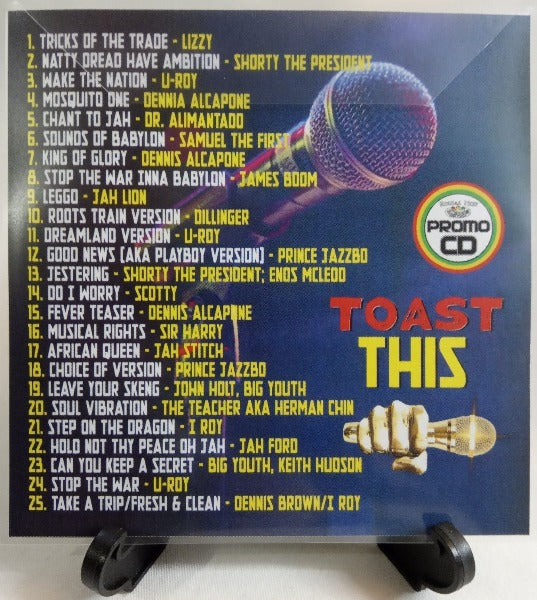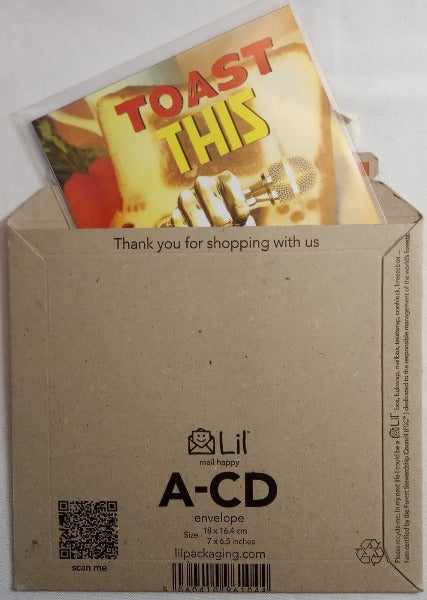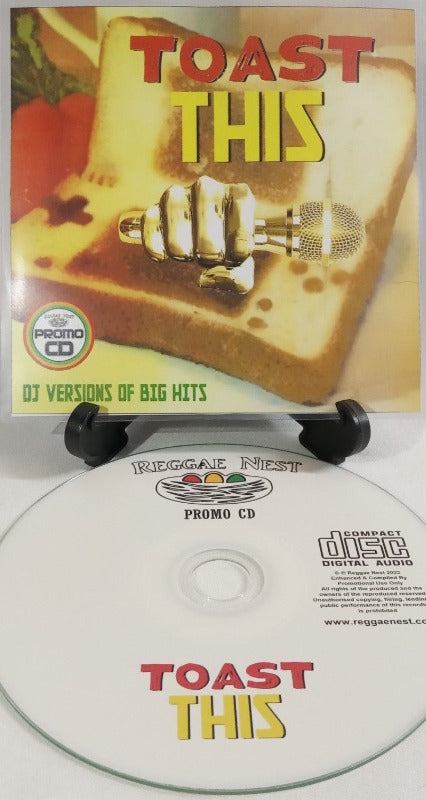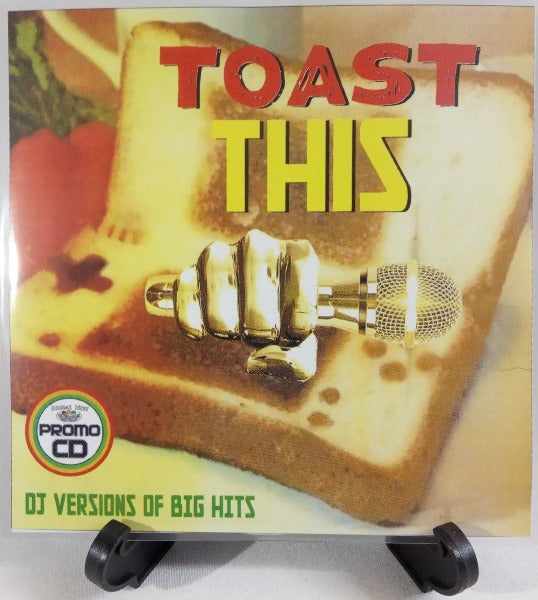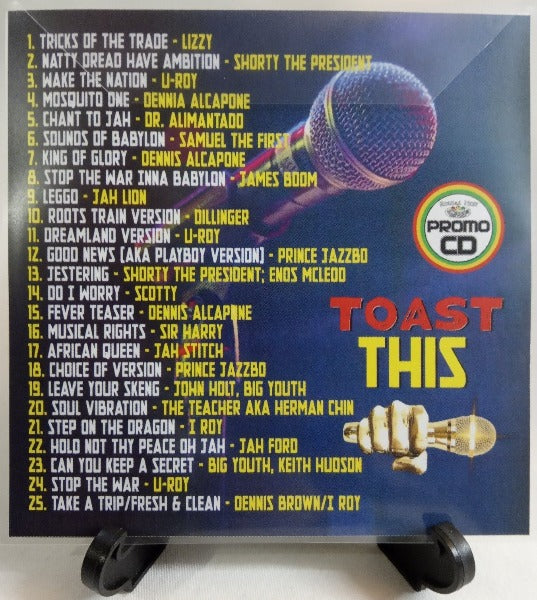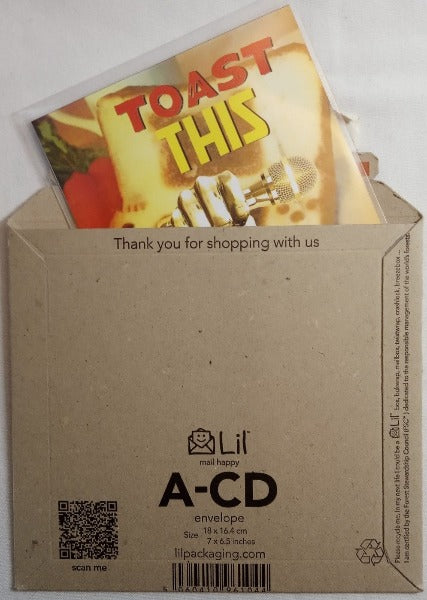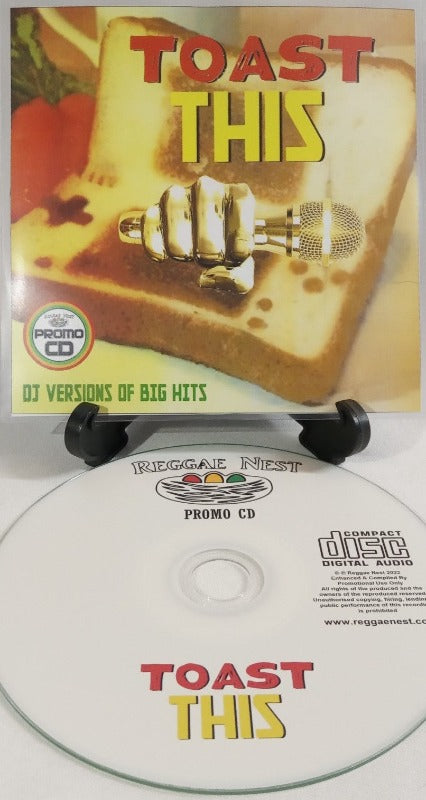 Toast This - 25 tunes featuring DJ versions of Big Hit songs (Rare & Classic)
Product description
Toast This

Goods: A brand new promo CD
Music: Various Jamaican DJ Artist toasting or djing on songs/riddim = 'Toast This' 
Number of Tracks: 25
CD Description: A brand new collection of revival DJ anthems and styles that set the pattern for the future generations to come.  These artists are amongst the veterans, ones we call Foundation Artists as they originated and popularised the DJ style.
Age of Music: Revival 1970-1983
Genres: DJ style on Rocksteady, Roots, Reggae
Suitable for: All reggae music fans
Audio Quality: Audio from FLAC/WAV files
Duration: 79 mins
Product Description: CDs are fully printed and brand new in plastic sleeves, wrapped in packs and are sealed with 'Promo CD' stickers. They are not available anywhere else, they are promotional cds, for promotional use.
Tracklist for the disc is as follows:
Toast This - Tracklist total Playtime = 79 min 32 secs
1. Tricks Of The Trade - Lizzy (2:41)
2. Natty Dread Have Ambition - Shorty The President (3:35)
3. Wake The Nation - U-Roy (4:14)
4. Mosquito One - Dennia Alcapone (2:29)
5. Chant To Jah - Dr. Alimantado (2:54)
6. Sounds Of Babylon - Samuel the First (3:41)
7. King Of Glory - Dennis Alcapone (3:12)
8. Stop The War Inna Babylone - James Boom  (4:35)
9. Leggo - Jah Lion (3:33)
10. Roots Train Version - Dillinger (3:45)
11. Dreamland Version - U-Roy (2:27)
12. Good News (aka Playboy Version) - Prince Jazzbo (2:42)
13. Jestering - Shorty The President; Enos McLeod (2:32)
14. Do I Worry - Scotty (2:40)
15. Fever Teaser - Dennis Alcapone (2:09)
16. Musical Rights - Sir Harry (3:08)
17. African Queen - Jah Stitch (3:26)
18. Choice Of Version - Prince Jazzbo (3:19)
19. Leave Your Skeng - John Holt, Big Youth (3:07)
20. Soul Vibration - The Teacher aka Herman Chin (2:23)
21. Step On the Dragon - I Roy (2:49)
22. Hold Not Thy Peace Oh Jah - Jah Ford (2:53)
23. Can You Keep A Secret - Big Youth, Keith Hudson (1:58)
24. Stop The War - U-Roy (3:25)
25. Take A Trip/Fresh & Clean - Dennis Brown/I Roy (5:51)

What is 'Toast This'?
When people first heard DJ's over toning on popular reggae songs, it quickly became a style that captivated the attention of fans at home and abroad.  The passage of time where this style really became established was in the Seventies, gaining popularity throughout the 80's.  'Toast This' dabbles in this era to pick out some of the greatest and truly original styles of this era.

Postage: UK (Inc Mainland Scotland & Northern Ireland) 1st Class Standard Royal Mail 48-hour Post. Worldwide using Royal Mail International. 
Packaging:
Orders of quantity 4 CDs or less will be packaged and posted in cardboard sealed CD envelopes. Orders of 5 or more CDs will be packaged and posted in bubblewrapped envelopes.  Larger orders 20+are sent as parcels.
Toast This
Make another good series As usual received first class service
Eco-Friendly Packaging
We care for the environment
Get more Savings
Create a free account & get the latest news
FREE UK Delivery
Tracking provided for all orders over £24