Vocal Moments Vol 47 - Brand New Beautiful Vocal Reggae 2023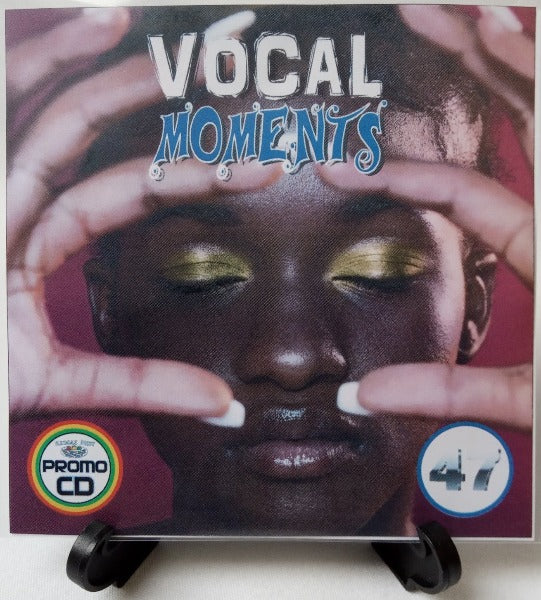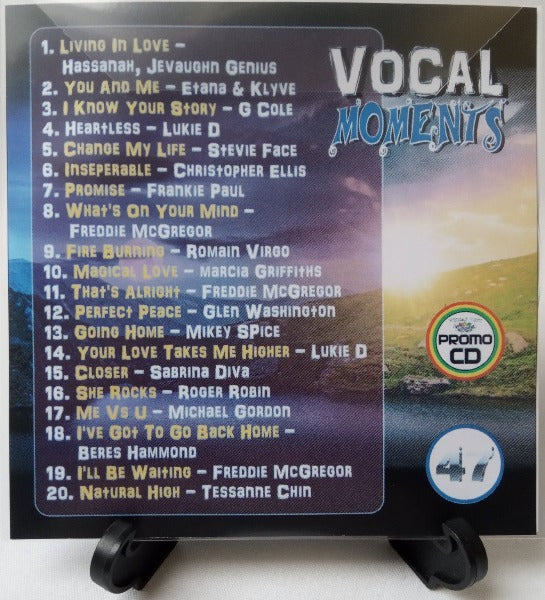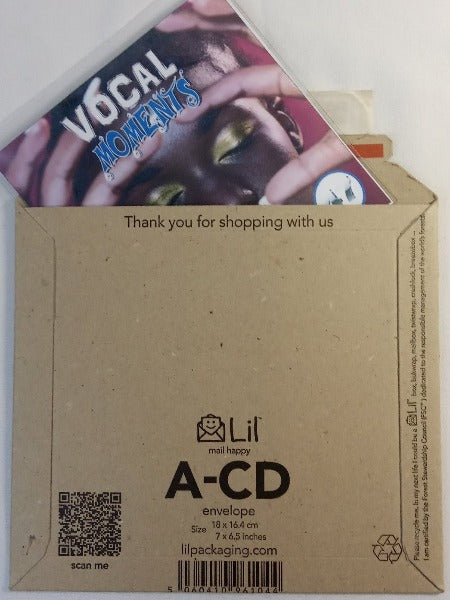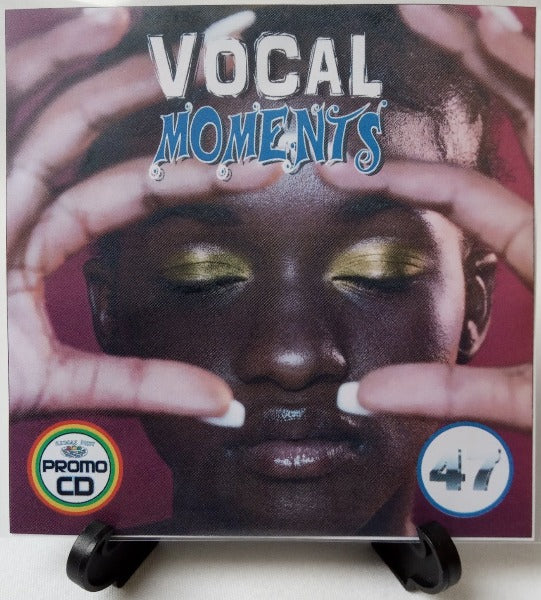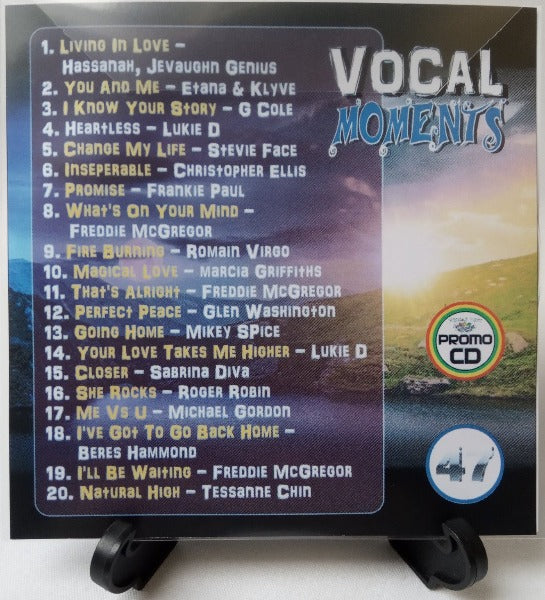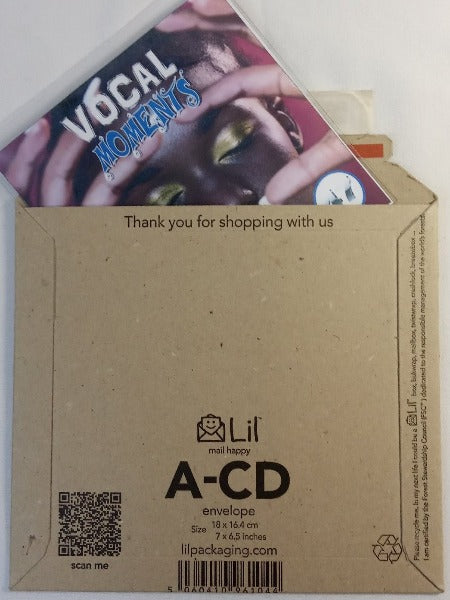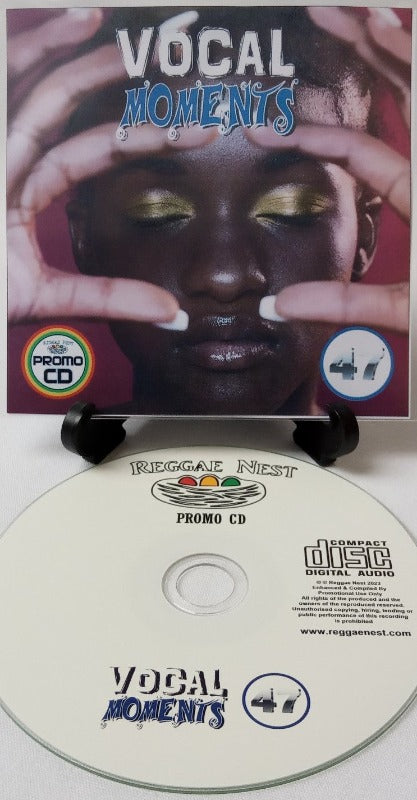 Vocal Moments Vol 47 - Brand New Beautiful Vocal Reggae 2023
Product description
Vocal Moments Vol 47

Goods: A brand new promo CD
Music: Volume 47 of the 'Vocal Moments' series
Released: FEB 2023
Number of Tracks: 20
CD Description: Vocal Moments Vol 47 offers an enchanting listening experience with its collection of brand new beautiful vocal reggae from 2023. The reflective lyrical elements harmoniously blend with the pleasing cadences, making it an easy listen for any reggae fan.
Age of Music: 2023 
Genres: Vocal Reggae
Suitable for: Reggae Collectors & Fans of all levels 
Audio Quality: Audio from FLAC/WAV files
Duration: 78 mins
Product Description: CDs are fully printed and brand new in plastic sleeves, wrapped in packs and are sealed with 'Promo CD' stickers. They are not available anywhere else, they are promotional cds, for promotional use.
Tracklists for the discs are as follows:
Vocal Moments Vol 47 - Total Playtime = 78 min 53 secs:
1. Living In Love - Hassanah, Jevaughn Genius (4:30)
2. You And Me - Etana & Klyve (3:35)
3. I Know Your Story - G Cole (3:02)
4. Heartless - Lukie D (3:17)
5. Change My Life - Stevie Face (3:16)
6. Inseparable - Christopher Ellis (4:05)
7. Promise - Frankie Paul (4:19)
8. What's On Your Mind - Freddie McGregor (4:20)
9. Fire Burning - Romain Virgo (3:53)
10. Magical Love - Marcia Griffiths (3:44)
11. That's Alright - Freddie McGregor (4:16)
12. Perfect Peace - Glen Washington (4:00)
13. Going Home - Mikey Spice (3:41)
14. Your Love Takes Me Higher - Lukie D (3:28)
15. Closer - Sabrina Diva (3:44)
16. She Rocks - Roger Robin (3:44)
17. Me Vs U - Michael Gordon (4:27)
18. I've Got To Go Back Home - Beres Hammond (3:37)
19. I'll Be Waiting - Freddie McGregor (2:57)
20. Natural High - Tessanne Chin (4:14)

What is 'Vocal Moments'?
Vocal Reggae is the term used to describe proper 'songs' where the artist is singing rather than toasting or DJ'ing. There are some tracks in this collection that feature combinations of artists singing & dj's toasting over the track, but not many.  The music often captures feelings, thoughts, moments and combined with the infectious reggae beat makes a pleasurable, addictive listen.   From you have these CD's in your collection, I am confident you will come back for more.

Postage: UK (Inc Mainland Scotland & Northern Ireland) 1st Class Standard Royal Mail 48-hour Post. Worldwide using Royal Mail International. 

Packaging: Orders of quantity 4 CDs or less will be packaged and posted in cardboard sealed CD envelopes. Orders of 5 or more CDs will be packaged and posted in bubblewrapped envelopes. Larger orders 20+are sent as parcels.
Best tune about
Fast service bad tunes every time
Good CD
Very good cd cannot fault THE music on this CD will buy again
Eco-Friendly Packaging
We care for the environment
Get more Savings
Create a free account & get the latest news
FREE UK Delivery
Tracking provided for all orders over £24