War Is Not The Answer - Potent Reggae messages questioning World Conflict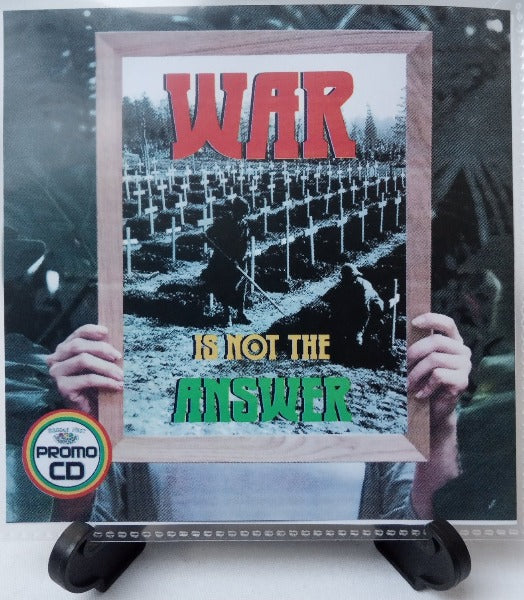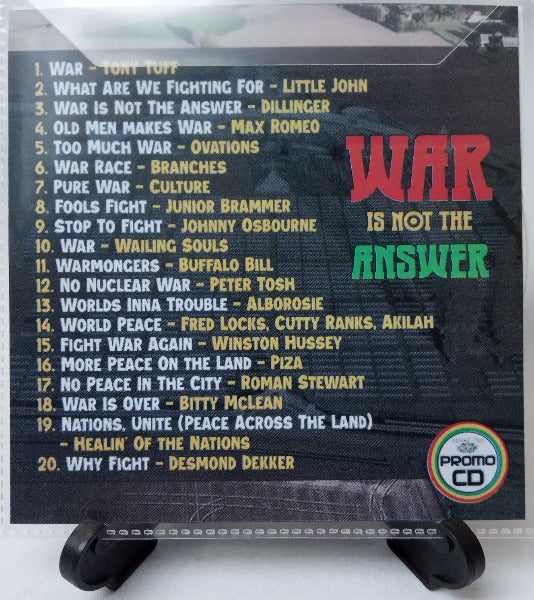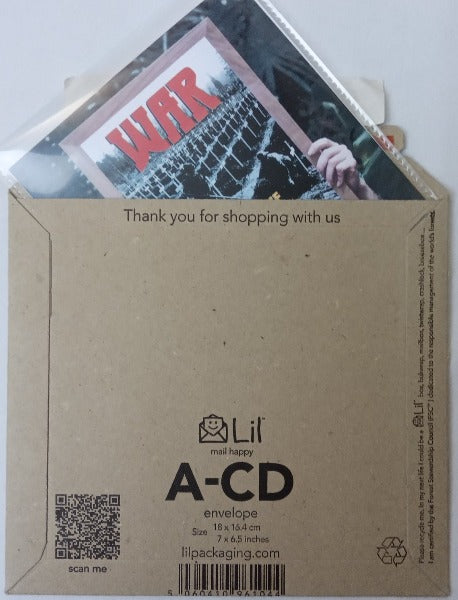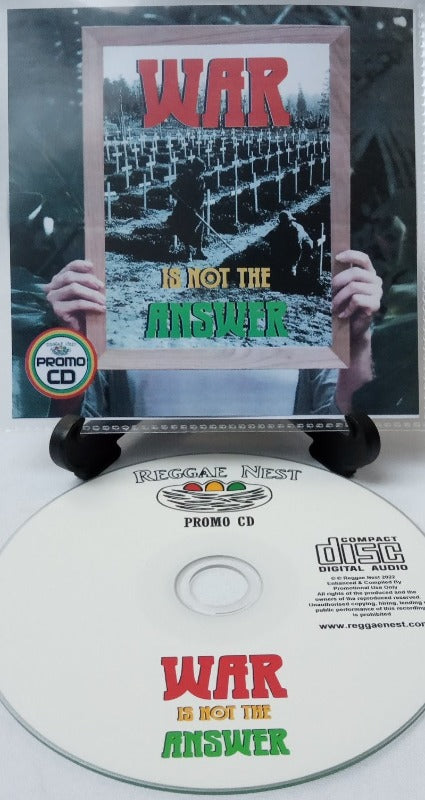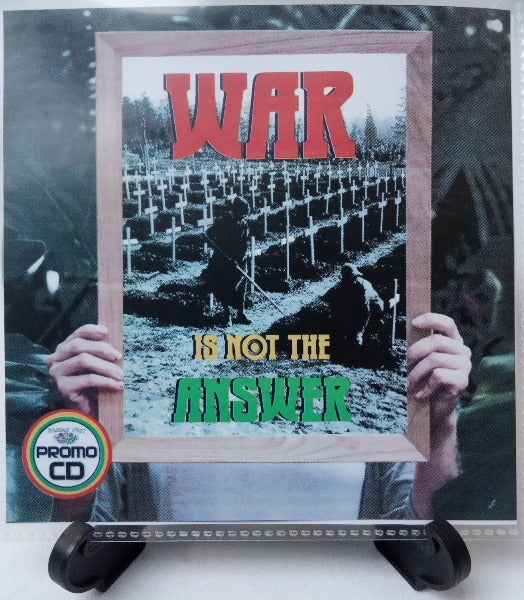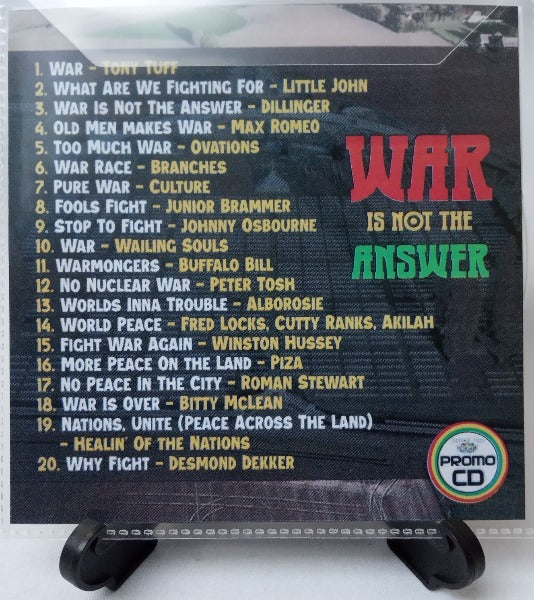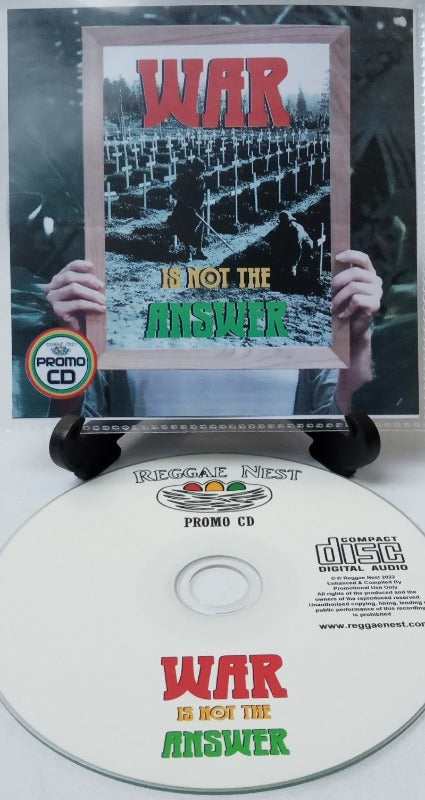 War Is Not The Answer - Potent Reggae messages questioning World Conflict
Product description
War Is Not The Answer

Goods: A brand new promo CD
Music: Reggae music probing questions over Warfare
Released: MAR 2022
Number of Tracks: 20
CD Description: When listening to this CD you will pick up on trails of thought, definition of meanings and probing questions as to the effectiveness of War. With everything that's happening around us in 2022, War has suddenly climbed to the top of peoples fear league.  This CD should add some balance to the listeners perspective.
Age of Music: Classic, Rare & Modern Reggae
Genres: Roots, Rockers, Reality
Suitable for: All Reggae Fans, Current Affairs followers
Audio Quality: Audio from FLAC files
Duration: 79 mins
Product Description: CDs are fully printed and brand new in plastic sleeves, wrapped in packs and are sealed with 'Promo CD' stickers. They are not available anywhere else, they are promotional cds, for promotional use.
Tracklist for the disc is as follows:
War Is Not The Answer - Total Playtime = 79 mins 10 secs
1. War - Tony Tuff (4:00)
2. What Are We Fighting For - Little John (4:23)
3. War Is Not The Answer - Dillinger (3:07)
4. Old Men makes War - Max Romeo (4:19)
5. Too Much War - Ovations (3:48)
6. War Race - Branches (3:21)
7. Pure War - Culture (3:41)
8. Fools Fight - Junior Brammer (3:41)
9. Stop To Fight - Johnny Osbourne (3:10)
10. War - Wailing Souls (5:18)
11. Warmongers - Buffalo Bill (3:57)
12. No Nuclear War - Peter Tosh (7:49)
13. Worlds Inna Trouble - Alborosie (3:42)
14. World Peace - Fred Locks, Cutty Ranks, Akilah (3:42)
15. Fight War Again - Winston Hussey (3:36)
16. More Peace On the Land - Piza (3:06)
17. No Peace In The City - Roman Stewart (3:29)
18. War Is Over - Bitty McLean (4:24)
19. Nations, Unite (Peace Across The Land) - Healin' Of the Nations (4:26)
20. Why Fight - Desmond Dekker (2:44)

What is 'War Is Not The Answer'?
Events in February 2022 have shocked the world.  After a period where most of the world had shown common solidarity in a fight against humanity during the Pandemic, to this feeling of shock and fear felt across the world.  We all beleived we had learnt the lessons of Invasion and flexing of military muscle in this way.  Hence, this CD was born - out of the archives some of these tunes fused with younger tracks.  Its a thought provoking reggae CD themed on the basis that we all know - War Is Not The Answer.

Postage: UK (Inc Mainland Scotland & Northern Ireland) 1st Class Standard Royal Mail 48-hour Post. Worldwide using Royal Mail International. 

Packaging: Orders of quantity 4 CDs or less will be packaged and posted in cardboard sealed CD envelopes. Orders of 5 or more CDs will be packaged and posted in bubblewrapped envelopes. Larger orders 20+are sent as parcels.
A Bit weak
I will admit I am fussy about what reggae I like and being a little deaf I cannot always hear the lyrics. I go for production, a full sound and want it danceable. I like reggae with a political message. There are a few 'peace and Love' style numbers here, one track with dub overtones to the singing but overall, rather weak. There is nothing on here that comes anywhere near Steel Pulse's 'We don't want no WMD' or the Ruts 'Soldier' (might not have recalled the title correctly on that one). For all I know the anti war lyrics might be great but for most tracks it is all a bit thin to play on a reggae night. For private listening it i probably fine for most. 6 tracks are okay to me so worth the price.
Eco-Friendly Packaging
We care for the environment
Get more Savings
Create a free account & get the latest news
FREE UK Delivery
Tracking provided for all orders over £24