Winning Combinations #5 Reggae / Rubadub series dedicated to Combo songs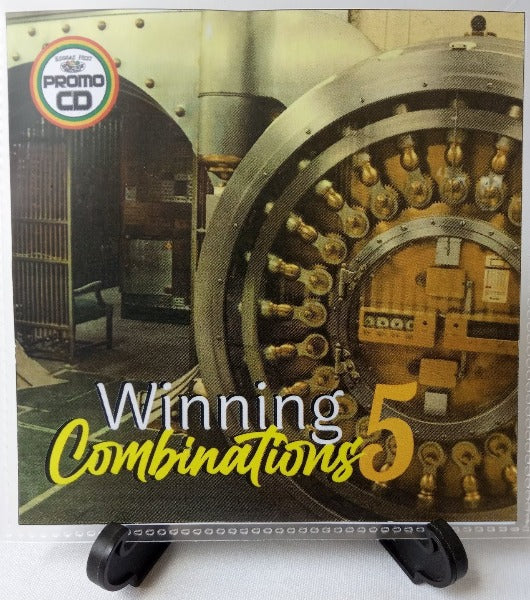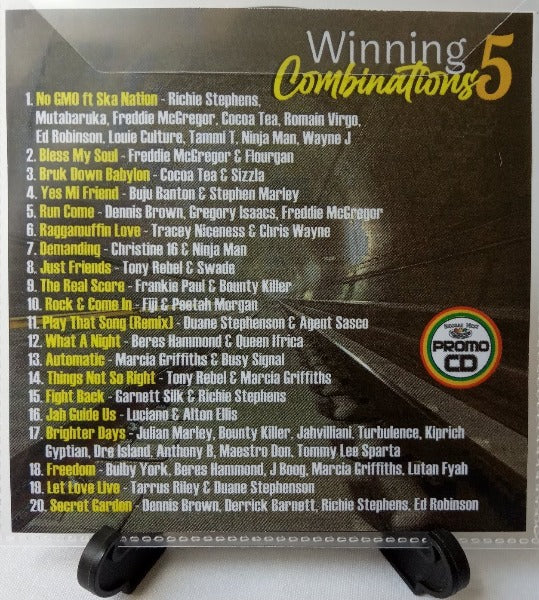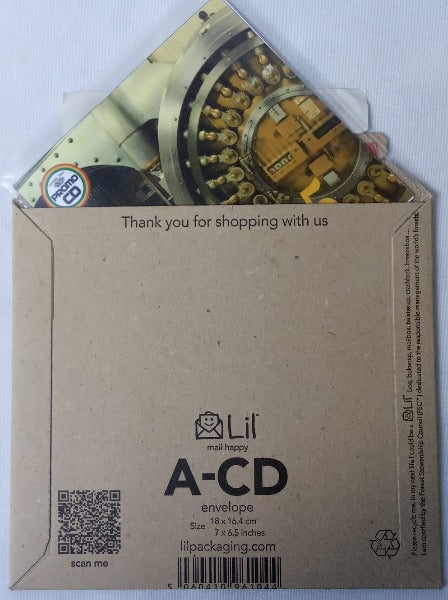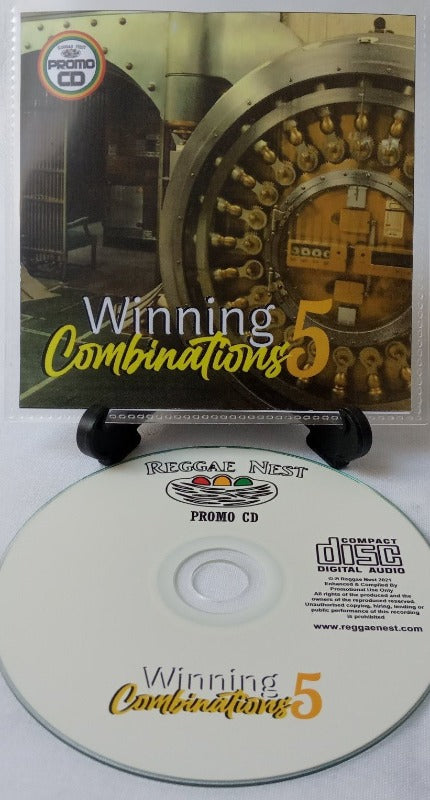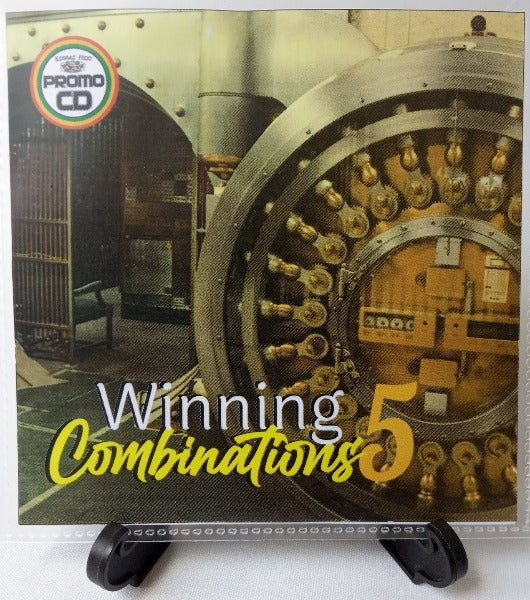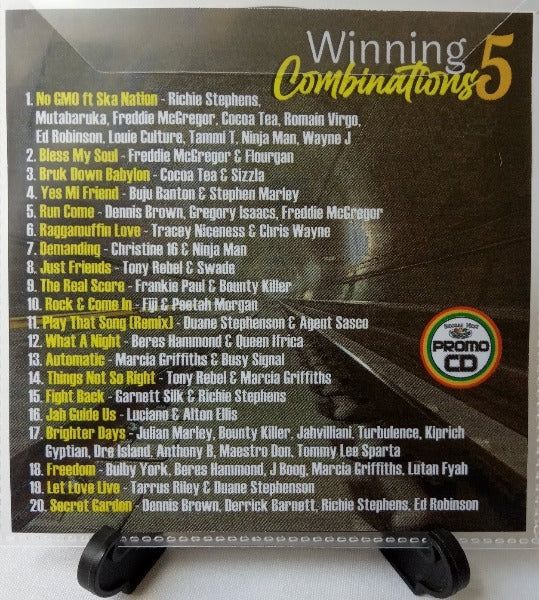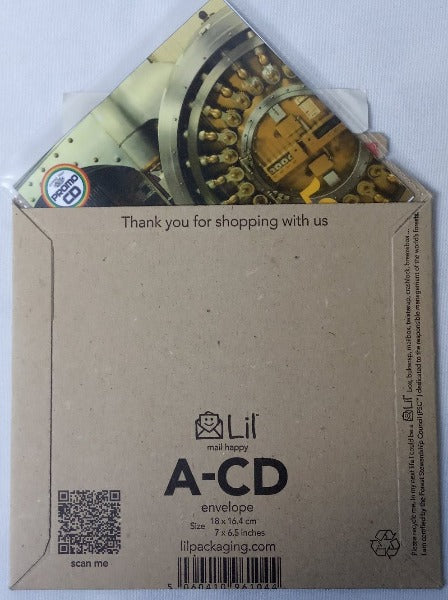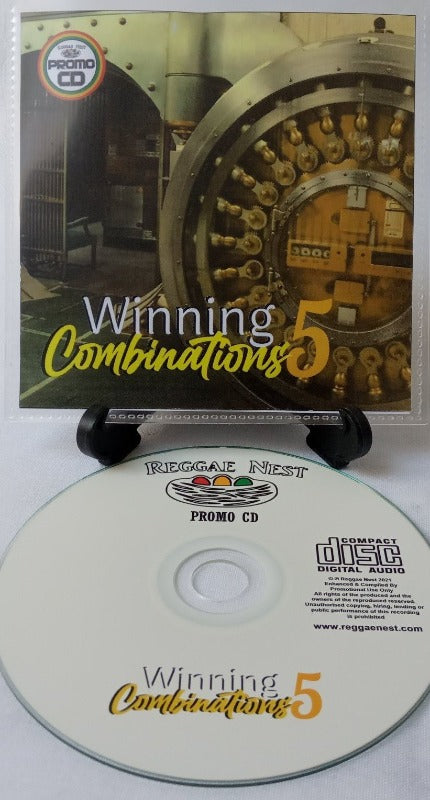 Winning Combinations #5 Reggae / Rubadub series dedicated to Combo songs
Product description
Winning Combinations #5

Goods: A brand new promo CD
Music: 20 songs made with more than one artist (Vol 5)
Released: MAY 2021
Number of Tracks: 20
CD Description: This series is a unique snapshot of some of the best together with some of the most underated reggae combinations in recent times.  Each CD is selected to play on its own and provide a good variety of styles and messages. Some tracks may feature 3, 4 or more artists.
Genres: Rubadub, Reggae, Dancehall, Reality
Suitable for: All Reggae Fans
Audio Quality: Audio from FLAC/WAV files
Duration: 79 mins
Product Description: CDs are fully printed and brand new in plastic sleeves, wrapped in packs and are sealed with 'Promo CD' stickers. They are not available anywhere else, they are promotional cds, for promotional use.
Tracklist for the disc is as follows:
Winning Combinations #5 - Total Playtime = 79 min 1 sec:
1. No GMO ft Ska Nation - Richie Stephens, Mutabaruka, Freddie McGregor, Cocoa Tea, Romain Virgo, Ed Robinson, Louie Culture, Tammi T, Ninja Man, Wayne J (4:10)
2. Bless My Soul - Freddie McGregor & Flourgan (3:54)
3. Bruk Down Babylon - Cocoa Tea & Sizzla (3:47)
4. Yes Mi Friend - Buju Banton & Stephen Marley (4:13)
5. Run Come - Dennis Brown, Gregory Isaacs, Freddie McGregor (3:40)
6. Raggamuffin Love - Tracey Niceness & Chris Wayne (3:44)
7. Demanding - Christine 16 & Ninja Man (3:50)
8. Just Friends - Tony Rebel & Swade (3:36)
9. The Real Score - Frankie Paul & Bounty Killer (3:38)
10. Rock & Come In - Fiji & Peetah Morgan (3:35)
11. Play That Song (Remix) - Duane Stephenson & Agent Sasco (3:59)
12. What A Night - Beres Hammond & Queen Ifrica (3:46)
13. Automatic - Marcia Griffiths & Busy Signal (4:20)
14. Things Not So Right - Tony Rebel & Marcia Griffiths (3:57)
15. Fight Back - Garnett Silk & Richie Stephens (3:52)
16. Jah Guide Us - Luciano & Alton Ellis (3:48)
17. Brighter Days - Julian Marley, Bounty Killer, Jahvilliani, Turbulence, Kiprich, Gyptian, Dre Island, Anthony B, Maestro Don, Tommy Lee Sparta (4:13)
18. Freedom - Bulby York, Beres Hammond, J Boog, Marcia Griffiths, Lutan Fyah (4:10)
19. Let Love Live - Tarrus Riley & Duane Stephenson (4:36)
20. Secret Garden - Dennis Brown, Derrick Barnett, Richie Stephens, Ed Robinson (3:40)

What is 'Winning Combinations'?
Over the years there has been thousands and thousands of songs made with more than one vocal artist.  In reggae, there is a good variety of styles so combining artists can produce some really exillerating music.  This series gives you a snapshot of some of these songs that are a win win combination.  Tunes selected from all eras of reggae and a variety of styles.

Postage: UK (Inc Mainland Scotland & Northern Ireland) 1st Class Standard Royal Mail 48-hour Post. Worldwide using Royal Mail International. 

Packaging: Orders of quantity 4 CDs or less will be packaged and posted in cardboard sealed CD envelopes. Orders of 5 or more CDs will be packaged and posted in bubblewrapped envelopes. Larger orders 20+are sent as parcels.
Eco-Friendly Packaging
We care for the environment
Get more Savings
Create a free account & get the latest news
FREE UK Delivery
Tracking provided for all orders over £24