Winning Combinations #8 Reggae / Rubadub series dedicated to Combo songs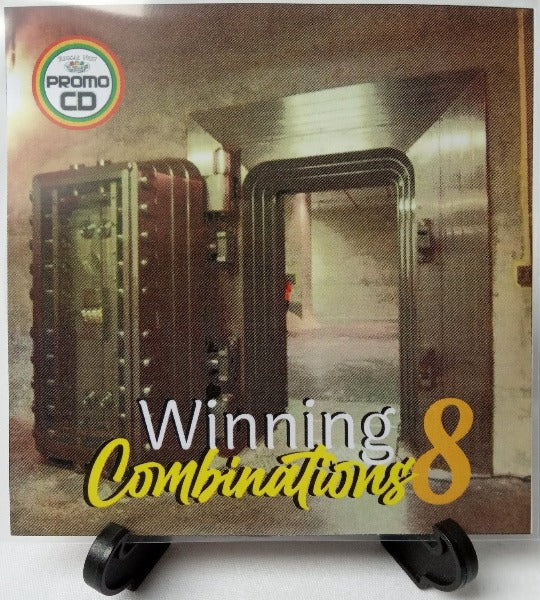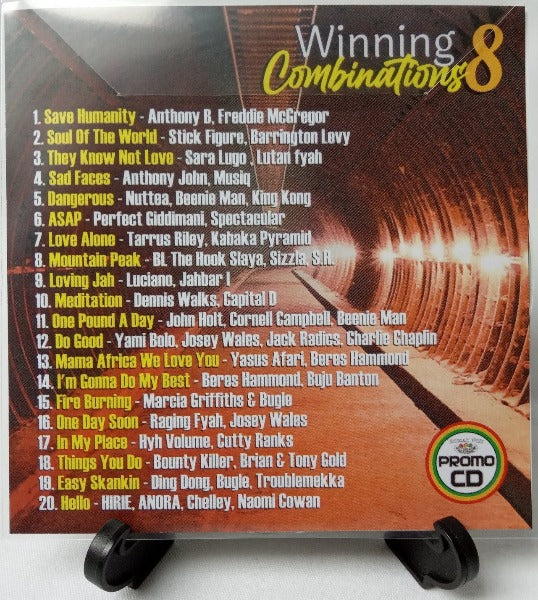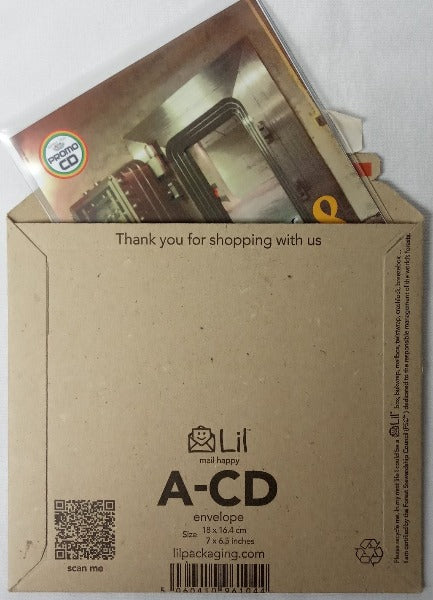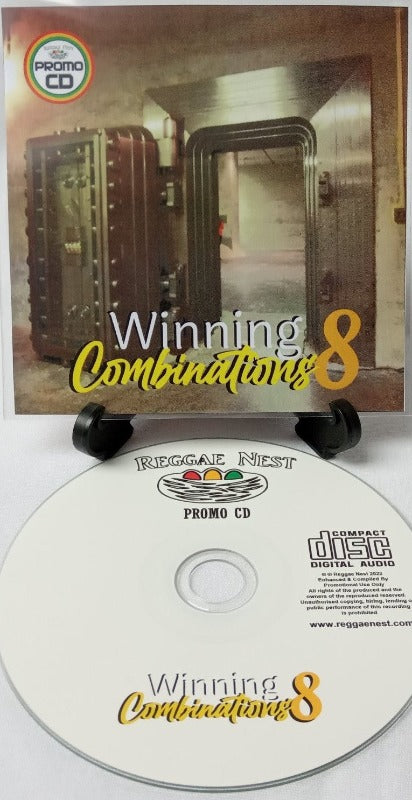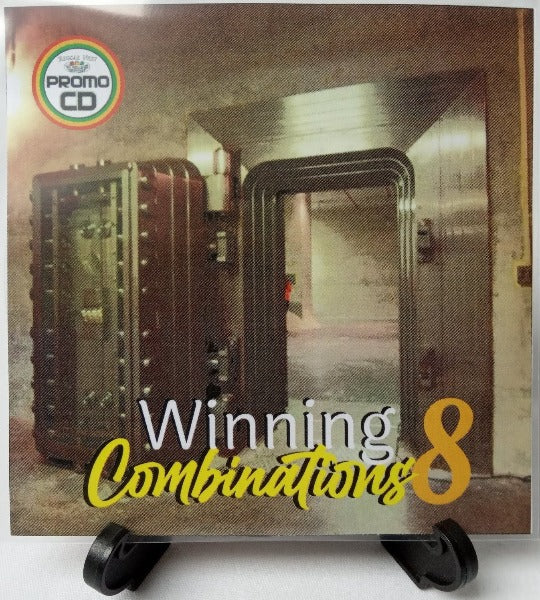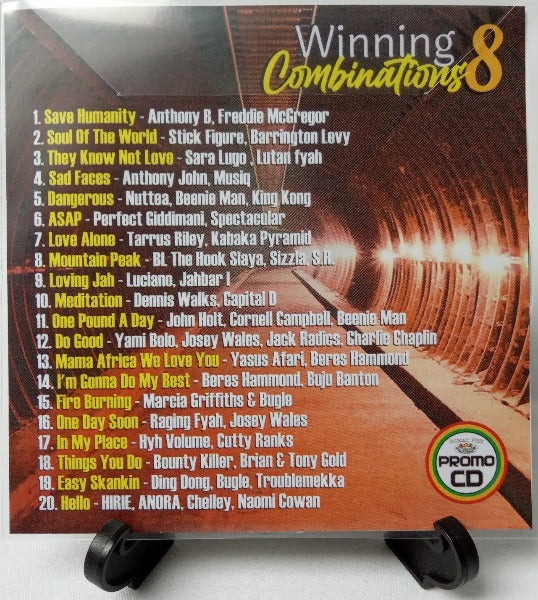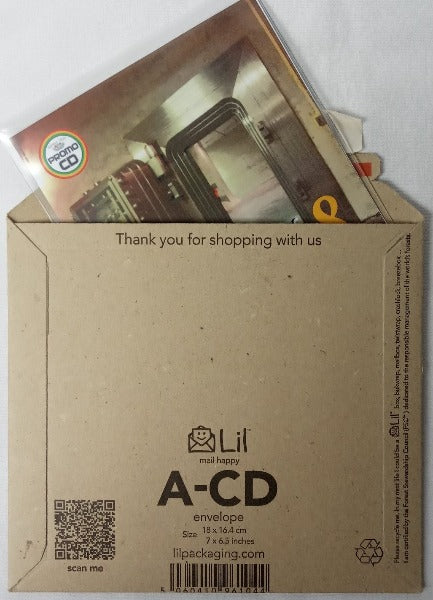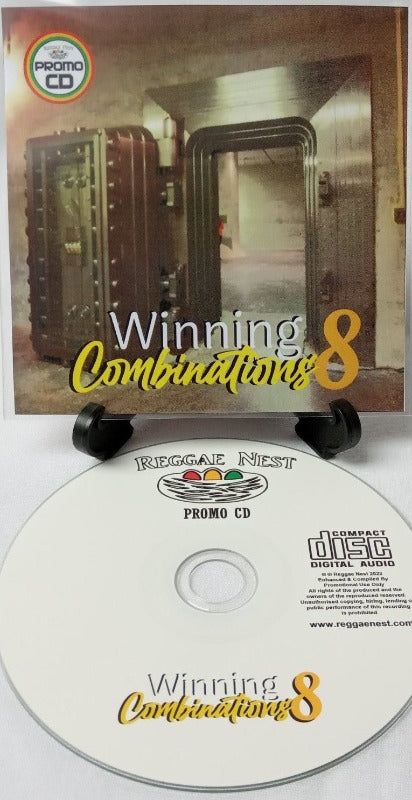 Winning Combinations #8 Reggae / Rubadub series dedicated to Combo songs
Product description
Winning Combinations #8

Goods: A brand new promo CD
Music: 20 songs made with more than one reggae artist (Vol 8)
Released: NOV 2022
Number of Tracks: 20
CD Description: This series is a unique snapshot of some of the best together with some of the most underrated reggae combinations in recent times.  Each CD is selected to play on its own and provide a good variety of styles and messages. Some tracks may feature 3, 4 or more artists.
Age of Music: 1998-2022
Genres: Rubadub, Reggae, Dancehall, Reality
Suitable for: All Reggae Fans
Audio Quality: Audio from FLAC/WAV files
Duration: 79 mins
Product Description: CDs are fully printed and brand new in plastic sleeves, wrapped in packs and are sealed with 'Promo CD' stickers. They are not available anywhere else, they are promotional cds, for promotional use.
Tracklist for the disc is as follows:
Winning Combinations #8 - Total Playtime = 79 min 14 secs:
1. Save Humanity - Anthony B, Freddie McGregor (4:36)
2. Soul Of The World - Stick Figure, Barrington Levy (3:23)
3. They Know Not Love - Sara Lugo , Lutan Fyah (4:44)
4. Sad Faces - Anthony John, Musiq (3:10)
5. Dangerous - Nuttea, Beenie Man, King Kong (4:01)
6. ASAP - Perfect Giddimani, Spectacular (4:22)
7. Love Alone - Tarrus Riley, Kabaka Pyramid (3:27)
8. Mountain Peak - BL The Hook Slaya, Sizzla, S.R. (4:47)
9. Loving Jah - Luciano, Jahbar I (4:04)
10. Meditation - Dennis Walks, Capital D (4:19)
11. One Pound A Day - John Holt, Cornell Campbell, Beenie Man (4:04)
12. Do Good - Yami Bolo, Josey Wales, Jack Radics, Charlie Chaplin (3:39)
13. Mama Africa We Love You - Yasus Afari, Beres Hammond (3:47)
14. I'm Gonna Do My Best - Beres Hammond, Buju Banton (3:30)
15. Fire Burning - Marcia Griffiths & Bugle (4:02)
16. One Day Soon - Raging Fyah, Josey Wales (4:16)
17. In My Place - Hyh Volume, Cutty Ranks (3:55)
18. Things You Do - Bounty Killer, Brian & Tony Gold (3:48)
19. Easy Skankin - Ding Dong, Bugle, Troublemekka (4:31)
20. Hello - HIRIE, ANORA, Chelley, Naomi Cowan (2:33)

What is 'Winning Combinations'?
Over the years there has been thousands and thousands of songs made with more than one vocal artist.  In reggae, there is a good variety of styles so combining artists can produce some really exhilarating music.  This series gives you a snapshot of some of these songs that are a win win combination.  Tunes selected from all eras of reggae and a variety of styles.

Postage: UK (Inc Mainland Scotland & Northern Ireland) 1st Class Standard Royal Mail 48-hour Post. Worldwide using Royal Mail International. 

Packaging: Orders of quantity 4 CDs or less will be packaged and posted in cardboard sealed CD envelopes. Orders of 5 or more CDs will be packaged and posted in bubblewrapped envelopes. Larger orders 20+are sent as parcels.
Eco-Friendly Packaging
We care for the environment
Get more Savings
Create a free account & get the latest news
FREE UK Delivery
Tracking provided for all orders over £24