Recession Reggae - Money too tight to mention! Revival Reggae for 2020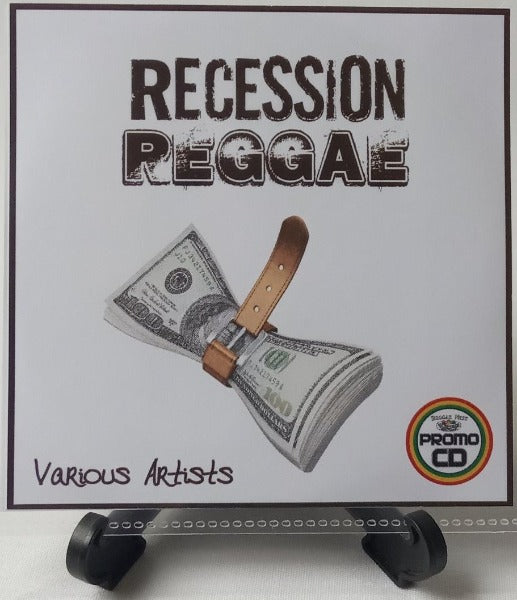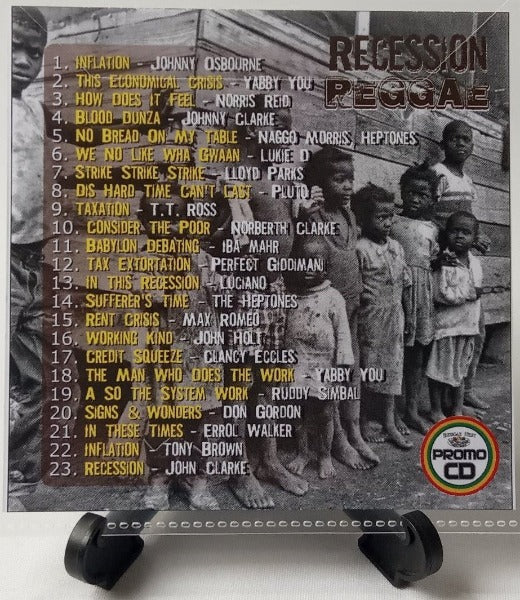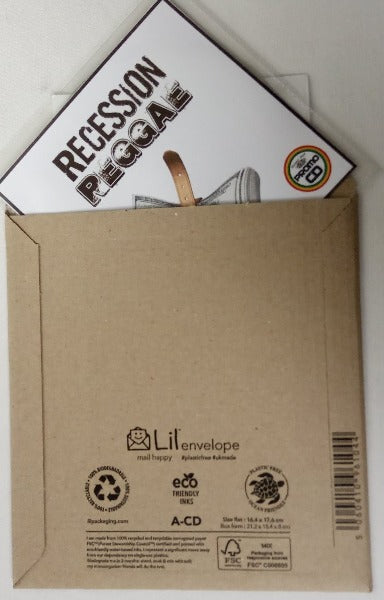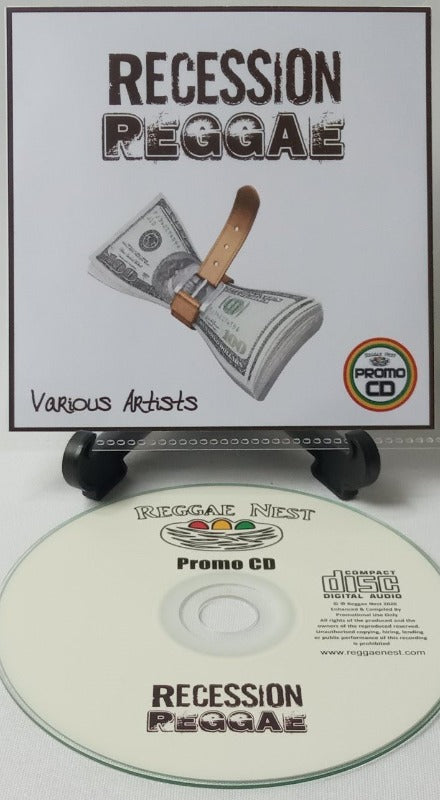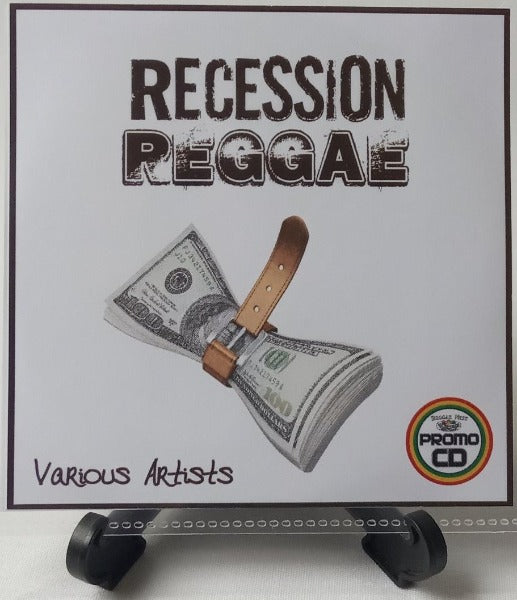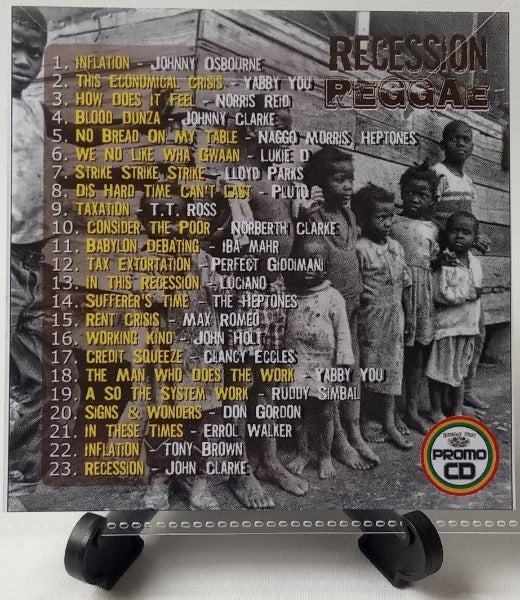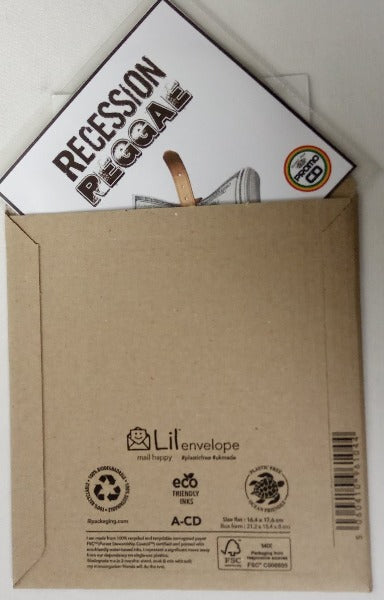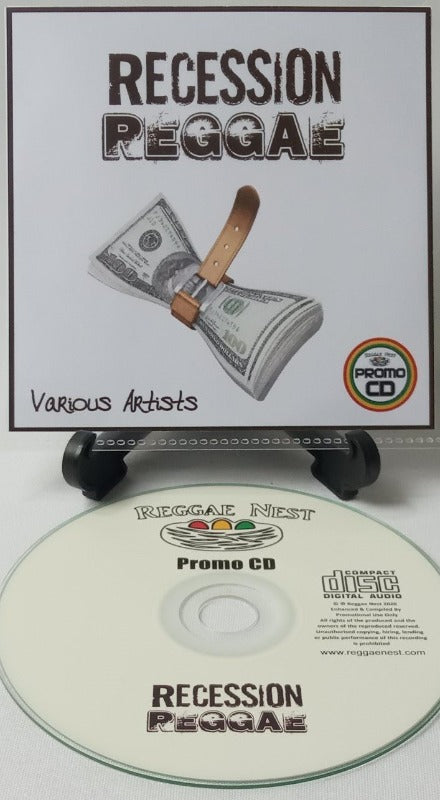 Recession Reggae - Money too tight to mention! Revival Reggae for 2020
Product description
Recession Reggae

Goods: A brand new promo CD
Music: Hardships & troubles of Recession in a reggae revival themed  CD
Released: 2020
Number of Tracks: 23 
CD Description: Here is a clevely assembled collection of tunes which are mainly revival, collected and ordered to ensure a real smooth listen.  The inspiration for this CD comes from the current crisis thats gripping the world and the pre-emptive feelings of what is imminent and sure to last.. Recession.
Age of Music: 70's-Modern
Genres: Roots Reality, Culture, Rockers
Suitable for: Conscious music collectors, Reality enthusiasts, Roots Fans
Audio Quality: Audio from FLAC/WAV files
Duration: 78 mins
Product Description: CDs are fully printed and brand new in plastic sleeves, wrapped in packs and are sealed with 'Promo CD' stickers. They are not available anywhere else, they are promotional cds, for promotional use.
Tracklists for the disc is as follows:
Recession Reggae - Total Playtime = 78 min 18 secs:
1. Inflation - Johnny Osbourne (4:01)
2. This Economical Crisis - Yabby You (2:31)
3. How Does It Feel - Norris Reid (3:50)
4. Blood Dunza - Johnny Clarke (3:05)
5. No Bread On My Table - Naggo Morris, Heptones (4:10)
6. We No Like Wha Gwaan - Lukie D (4:02)
7. Strike Strike Strike - Lloyd Parks (2:42)
8. Dis Hard Time Can't Last - Pluto (4:09)
9. Taxation - T.T. Ross (2:15)
10. Consider The Poor - Norberth Clarke (3:46)
11. Babylon Debating - Iba Mahr (4:29) 
12. Tax Extortation - Perfect Giddimani (3:21)
13. In This Recession - Luciano (3:56)
14. Sufferer's Time - The Heptones (3:17)
15. Rent Crisis - Max Romeo (2:09)
16. Working Kind - John Holt (2:46)
17. Credit Squeeze - Clancy Eccles (3:21)
18. The Man Who Does The Work - Yabby You (2:48)
19. A So The System Work - Ruddy Simbal (3:33)
20. Signs & Wonders - Don Gordon (3:04)
21. In These Times - Errol Walker (4:34)
22. Inflation - Tony Brown (2:51)
23. Recession - John Clarke (3:30)

What is 'Recession Reggae'?
Reggae music has forever been the people music.  When recession is around, the people feel it the most.  Whether its difficulty in finding work, hiked prices, hardship, struggling to pay rent, taxes or any other affect of recession, this CD has it covered.  A real nice listen especially if you are feeling the pinch, makes you remember you are not alone!

Postage: UK (Inc Mainland Scotland & Northern Ireland) 1st Class Standard Royal Mail 48-hour Post. Worldwide using Royal Mail International. 

Packaging: Orders of quantity 4 CDs or less will be packaged and posted in cardboard sealed CD envelopes. Orders of 5 or more CDs will be packaged and posted in bubblewrapped envelopes. Larger orders 20+are sent as parcels.
Eco-Friendly Packaging
We care for the environment
Get more Savings
Create a free account & get the latest news
FREE UK Delivery
Tracking provided for all orders over £24