Fallen Giants 17 a series dedicated to Reggae Giants no longer with us R.I.P.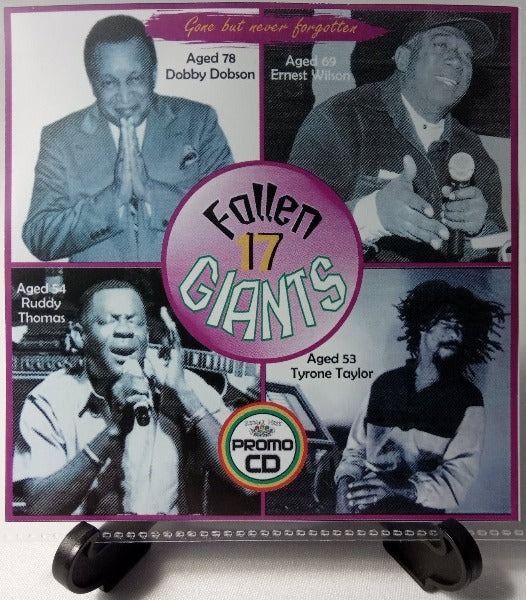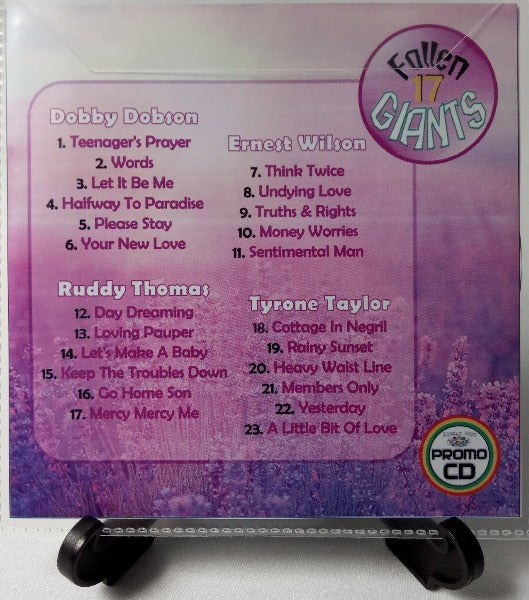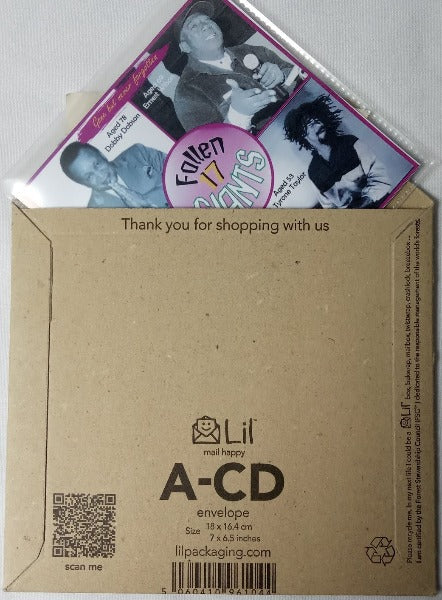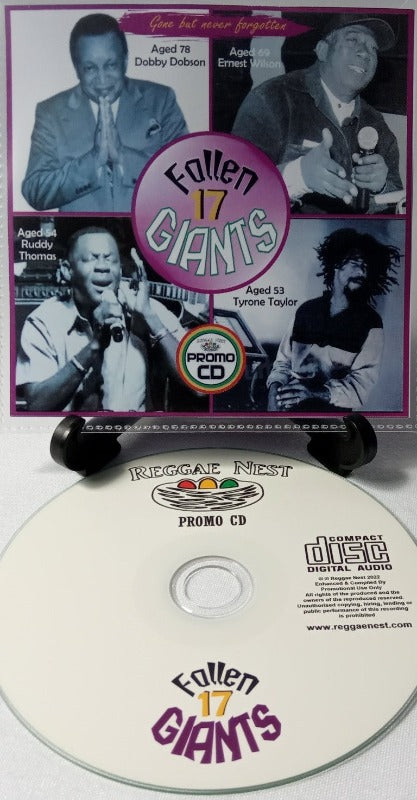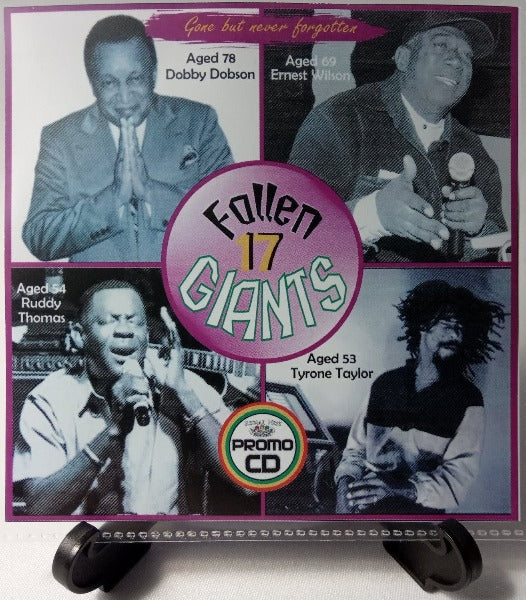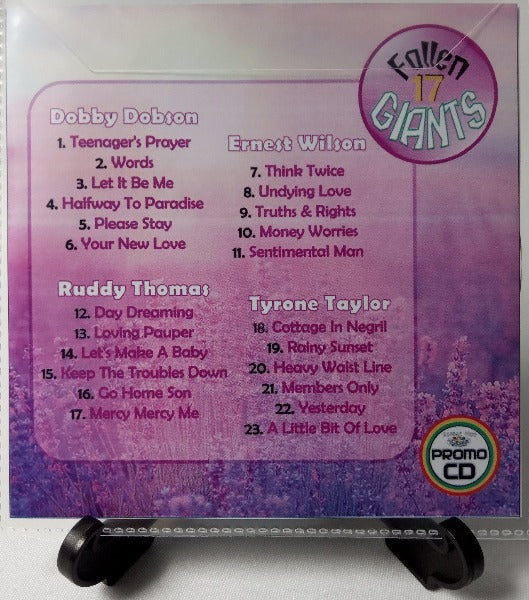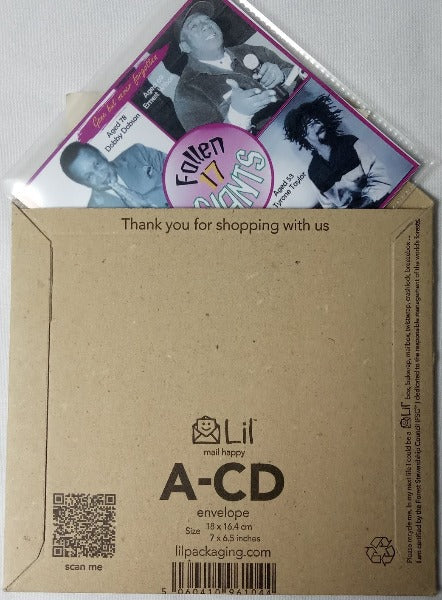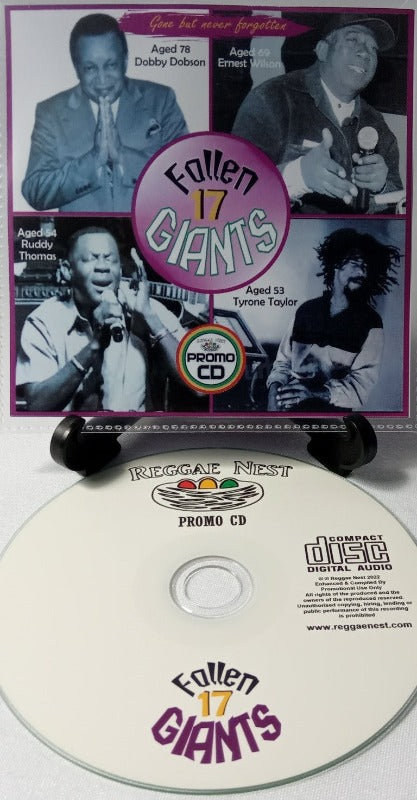 Fallen Giants 17 a series dedicated to Reggae Giants no longer with us R.I.P.
Product description
Fallen Giants 17

Goods: A brand new promo CD
Music: Purple Discs - 4 Foundation Singers - Fallen Giants 17
Released: JUL 2022
Number of Tracks: 23
CD Description: The first of the Purple Discs - Popular Artists.  This disc features 2 legends who have past away in recent years - Dobby Dobson & Ernest Wilson together with 2 other popular and distinguished artist, Ruddy Thomas & Tyrone Taylor.  Its a super collectible series - Fallen Giants.  There is a particular Big People flavour to this release.
Age of Music: 1967-2001 (some tracks recorded much earlier than their release)
Genres: Ska, Rocksteady, Big People Reggae, Classic Reggae, Instrumentals (Horns)
Suitable for: Historians, Collectors, DJ's, Presenters, Reggae/Rocksteady Fans
Audio Quality: Audio from FLAC/WAV files
Duration: 77 mins
Product Description: CDs are fully printed and brand new in plastic sleeves, wrapped in packs and are sealed with 'Promo CD' stickers. They are not available anywhere else, they are promotional cds, for promotional use.
Tracklist for the disc is as follows:
Fallen Giants 17 - Tracklist total playtime = 77 mins 19 Secs:

Dobby Dobson
1. Teenager's Prayer (2:30)
2. Words (3:42)
3. Let It Be Me (3:08)
4. Halfway To Paradise (3:08)
5. Please Stay (4:16)
6. Your New Love (2:45)

Ernest Wilson
7. Think Twice (4:00)
8. Undying Love (3:08)
9. Truths & Rights (3:35)
10. Money Worries (3:10)
11. Sentimental Man (2:19)

Ruddy Thomas
12. Day Dreaming (3:40)
13. Loving Pauper (3:16)
14. Let's Make A Baby (4:10)
15. Keep The Troubles Down (2:20)
16. Go Home Son (3:30)
17. Mercy Mercy Me (4:12)

Tyrone Taylor
18. Cottage In Negril (3:54)
19. Rainy Sunset (3:26)
20. Heavy Waist Line (2:40)
21. Members Only (3:44)
22. Yesterday (2:58)
23. A Little Bit Of Love (3:43)

What Is 'Fallen Giants' series?
Many artists lived their lives (some of them so short) and never got to witness the effect that their reggae music has and is now having across the whole globe. Some have even passed away poor, receiving little rewards or sometimes without any just  rewards for their work. This series ensures that these artists legacies live on and that younger generations can study, learn and appreciate them.  Without these artists, there would not of been a pathway for younger generations to carry on driving the reggae train up to this present day.
fallen giants
good tunes on this cd gone too soon artist like ruddy thomas
Nice cds
Very good service every time big up reggae nest
Eco-Friendly Packaging
We care for the environment
Get more Savings
Create a free account & get the latest news
FREE UK Delivery
Tracking provided for all orders over £24