Heads Of Government - In this time People still need Equal Rights, Stop the War, Share the Wealth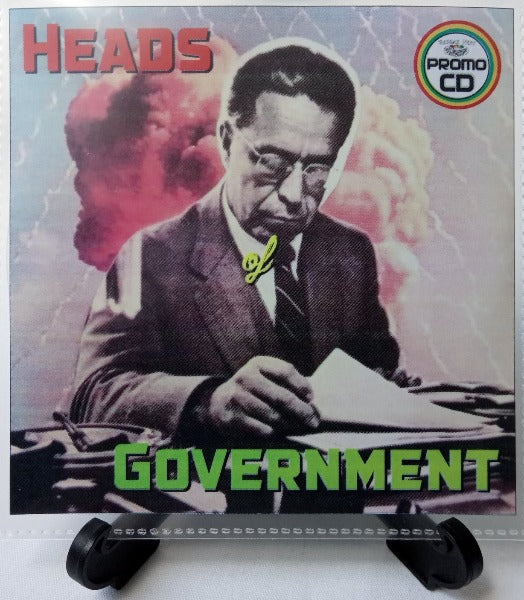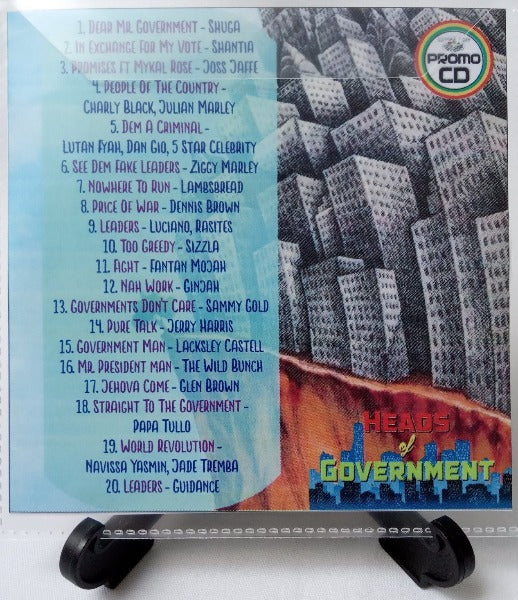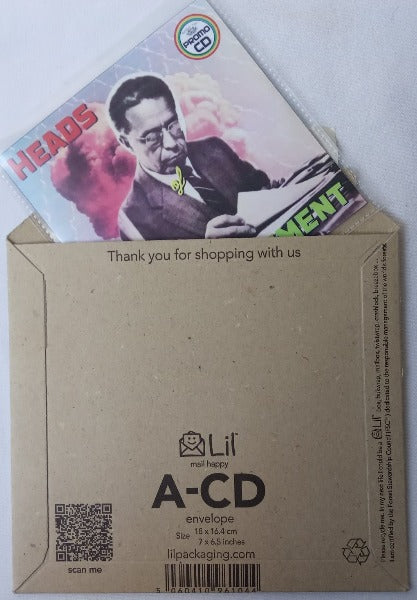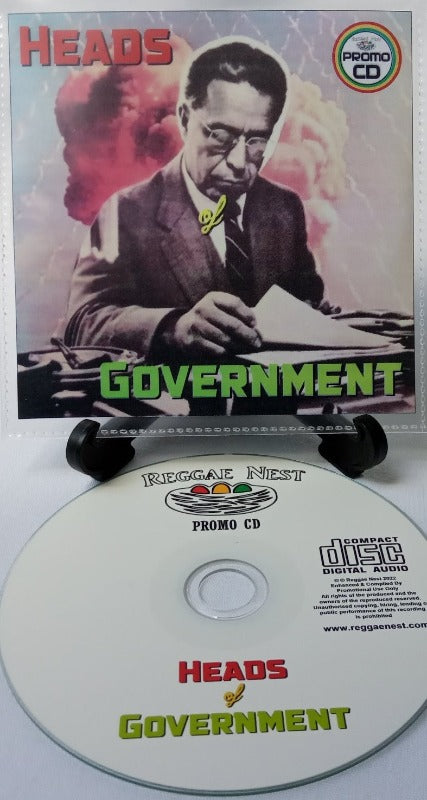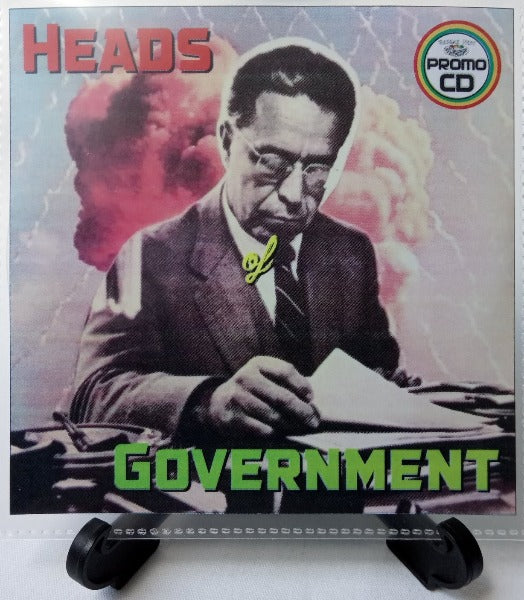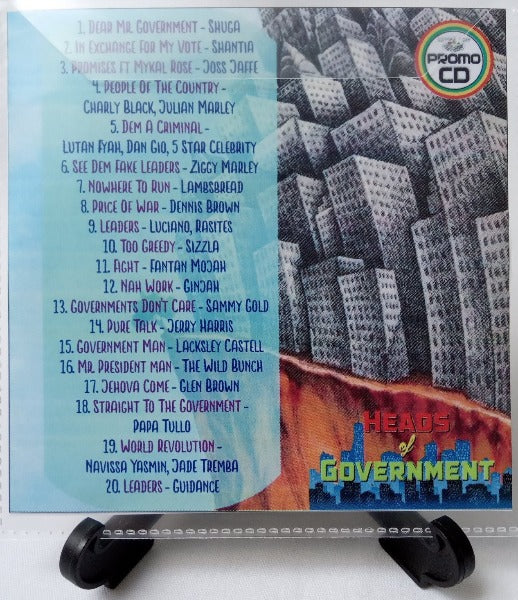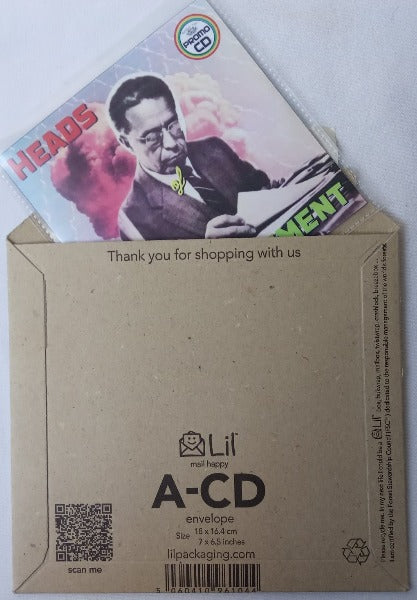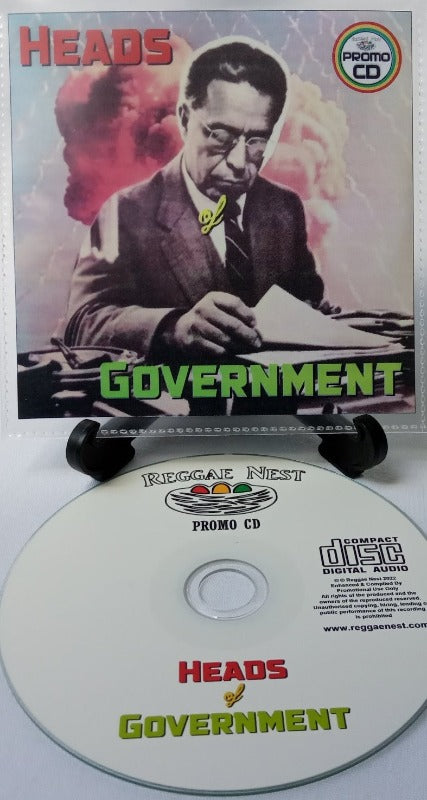 Heads Of Government - In this time People still need Equal Rights, Stop the War, Share the Wealth
Product description
Heads Of Government

Goods: A brand new promo CD
Music: Reggae music with messages for Leaders 
Released: MAR 2022
Number of Tracks: 20
CD Description: Reggae music is such a powerful platform for carrying the people's voice, feelings & thoughts that aren't openly discussed, with an unparalleled relevancy.  Generations after generations have suffered under Regimes built and controlled by so called 'Leaders'. The definition of Governance links the 2 words - Rule & Control, this does not mean the people's voice shouldn't be heard. 
Age of Music: Classic, Rare & Modern Reggae
Genres: Reggae, Roots, Rockers, Reality
Suitable for: All Reggae Fans, Current Affairs followers
Audio Quality: Audio from FLAC files
Duration: 79 mins
Product Description: CDs are fully printed and brand new in plastic sleeves, wrapped in packs and are sealed with 'Promo CD' stickers. They are not available anywhere else, they are promotional cds, for promotional use.
Tracklist for the disc is as follows:
Heads Of Government - Total Playtime = 78 mins 56 secs
1. Dear Mr. Government - Shuga (4:47)
2. In Exchange For My Vote - Shantia (4:24)
3. Promises ft Mykal Rose - Joss Jaffe (3:16)
4. People Of The Country - Charly Black, Julian Marley (3:01)
5. Dem A Criminal - Lutan Fyah, Dan Gio, 5 Star Celebrity (4:15)
6. See Dem Fake Leaders - Ziggy Marley (3:56)
7. Nowhere To Run - Lambsbread (3:39)
8. Price Of War - Dennis Brown (3:56)
9. Leaders - Luciano, Rasites (3:50)
10. Too Greedy - Sizzla (4:30)
11. Fight - Fantan Mojah (3:01)
12. Nah Work - Ginjah (4:05)
13. Governments Don't Care - Sammy Gold (3:41)
14. Pure Talk - Jerry Harris (3:20)
15. Government Man - Lacksley Castell (4:19)
16. Mr. President man - The Wild Bunch (3:59)
17. Jehova Come - Glen Brown (3:51)
18. Straight To The Government - Papa Tullo (4:20)
19. World Revolution - Navissa Yasmin, Jade Tremba (4:15)
20. Leaders - Guidance (4:17)

What is 'Heads Of Government'?
When we have big Global Issues on our plate everyday, like we do now - Global Governance comes under closer scrutiny.  Without a political understanding, we know not what our Human environment is.  Leaders have been proven time and time again to look after their own priorities and not those of the mass of people.  Yet we fund these Governments, should we not have more of a say?  All these artists do - and here they are - 25 of them on one disc!

Postage: UK (Inc Mainland Scotland & Northern Ireland) 1st Class Standard Royal Mail 48-hour Post. Worldwide using Royal Mail International. 

Packaging: Orders of quantity 4 CDs or less will be packaged and posted in cardboard sealed CD envelopes. Orders of 5 or more CDs will be packaged and posted in bubblewrapped envelopes. Larger orders 20+are sent as parcels.
Eco-Friendly Packaging
We care for the environment
Get more Savings
Create a free account & get the latest news
FREE UK Delivery
Tracking provided for all orders over £24