Killer Instrumentals Disc 8 - Awesome Reggae Instrumental Ska, Reggae, Rocksteady & Roots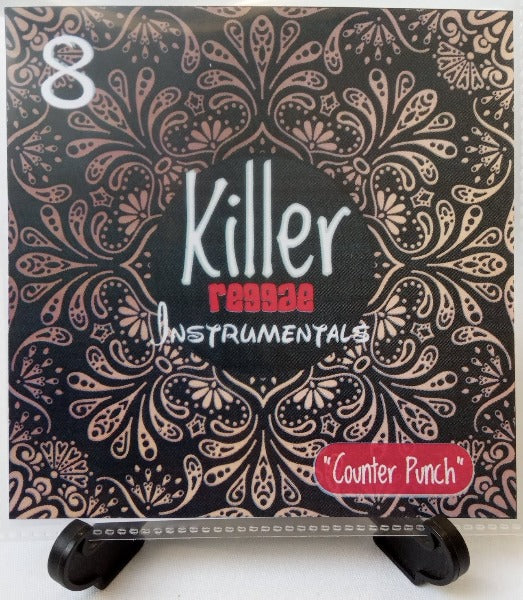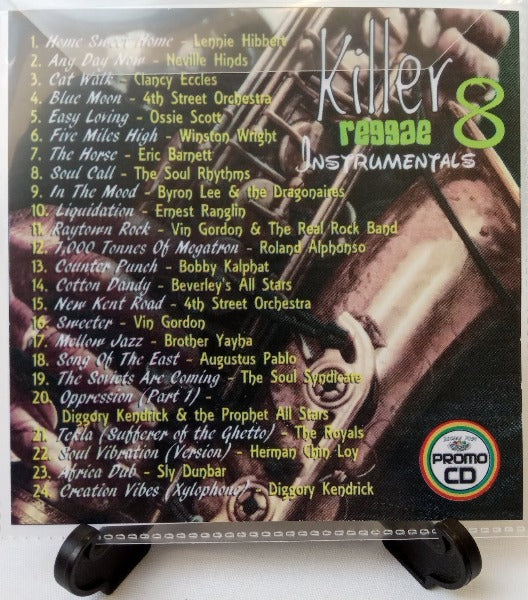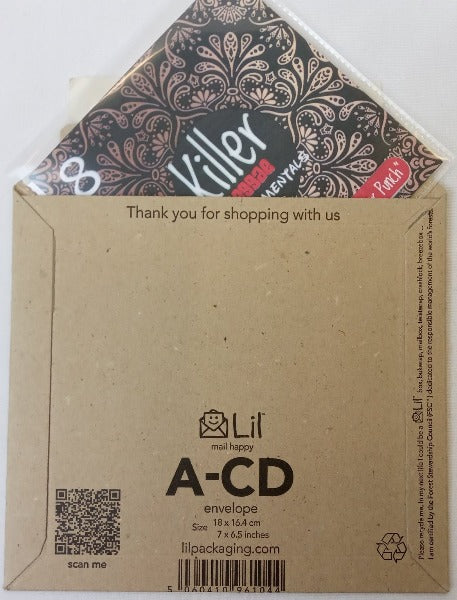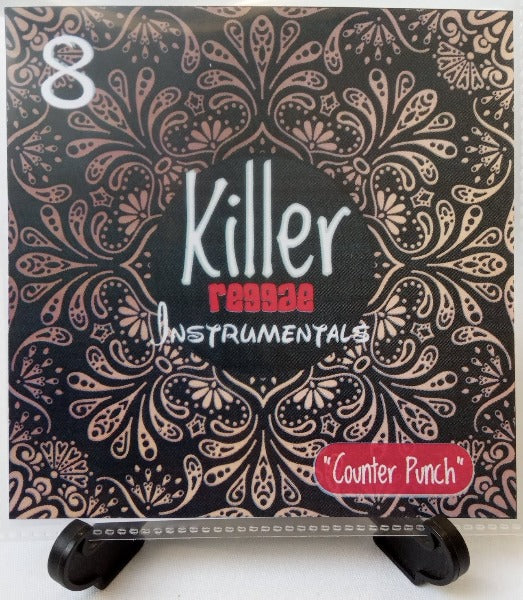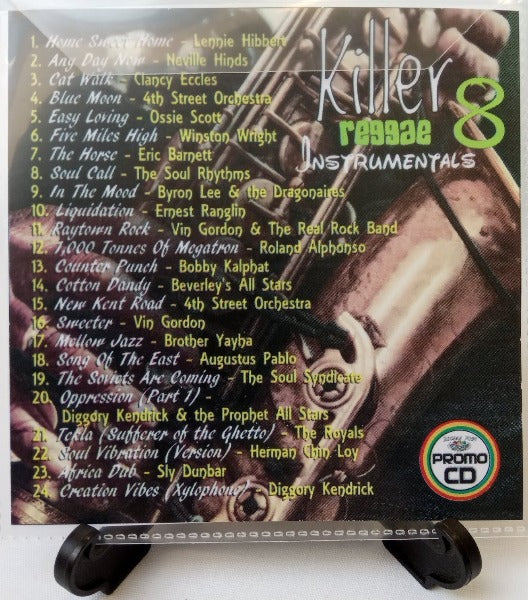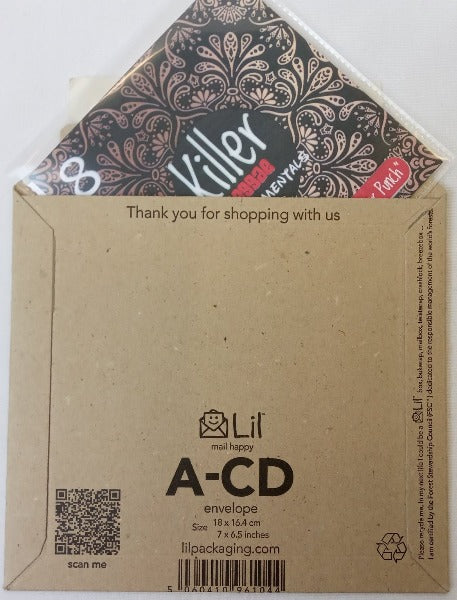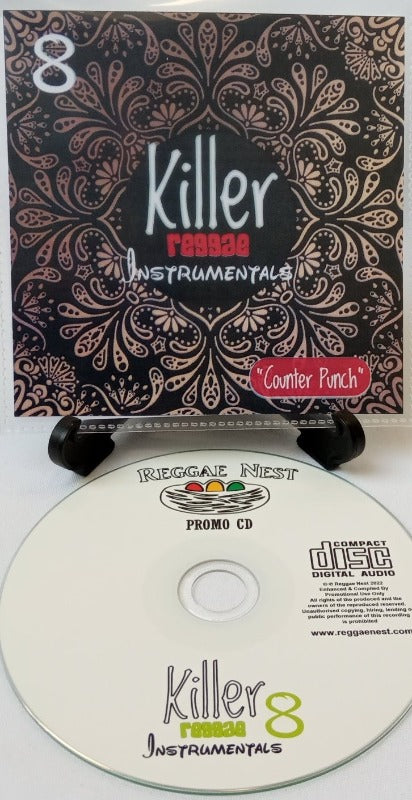 Killer Instrumentals Disc 8 - Awesome Reggae Instrumental Ska, Reggae, Rocksteady & Roots
Product description
Killer Instrumentals Disc 8

Goods: A brand new promo CD
Music: Volume 8 of the 'Killer Instrumentals' series

Released: JAN 2021

Number of Tracks: 24
CD Description: The collection features deadly instrumental music from an array of superstar reggae foundation instrumentalists, with some tunes from the early sixties through to the new millennium.

Age of Music: 1961-2021
Genres: Instrumental Roots, Rocksteady & Reggae, Rockers
Suitable for: All reggae purists, foundation seekers, collectors
Audio Quality: Audio from FLAC/WAV files
Duration: 79 mins
Product Description: CDs are fully printed and brand new in plastic sleeves, wrapped in packs and are sealed with 'Promo CD' stickers. They are not available anywhere else, they are promotional cds, for promotional use.
Tracklists for the disc is as follows:
Killer Instrumentals 8 - Total Duration = 78 mins 48 secs
'Counter Punch'
1. Home Sweet Home - Lennie Hibbert (2:32)
2. Any Day Now - Neville Hinds (3:09)
3. Cat Walk - Clancy Eccles (2:17)
4. Blue Moon - 4th Street Orchestra (3:27)
5. Easy Loving - Ossie Scott (4:32)
6. Five Miles High - Winston Wright (2:55)
7. The Horse - Eric Barnett (2:44)
8. Soul Call - The Soul Rhythms (2:53)
9. In The Mood - Byron Lee & the Dragonaires (2:02)
10. Liquidation - Ernest Ranglin (3:18)
11. Raytown Rock - Vin Gordon & The Real Rock Band (4:00)
12. 1,000 Tonnes Of Megatron - Roland Alphonso (2:10)
13. Counter Punch - Bobby Kalphat (2:48)
14. Cotton Dandy - Beverley's All Stars (3:19)
15. New Kent Road - 4th Street Orchestra (3:29)
16. Sweeter - Vin Gordon (4:15)
17. Mellow Jazz - Brother Yayha (3:38)
18. Song Of The East - Augustus Pablo (2:49)
19. The Soviets Are Coming - The Soul Syndicate (4:39)
20. Oppression (Part 1) - Diggory Kendrick & the Prophet All Stars (4:06)
21. Tekla (Sufferer of the Ghetto) - The Royals (3:33)
22. Soul Vibration (Version) - Herman Chin Loy (2:42)
23. Africa Dub - Sly Dunbar (3:10)
24. Creation Vibes (Xylophone) - Diggory Kendrick (4:08)

What is 'Killer Instrumentals' Music?
The series features some very rare, some very old, some very special and plenty of musically satisfying reggae instrumentals. If you enjoy listening to instrumental music, this series is a must have. Great if you can play it on a set that has a decent bass (ideal in your car). The artists are all extremely talented and although the credit to most tracks are attributed to one artist, all these musics were recorded originally using real instruments, in a studio, proper vibe!

Postage: UK (Inc Mainland Scotland & Northern Ireland) 1st Class Standard Royal Mail 48-hour Post. Worldwide using Royal Mail International.

Packaging: Orders of quantity 4 CDs or less will be packaged and posted in cardboard sealed CD envelopes. Orders of 5 or more CDs will be packaged and posted in bubblewrapped envelopes. Larger orders 20+are sent as parcels.
Instrumentals
Postage excellent very good selection of tracks nice to hear some of again keep up the good work
Eco-Friendly Packaging
We care for the environment
Get more Savings
Create a free account & get the latest news
FREE UK Delivery
Tracking provided for all orders over £24