No More Guns - 22 Reggae Tunes encouraging to lay down those weapons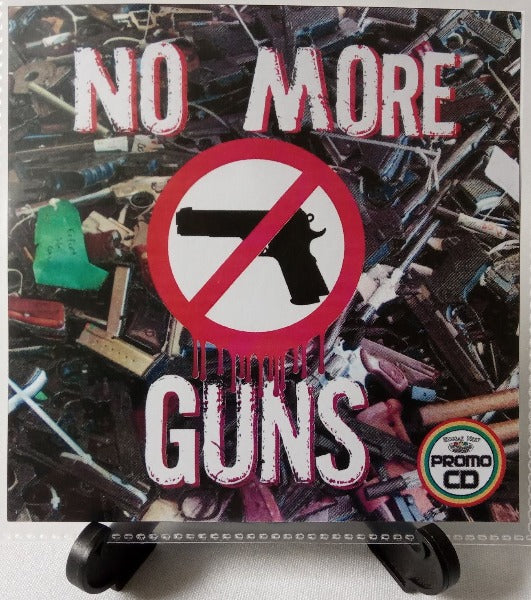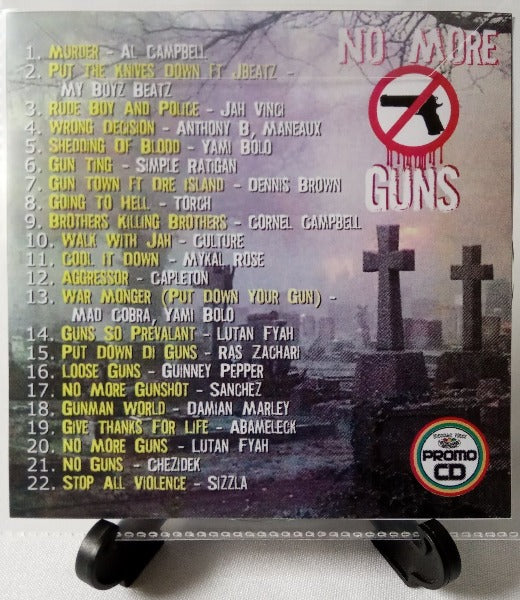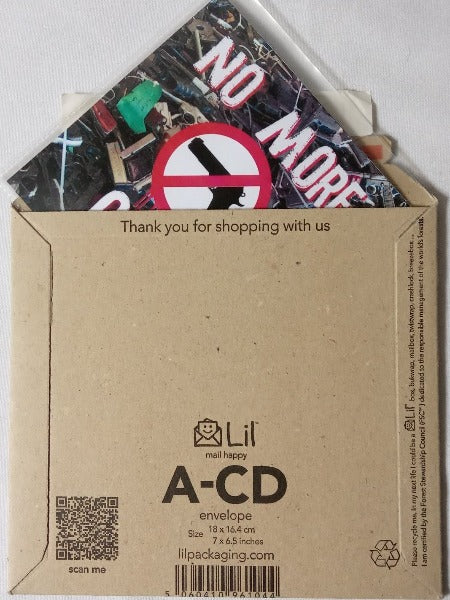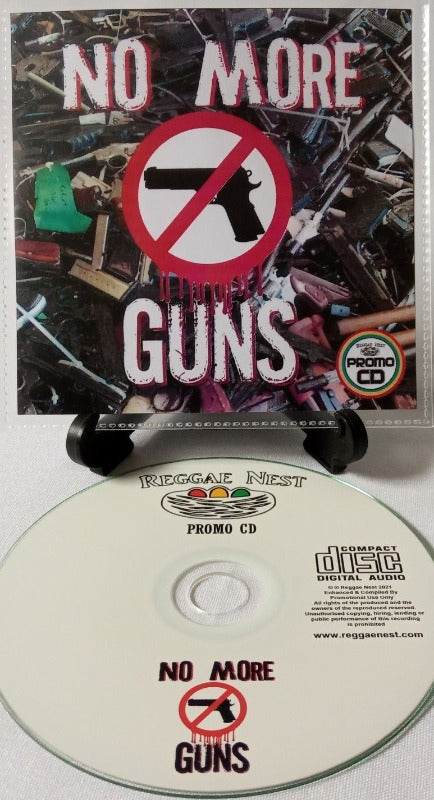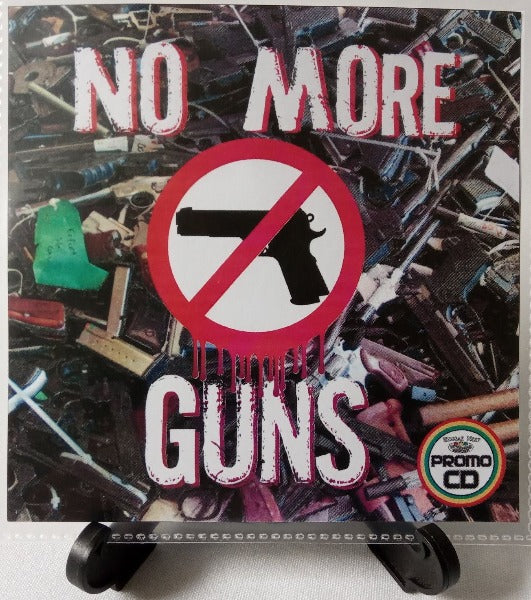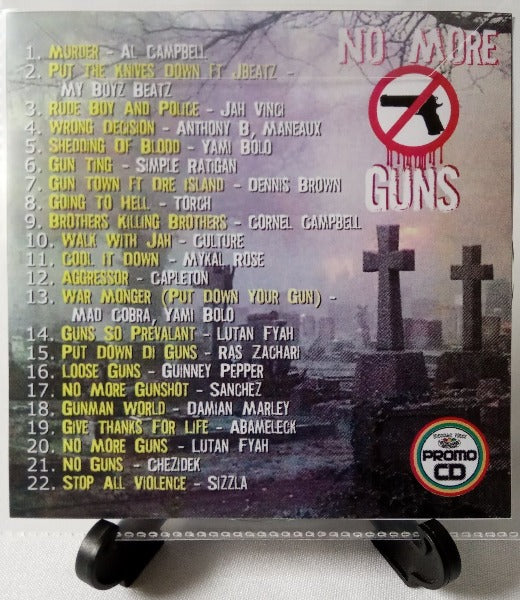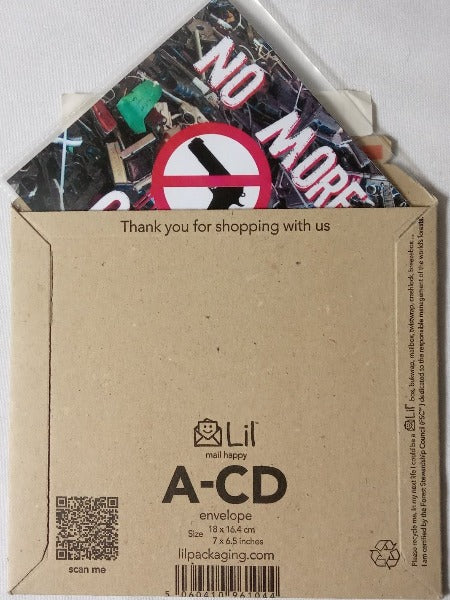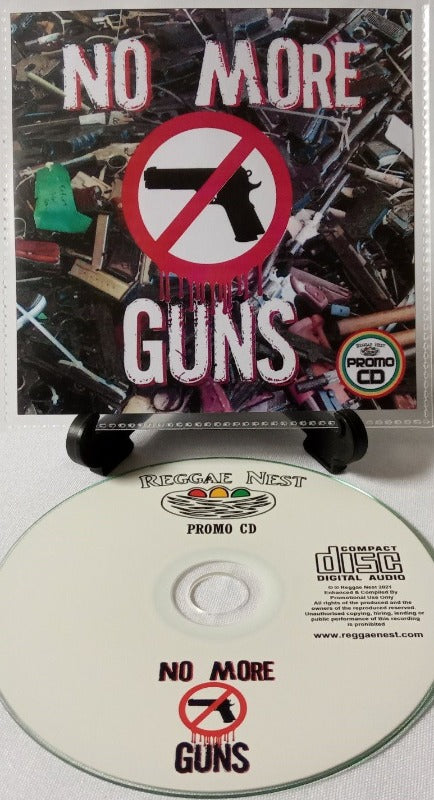 No More Guns - 22 Reggae Tunes encouraging to lay down those weapons
Product description
No More Guns

Goods: A brand new promo CD
Music: Reggae music calling for the end of gun crime & violence
Released: JUL 2021
Number of Tracks: 22
CD Description: Even in this modern day and age, after all we have been through, we are still losing our brothers and sisters through needless crimes and violence.  This reggae CD was compiled to incite the abolishment of gun crime and to encourage oneself to look within and think seriously about all the gun crime implications and impact on the lives of those involved.

Age Range of Music: 1997-2021
Genres: Roots, Rockers, Reality, Conscious Rubadub
Suitable for: All Reggae Fans
Audio Quality: Audio from FLAC/WAV files
Duration: 79 mins
Product Description: CDs are fully printed and brand new in plastic sleeves, wrapped in packs and are sealed with 'Promo CD' stickers. They are not available anywhere else, they are promotional cds, for promotional use.
Tracklist for the disc is as follows:
No More Guns - Total Playtime = 78 min 55 secs:
1. Murder - Al Campbell (3:54)
2. Put The Knives Down ft Jbeatz - My Boyz Beatz (4:30)
3. Rude Boy And Police - Jah Vinci (3:03)
4. Wrong Decision - Anthony B, Maneaux (2:35)
5. Shedding Of Blood - Yami Bolo (3:56)
6. Gun Ting - Simple Ratigan (3:49)
7. Gun Town ft Dre Island - Dennis Brown (3:42)
8. Going To Hell - Torch (3:34)
9. Brothers Killing Brothers - Cornel Campbell (3:01)
10. Walk With Jah - Culture (4:10)
11. Cool It Down - Mykal Rose (3:23)
12. Aggressor - Capleton (3:59)
13. War Monger (Put Down Your Gun) - Mad Cobra, Yami Bolo (3:47)
14. Guns So Prevalant - Lutan Fyah (3:04)
15. Put Down Di Guns - Ras Zachari (3:23)
16. Loose Guns - Guinney Pepper (2:41)
17. No More Gunshot - Sanchez (2:48)
18. Gunman World - Damian Marley (4:35)
19. Give Thanks For Life - Abameleck (3:30)
20. No More Guns - Lutan Fyah (3:08)
21. No Guns - Chezidek (4:18)
22. Stop All Violence - Sizzla (4:02)

What is 'No More Guns'?
All tracks on this collection are directed towards one message - It's time to put them down.  Man was born to make life, not destroy it.  This is a reggae calling to stop the bloodshed - from the top to the bottom of society, there is no place for gun crime, at any time, in any city.  An inspiring and uplifting CD.

Postage: UK (Inc Mainland Scotland & Northern Ireland) 1st Class Standard Royal Mail 48-hour Post. Worldwide using Royal Mail International. 

Packaging: Orders of quantity 4 CDs or less will be packaged and posted in cardboard sealed CD envelopes. Orders of 5 or more CDs will be packaged and posted in bubblewrapped envelopes. Larger orders 20+are sent as parcels.
Eco-Friendly Packaging
We care for the environment
Get more Savings
Create a free account & get the latest news
FREE UK Delivery
Tracking provided for all orders over £24