No More Police Brutality - 21 Reggae Tunes with a Clear Message - Enough Is Enough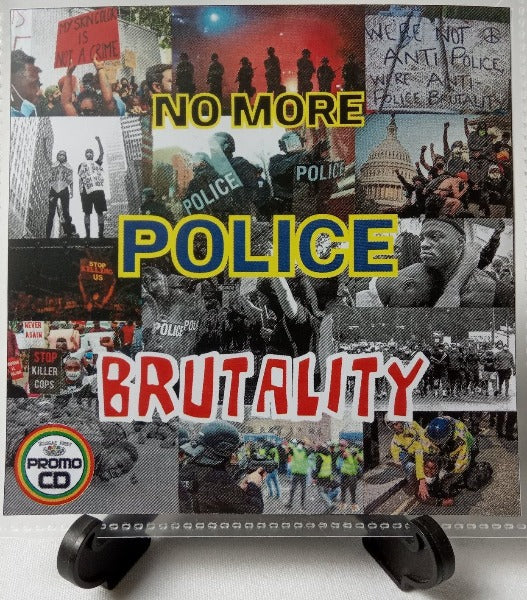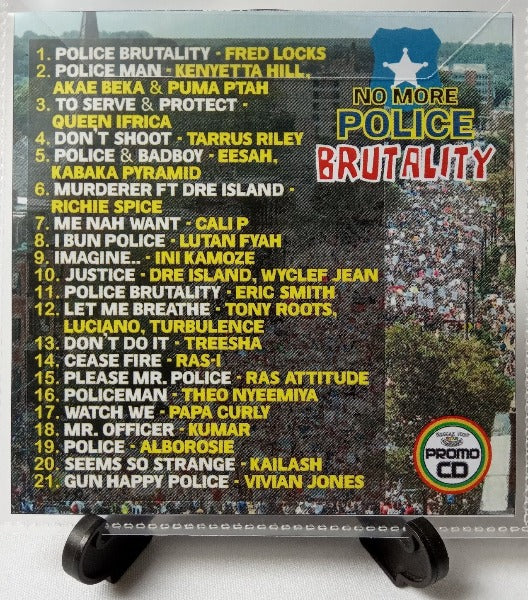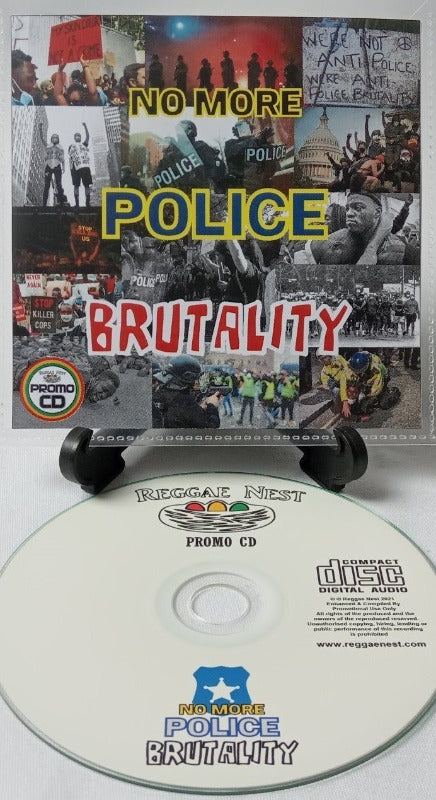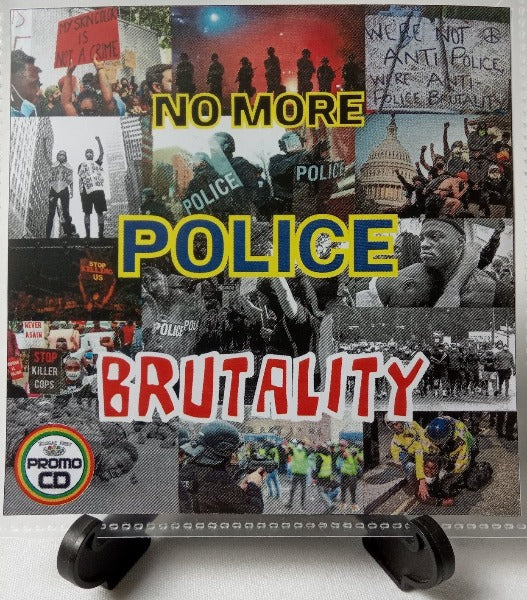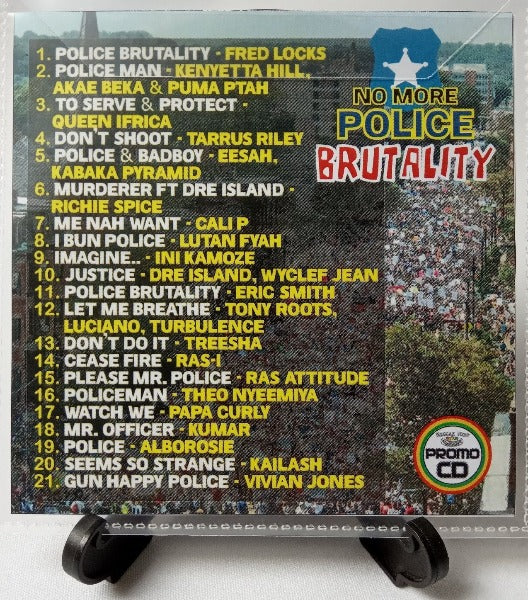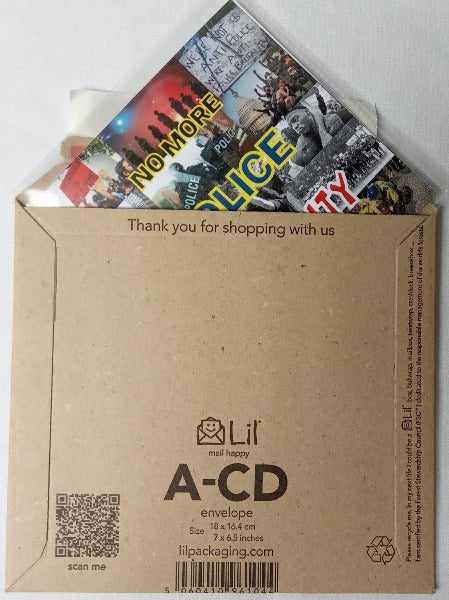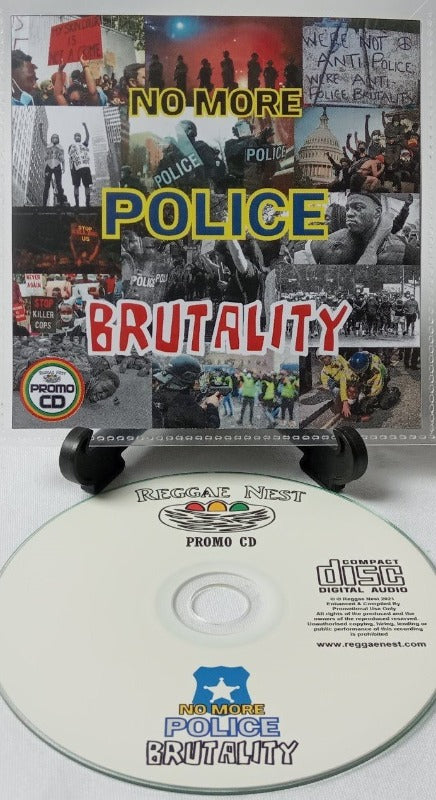 No More Police Brutality - 21 Reggae Tunes with a Clear Message - Enough Is Enough
Product description
No More Police Brutality

Goods: A brand new promo CD
Music: Reggae music centrally focused on Police Brutality / Oppression
Released: APR 2021
Number of Tracks: 21 
CD Description: Black Lives Matter has been on the whole worlds lips, headlines and TV's plenty over the past year.  Once again, the movement was propelled by a horrendous death (George Floyd) of a Black person under Police custody.  This huge problem with the system has been prevelent for decades and there are countless examples of injury, murder & cover ups. This music CD is copiled to help the listener align understanding with the global calling to end Police Brutality.

Age Range of Music: 1984-2021
Genres: Roots, Rockers, Reality, Conscious Rubadub
Suitable for: All Reggae Fans
Audio Quality: Audio from FLAC/WAV files
Duration: 78 mins
Product Description: CDs are fully printed and brand new in plastic sleeves, wrapped in packs and are sealed with 'Promo CD' stickers. They are not available anywhere else, they are promotional cds, for promotional use.
Tracklist for the disc is as follows:
No More Police Brutality - Total Playtime = 77 min 49 secs:
1. Police Brutality - Fred Locks (3:48)
2. Police Man - Kenyetta Hill, Akae Beka & Puma Ptah (4:04)
3. To Serve & Protect - Queen Ifrica (4:06)
4. Don't Shoot - Tarrus Riley (3:49)
5. Police & Badboy - Eesah, Kabaka Pyramid (2:47)
6. Murderer ft Dre Island - Richie Spice (3:01)
7. Me Nah Want - Cali P (3:25)
8. I Bun Police - Lutan Fyah (3:07)
9. Imagine.. - Ini Kamoze (4:30)
10. Justice - Dre Island, Wyclef Jean (2:37)
11. Police Brutality - Eric Smith (4:51)
12. Let Me Breathe - Tony Roots, Luciano, Turbulence (4:08)
13. Don't Do It - Treesha (3:57)
14. Cease Fire - Ras-I (3:50)
15. Please Mr. Police - Ras Attitude (3:52)
16. Policeman - Theo Nyeemiya (4:09)
17. Watch We - Papa Curly (3:57)
18. Mr. Officer - Kumar (4:47)
19. Police - Alborosie (3:36)
20. Seems So Strange - Kailash (2:58)
21. Gun Happy Police - Vivian Jones (2;25)

What is 'No More Police Brutality'?
No More Police Brutality - Enough is Enough - 21 reggae tracks portraying thoughts, experiences and feelings through music.  A CD that will aid the listener understand better what sufferation by the Police and Justice system that Black People have had to endure for decades.

Postage: UK (Inc Mainland Scotland & Northern Ireland) 1st Class Standard Royal Mail 48-hour Post. Worldwide using Royal Mail International. 

Packaging: Orders of quantity 4 CDs or less will be packaged and posted in cardboard sealed CD envelopes. Orders of 5 or more CDs will be packaged and posted in bubblewrapped envelopes. Larger orders 20+are sent as parcels.
Eco-Friendly Packaging
We care for the environment
Get more Savings
Create a free account & get the latest news
FREE UK Delivery
Tracking provided for all orders over £24