Real Deal Rocksteady Volume 7 (Lessons) Authentic, Must Have Rocksteady music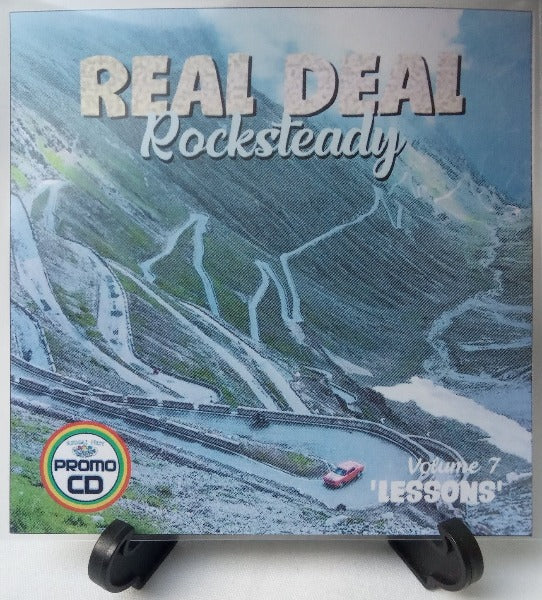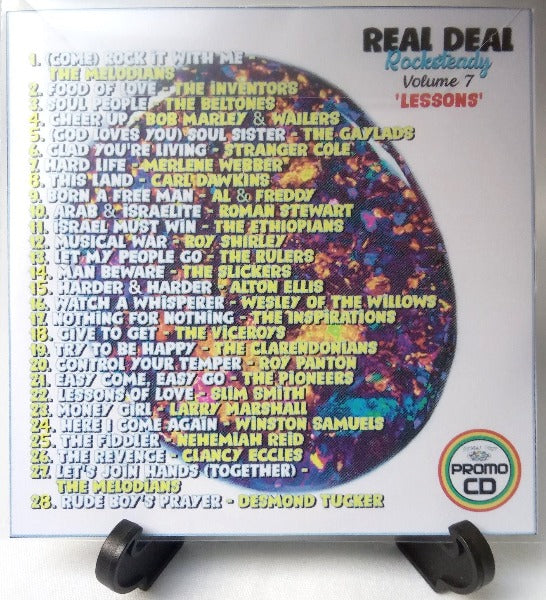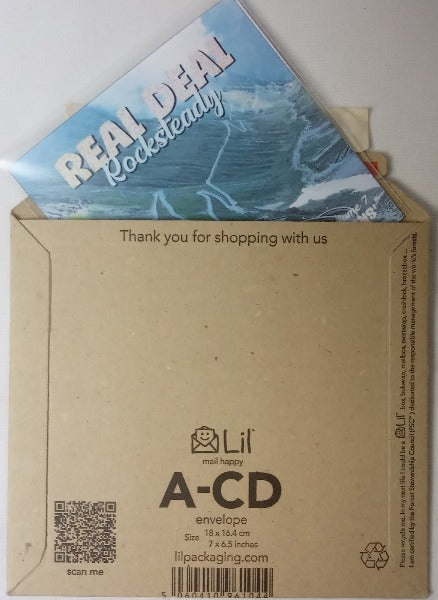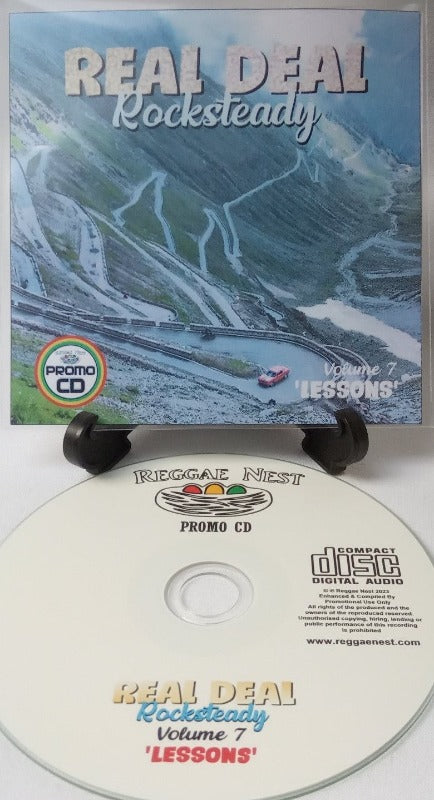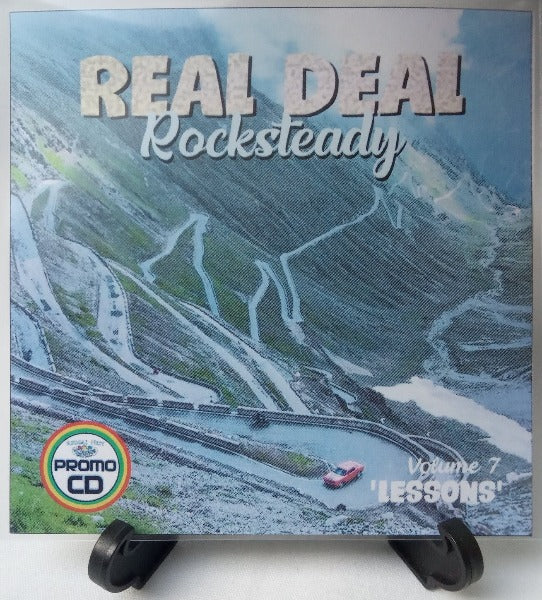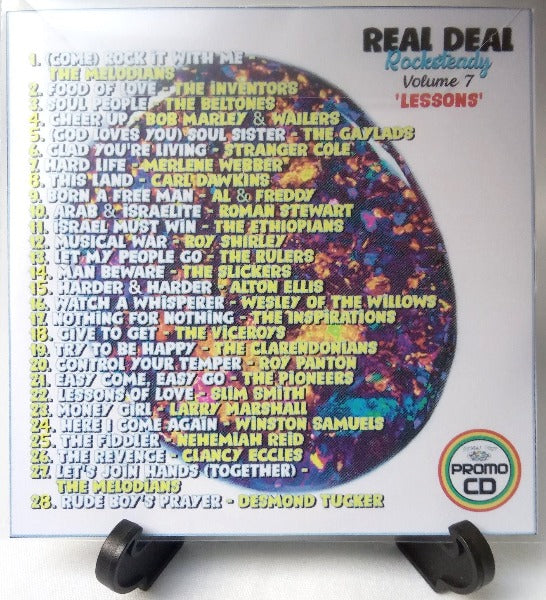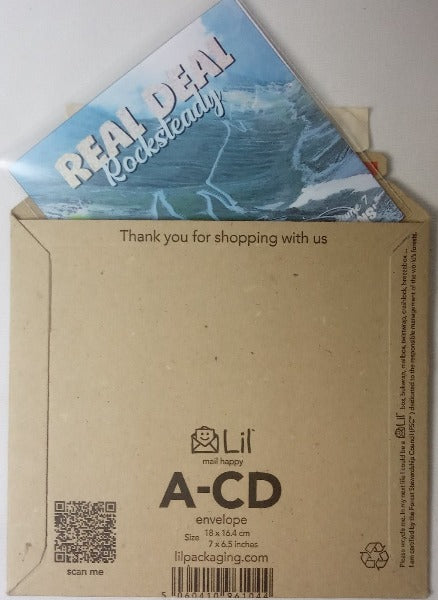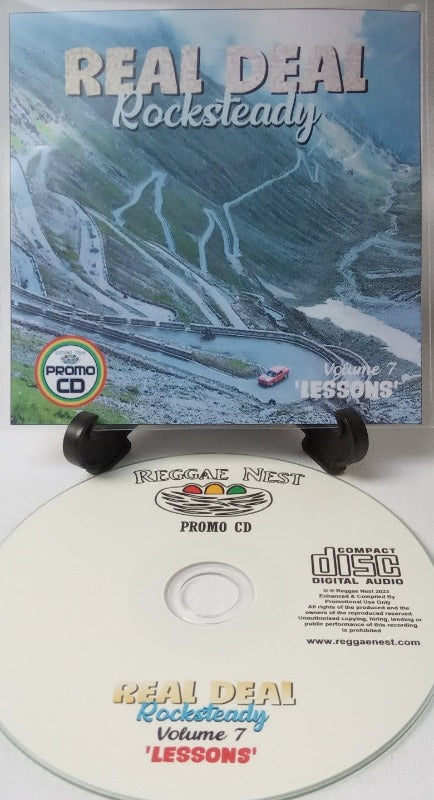 Real Deal Rocksteady Volume 7 (Lessons) Authentic, Must Have Rocksteady music
Product description
Real Deal Rocksteady Vol 7

Goods: A brand new promo CD
Music: Volume 7 of the 'Real Deal Rocksteady' series (Lessons)
Released: FEB 2023
Number of Tracks: 28
CD Description: Typically Rocksteady's era was 1967-70, during which time there was a flurry of artists, bands, labels, producers and activity bringing this sound to the world.  It carried on even after the 'era' up to the present day - the rocksteady beat is still emulated in modern day productions.  Often we get presented with the same old set of tunes to represent the Rocksteady era.  This series focuses on quality rather than popularity, with this disc exclusively dedicated to tunes that can universally be labelled as 'Hot Shots' from a variety of producers and artists.
Age of Music: Mid 60's-Early 70's
Genres: Rocksteady
Suitable for: Collectors, DJ's, Presenters, Rocksteady Enthusiasts
Audio Quality: Audio from FLAC/WAV files
Duration: 78 mins
Product Description: CDs are fully printed and brand new in plastic sleeves, wrapped in packs and are sealed with 'Promo CD' stickers. They are not available anywhere else, they are promotional cds, for promotional use.
Tracklists for the disc is as follows:
Real Deal Rocksteady Vol 7 - Total Playtime = 77 mins 31 secs
1. (Come) Rock It With Me - The Melodians (2:52)
2. Food Of Love - The Inventors (2:44)
3. Soul People - The Beltones (2:20)
4. Cheer Up - Bob Marley & The Wailers (1:57)
5. (God Loves You) Soul Sister - The Gaylads (2:58)
6. Glad You're Living - Stranger Cole (3:00)
7. Hard Life - Merlene Webber (3:27)
8. This Land - Carl Dawkins (2:56)
9. Born A Free Man - Al & Freddy (2:59)
10. Arab & Israelite - Roman Stewart (3:01)
11. Israel Must With - The Ethiopians (2:54)
12. Musical War - Roy Shirley (2:30)
13. Let My People Go - The Rulers (3:00)
14. Man Beware - The Slickers (1:59)
15. Harder & Harder - Alton Ellis (2:46)
16. Watch A Whisperer - Wesley Of The Willows (2:35)
17. Nothing For Nothing - The Inspirations (2:11)
18. Give To Get - The Viceroys (2:46)
19. Try To Be Happy - The Clarendonians (2:47)
20. Control Your Temper - Roy Panton (2:25)
21. Easy Come, Easy Go - The Pioneers (2:45)
22. Lessons Of Love - Slim Smith (4:05)
23. Money Girl - Larry Marshall (2:50)
24. Here I Come Again - Winston Samuels (3:26)
25. The Fiddler - Nehemiah Reid (2:57)
26. The Revenge - Clancy Eccles (3:37)
27. Let's Join Hands (Together) - The Melodians (2:44)
28. Rude Boy's Prayer - Desmond Tucker (2:49)

What is 'Real Deal Rocksteady'?
The rocksteady era was such a unique, short but deadly transition period to reggae, it wholeheartedly deserves to be archived and remembered correctly. There are many rocksteady songs that made it into the mainstream and are considered classics. You will find some of those in this series but the focus is on the Real Deal, regardless of popularity, this series captures songs of distinction, gems if you will! Look out for must-have additions to the series.
Postage: UK (Inc Mainland Scotland & Northern Ireland) 1st Class Standard Royal Mail 48-hour Post. Worldwide using Royal Mail International. 

Packaging: Orders of quantity 4 CDs or less will be packaged and posted in cardboard sealed CD envelopes. Orders of 5 or more CDs will be packaged and posted in bubblewrapped envelopes. Larger orders 20+are sent as parcels.
Eco-Friendly Packaging
We care for the environment
Get more Savings
Create a free account & get the latest news
FREE UK Delivery
Tracking provided for all orders over £24