Recuper80's (Disc 2)- A dive into the wonderful world of 80's Reggae, Dancehall & Rubadub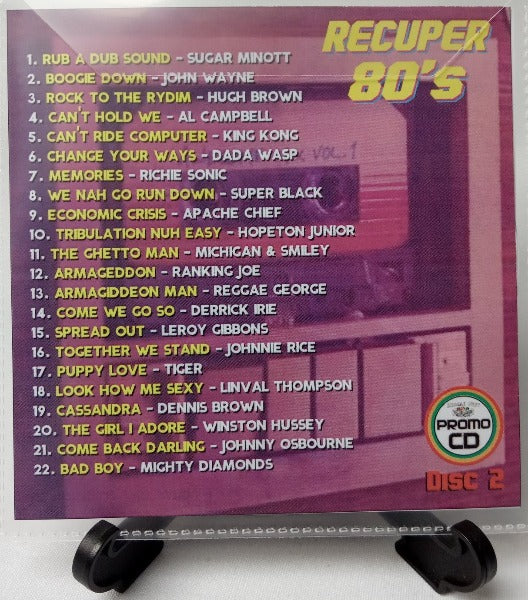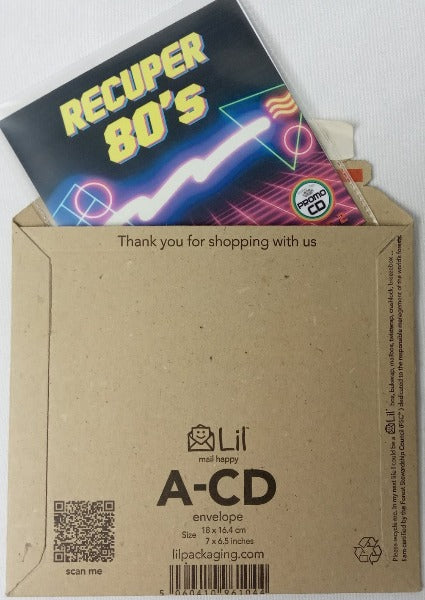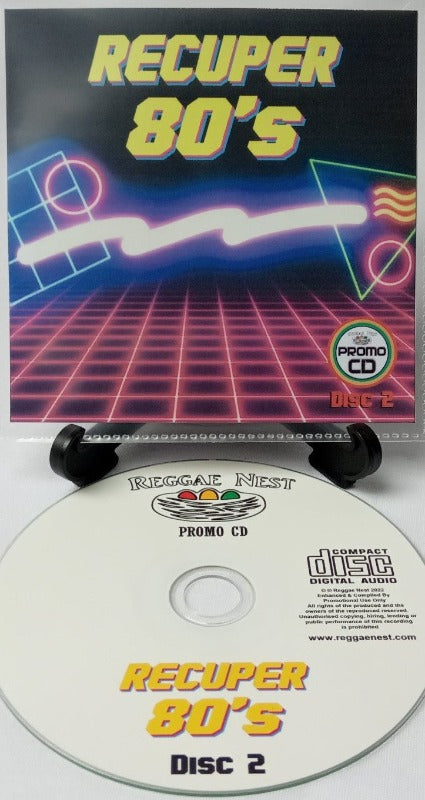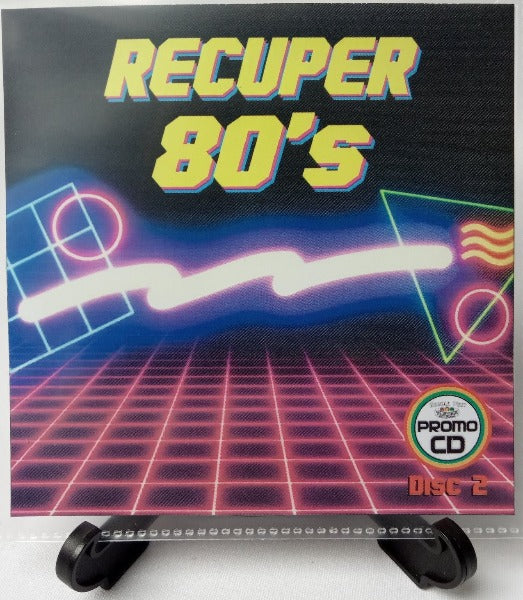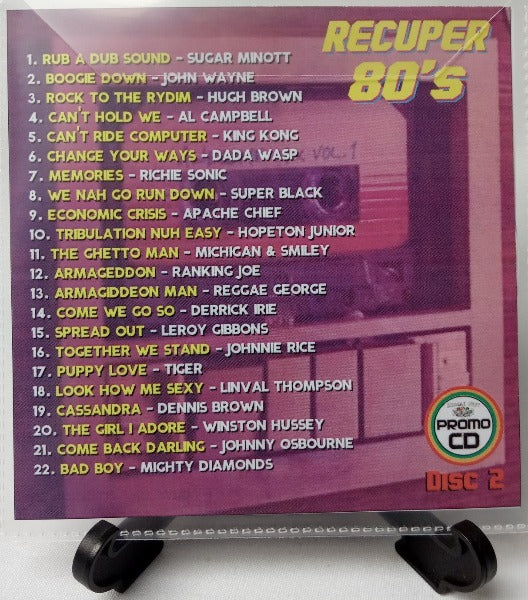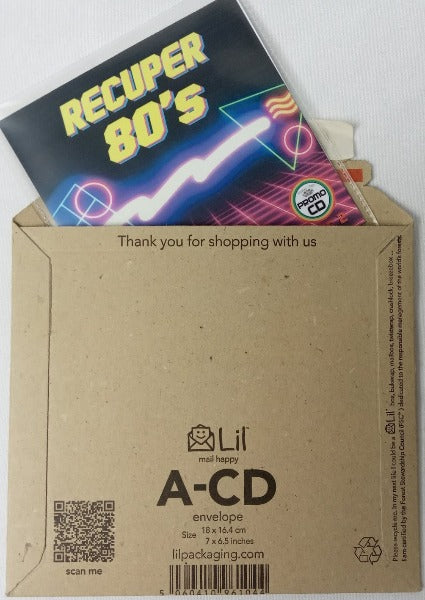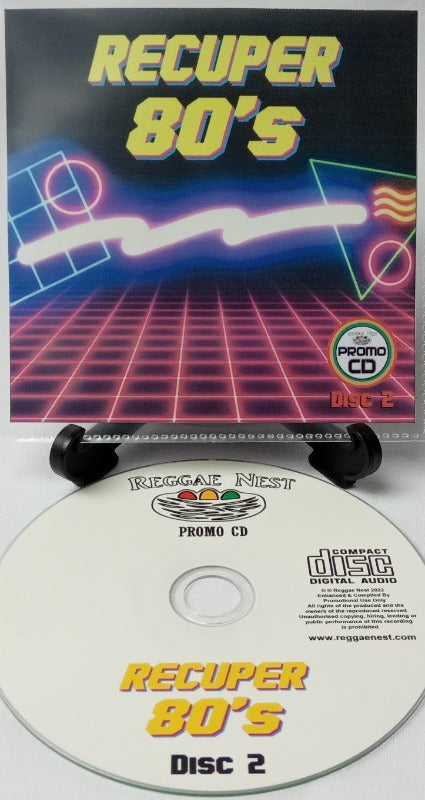 Recuper80's (Disc 2)- A dive into the wonderful world of 80's Reggae, Dancehall & Rubadub
Product description
Recuper 80's - Disc 2

Goods: A brand new promo CD
Music:  Gems, Hits, One-offs and Pure Vibes from the 1980's (Disc 2)
Released: SEP 2022
Number of Tracks: 22
CD Description: This series takes you back to the decade that saw an explosion of artists, producers, riddims and styles and also where the introduction of Computers in producing Reggae occurred.  

Genres: Roots, Rockers, Reality, Nu Reggae
Suitable for: Revival/Roots Reggae Fans
Audio Quality: Audio from FLAC/WAV files
Duration: 79 mins
Product Description: CDs are fully printed and brand new in plastic sleeves, wrapped in packs and are sealed with 'Promo CD' stickers. They are not available anywhere else, they are promotional cds, for promotional use.
Tracklist for the disc is as follows:
Recuper80's (Disc 2) - Total Playtime = 77 min 58 secs:
1. Rub A Dub Sound - Sugar Minott (4:07)
2. Boogie Down - John Wayne (3:39)
3. Rock To the Rydim - Hugh Brown (3:19)
4. Can't Hold We - Al Campbell (3:49)
5. Can't Ride Computer - King Kong (4:20)
6. Change Your Ways - Dada Wasp (3:23)
7. Memories - Richie Sonic (3:33)
8. We Nah Go Run Down - Super Black (3:06)
9. Economic Crisis - Apache Chief (3:47)
10. Tribulation Nuh Easy - Hopeton Junior (3:07)
11. The Ghetto Man - Michigan & Smiley (3:33)
12. Armageddon - Ranking Joe (3:20)
13. Armagiddeon Man - Reggae George (4:00)
14. Come We Go So - Derrick Irie (3:08)
15. Spread Out - Leroy Gibbons (3:11)
16. Together We Stand - Johnnie Rice (3:38)
17. Puppy Love - Tiger (3:39)
18. Look How Me Sexy - Linval Thompson (3:07)
19. Cassandra - Dennis Brown (3:19)
20. The Girl I Adore - Winston Hussey (3:07)
21. Come Back Darling - Johnny Osbourne (4:15)
22. Bad Boy - Mighty Diamonds (3:26)

What is 'Recuper80's'?
A strictly 80's series that fuses popular with rare, big artists with lesser-known artists, a series that represents all reggae styles and sub-genres born in the 80's.  Each disc provides a good spread of vibes, some tracks taken directly from Vinyl press that is sure to thrill and please anybody listening.

Postage: UK (Inc Mainland Scotland & Northern Ireland) 1st Class Standard Royal Mail 48-hour Post. Worldwide using Royal Mail International. 

Packaging: Orders of quantity 4 CDs or less will be packaged and posted in cardboard sealed CD envelopes. Orders of 5 or more CDs will be packaged and posted in bubblewrapped envelopes. Larger orders 20+are sent as parcels.
recuper80s
living back in the 80s great tunes
Eco-Friendly Packaging
We care for the environment
Get more Savings
Create a free account & get the latest news
FREE UK Delivery
Tracking provided for all orders over £24