Retro Sleng 2 - New School Retro Sleng Dancehall - Covers, Riddims, One Drops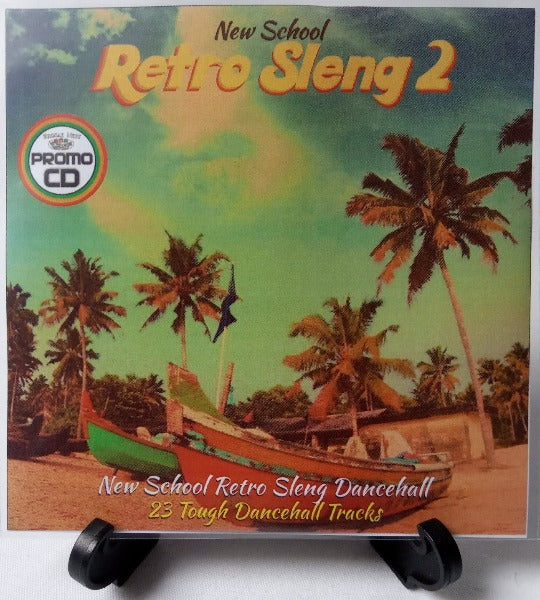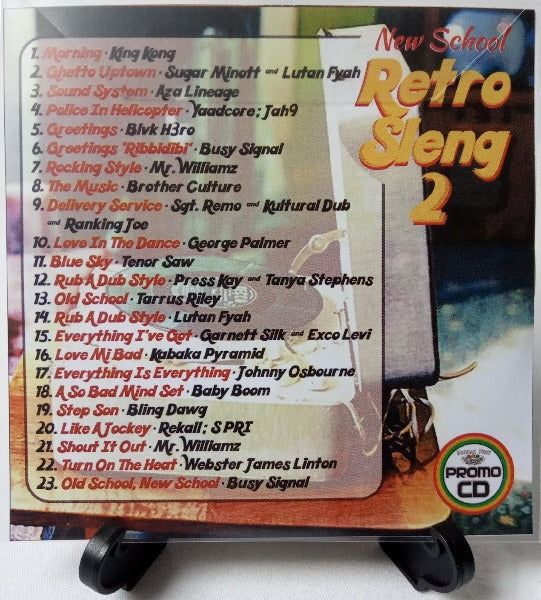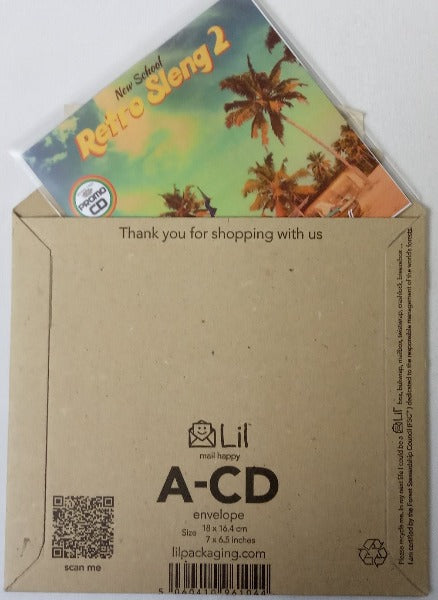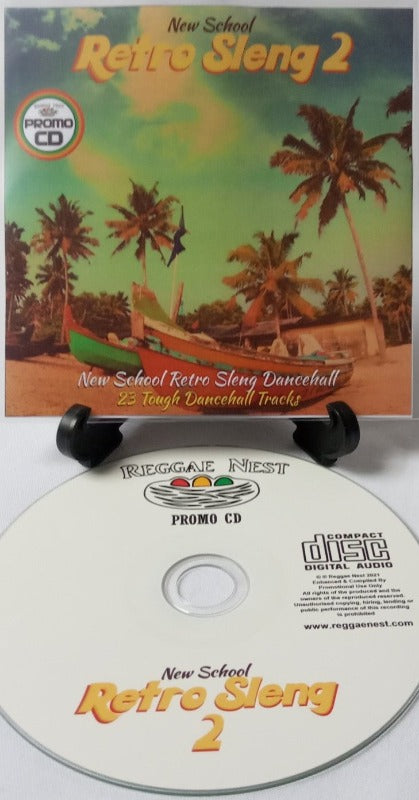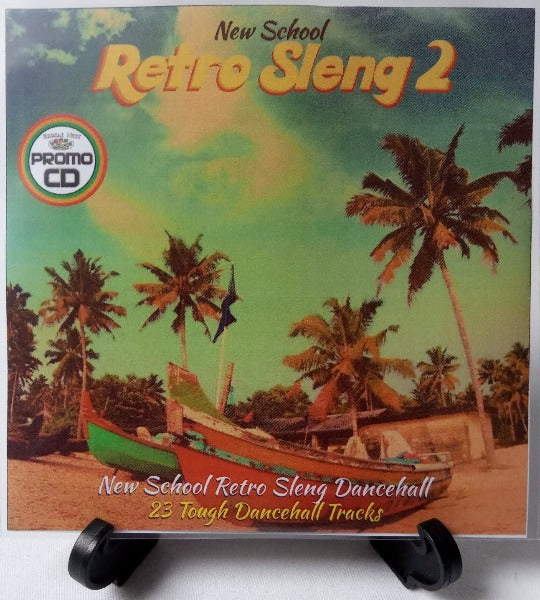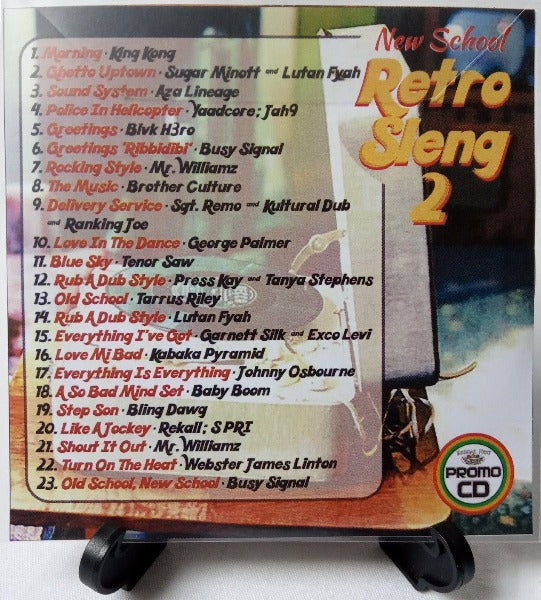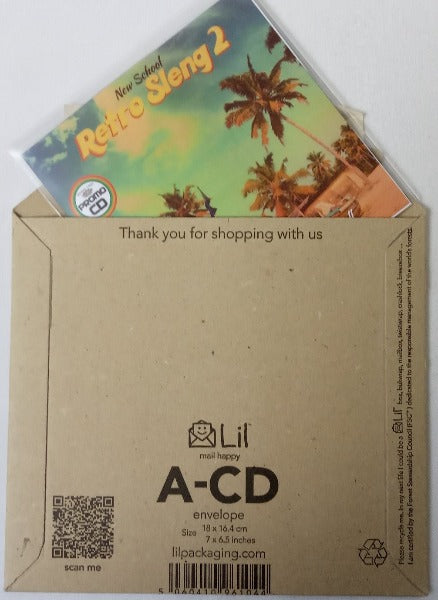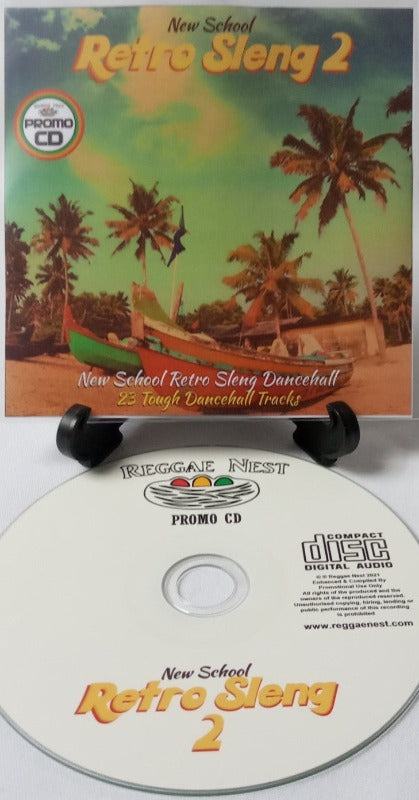 Retro Sleng 2 - New School Retro Sleng Dancehall - Covers, Riddims, One Drops
Product description
Retro Sleng 2
Goods: A brand new promo CD
Music: Modern twists of retro Dancehall tracks, riddims & one drops
Released: NOV 2022
Number of Tracks: 23
CD Description: A unique collection of modern day artists and producers putting their twists on classic dancehall.  This may be in a cover version style, a rebuilt riddim or a strong One Drop.  The CD plays nicely by itself.  These are individual tracks, not a mix.
Age of Music: 2014-2022 
Genres: Dancehall (Retro Style)
Suitable for: Party Goers, DJ's, Dancehall Fans
Audio Quality: Audio from FLAC/WAV files
Duration: 78 mins
Product Description: CDs are fully printed and brand new in plastic sleeves, wrapped in packs and are sealed with 'Promo CD' stickers. They are not available anywhere else, they are promotional cds, for promotional use.
Tracklists for the disc is as follows:
Retro Sleng 2 - Total Playtime = 77 min 36 secs
1. Morning - King Kong (3:00)
2. Ghetto Uptown - Sugar Minott & Lutan Fyah (3:29)
3. Sound System - Aza Lineage (3:28)
4. Police In Helicopter - Yaadcore; Jah9 (3:17)
5. Greetings - Blvk H3ro (3:14)
6. Greetings 'Ribbidibi' - Busy Signal (2:33)
7. Rocking Style - Mr. Williamz, TopCat (3:41)
8. The Music - Brother Culture (4:05)
9. Delivery Service - Sgt. Remo & Kultural Dub & Ranking Joe (2:42)
10. Love In The Dance - George Palmer (4:04)
11. Blue Sky - Tenor Saw (3:15)
12. Rub A Dub Style - Press Kay & Tanya Stephens (3:19)
13. Old School - Tarrus Riley (3:18)
14. Rub A Dub Style - Lutan Fyah (2:18)
15. Everything I've Got - Garnett Silk & Exco Levi (4:05)
16. Love Mi Bad - Kabaka Pyramid (2:39)
17. Everything Is Everything - Johnny Osbourne (3:54)
18. A So Bad Mind Set - Baby Boom (3:20)
19. Step Son - Bling Dawg (3:25)
20. Like A Jockey - Rekall; S PRI (3:54)
21. Shout It Out - Mr. Williamz (4:03)
22. Turn On The Heat - Webster James Linton (3:34)
23. Old School, New School - Busy Signal (2:50)

What is 'Retro Sleng'?
Many argue that foundation Dancehall is the true Dancehall, few would argue.  This CD is a modern day take on foundation and classic Dancehall.  If you are an old school fanatic, you'll love the new twists.  If you're a new school fanatic, you'll love the originality this disc emulates. 

Postage: UK (Inc Mainland Scotland & Northern Ireland) 1st Class Standard Royal Mail 48-hour Post. Worldwide using Royal Mail International. 

Packaging: Orders of quantity 4 CDs or less will be packaged and posted in cardboard sealed CD envelopes. Orders of 5 or more CDs will be packaged and posted in bubblewrapped envelopes. Larger orders 20+are sent as parcels.
Retro sleng 2
Nice to hear the old riddims given a new breath of life !
Eco-Friendly Packaging
We care for the environment
Get more Savings
Create a free account & get the latest news
FREE UK Delivery
Tracking provided for all orders over £24