Roots & Truths Vol 32 - Classic, Deep & Rare Roots Reggae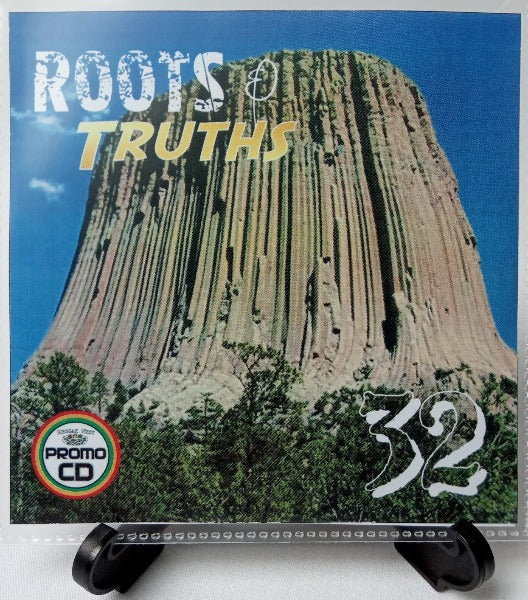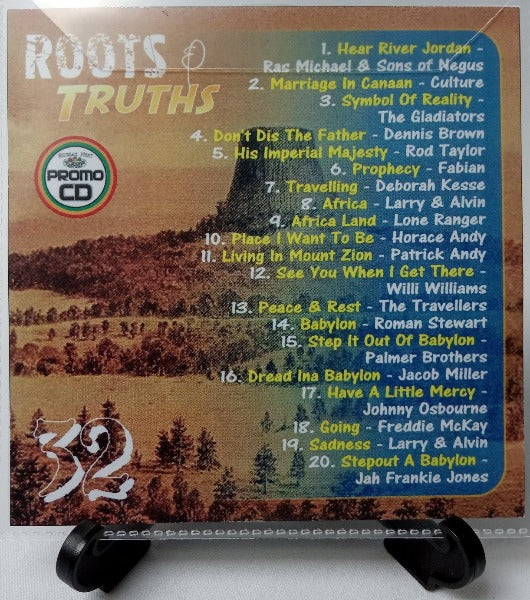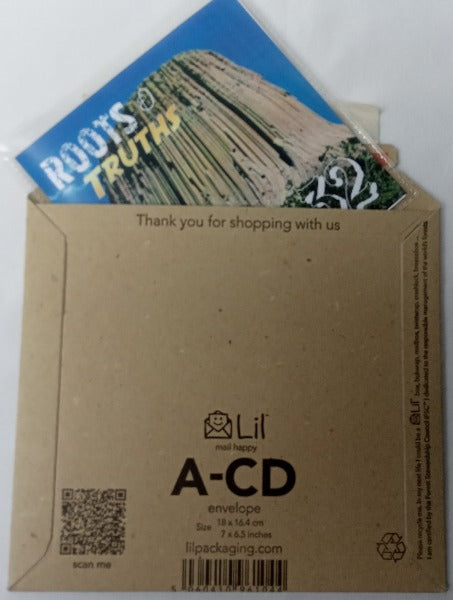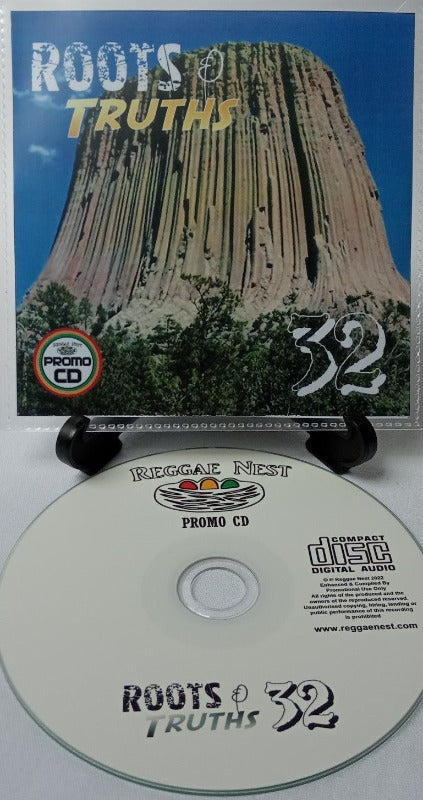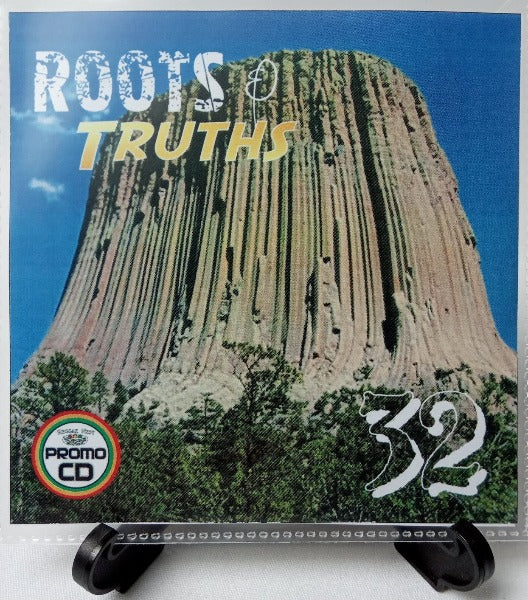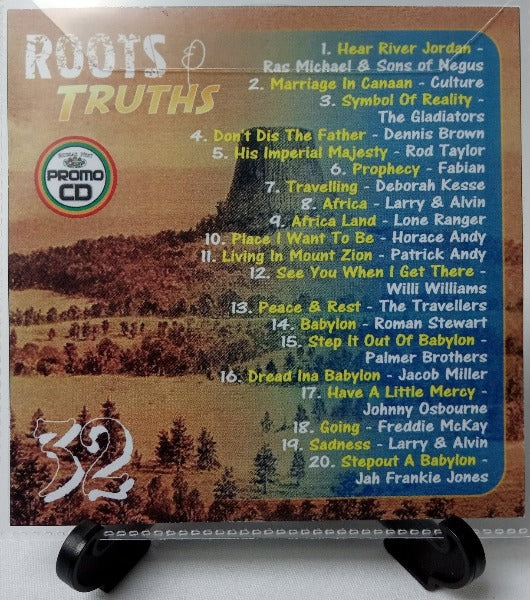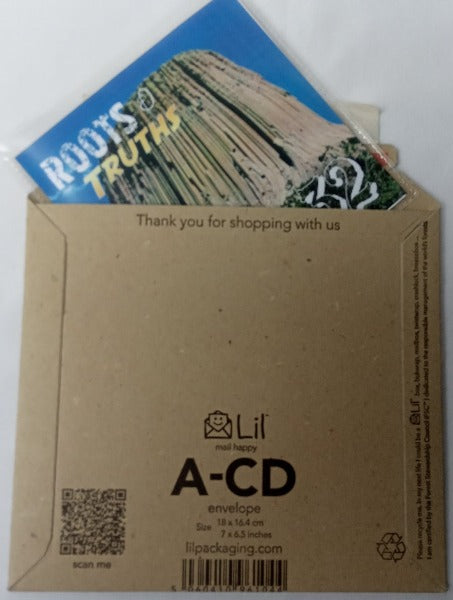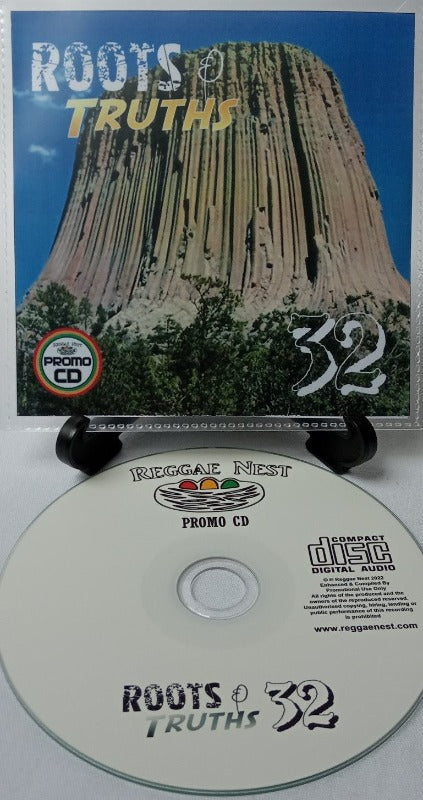 Roots & Truths Vol 32 - Classic, Deep & Rare Roots Reggae
Product description
Roots & Truths Vol 32

Goods: A brand new promo CD

Music: Volume 32 of the 'Roots & Truths' series
Released: AUG 2022

Number of Tracks:  20
CD Description: A series dedicated to highlighting non-commercial vintage roots and culture reggae music, assembling them together creates a fantastic listen.  These are not your everyday roots tunes, some of these tracks are rare, some are album cuts, some 7" and a few 10 & 12" dotted in the collection.  Full of culture, reality, knowledge and upliftment.
Age of Music: 1973-2001
Genres: Classic & Rare Roots, Culture, Dub
Suitable for: Roots Fans (all levels), DJ's, Collectors
Audio Quality: Audio from FLAC/WAV files
Duration: 78 Mins
Product Description: CDs are fully printed and brand new in plastic sleeves, wrapped in packs and are sealed with 'Promo CD' stickers. They are not available anywhere else, they are promotional cds, for Promotional use. 
Tracklists for the disc is as follows:
Roots & Truths Vol 32 - Total Playtime = 77 mins 32 secs
1. Hear River Jordan - Ras Michael & Sons of Negus (4:53)
2. Marriage In Canaan - Culture (4:53)
3. Symbol Of Reality - The Gladiators (4:24)
4. Don't Dis The Father - Dennis Brown (3:27)
5. His Imperial Majesty - Rod Taylor (3:12)
6. Prophecy - Fabian (3:53)
7. Travelling - Deborah Kesse (6:14)
8. Africa - Larry & Alvin (3:58)
9. Africa Land - Lone Ranger (3:57)
10. Place I Want To Be - Horace Andy (4:12)
11. Living In Mount Zion - Patrick Andy (3:01)
12. See You When I Get There - Willi Williams (5:32)
13. Peace & Rest - The Travellers (2:50)
14. Babylon - Roman Stewart (3:11)
15. Step It Out Of Babylon - Palmer Brothers (3:30)
16. Dread Ina Babylon - Jacob Miller (3:38)
17. Have A Little Mercy - Johnny Osbourne (3:16)
18. Going - Freddie McKay (2:23)
19. Sadness - Larry & Alvin (3:53)
20. Stepout A Babylon - Jah Frankie Jones (3:11)

What Is 'Roots & Truths'?
'Roots & Truths' is rammed full of vintage, classic, rare and underrated Roots & Culture music stretching all the way back to late 60's, the golden era of the 70's for roots, also the 80s which was rich with roots music.  In the collection there are a handful of 90's/early 2000's roots tunes . The music is spiritual, sometimes deep, socially aware, reflective, full of reality and a great source of cultural vibes.

Postage:
UK (Inc Mainland Scotland & Northern Ireland) 1st Class Standard Royal Mail 48-hour Post. Worldwide using Royal Mail International. 
Packaging:
Orders of quantity 4 CDs or less will be packaged and posted in cardboard sealed CD envelopes. Orders of 5 or more CDs will be packaged and posted in bubblewrapped envelopes.  Larger orders 20+are sent as parcels.
Eco-Friendly Packaging
We care for the environment
Get more Savings
Create a free account & get the latest news
FREE UK Delivery
Tracking provided for all orders over £24