Smokers Delight Ep. 12 - Herbal Session Reggae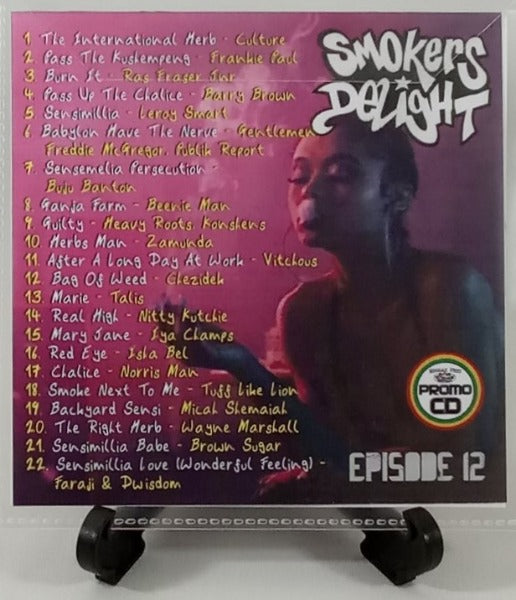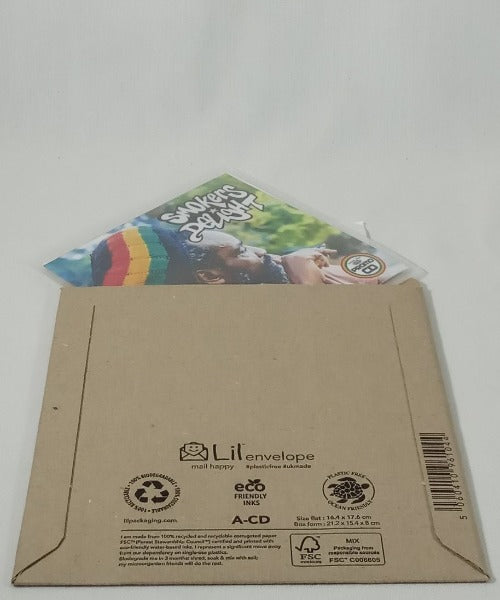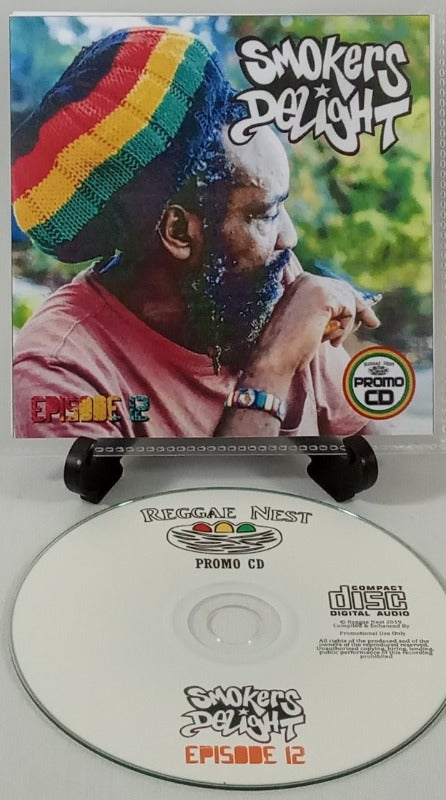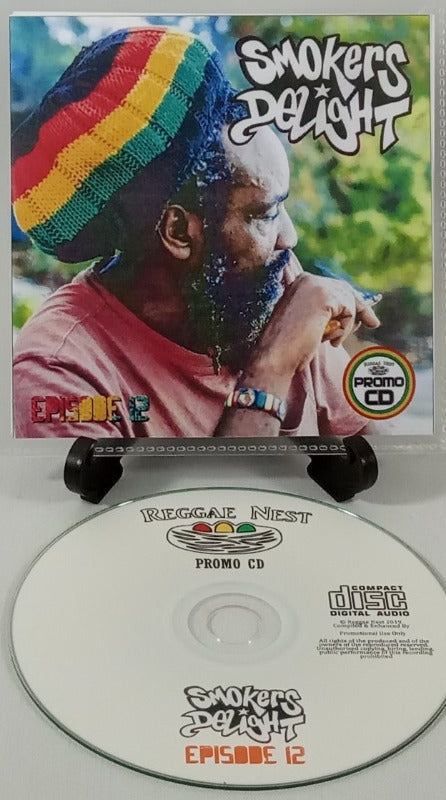 Smokers Delight Ep. 12 - Herbal Session Reggae
Product description
Smokers Delight Episode 12

Goods: A brand new promo CD
Music: Episode 12 of the 'Smokers Delight' series
Released: APR 2020
Number of Tracks: 22 
CD Description: The 'Smokers Delight' series offers the listeners a fantastic accompaniments to any herbal session, or background music on a chill, great for journeys, parties, gifts, also a great addition to any reggae collection.
Age of Music: Old skool & New skool 
Genres: Reggae, Roots, Dancehall, Vocal
Suitable for: Herbalists, Reggae Fans, Collectors, Smokers 
Audio Quality: Audio from FLAC/WAV files
Duration: 78 mins
Product Description: CDs are fully printed and brand new in plastic sleeves, wrapped in packs and are sealed with 'Promo CD' stickers. They are not available anywhere else, they are promotional cds, for promotional use.
Tracklists for the disc is as follows:
Smokers Delight (Ep.12) Total Duration = 78 mins 24 secs
1. The International Herb - Culture (3:18)
2. Pass The Kushempeng - Frankie Paul (3:30)
3. Burn It - Ras Fraser Jnr (3:21)
4. Pass Up The Chalice - Barry Brown (3:20)
5. Sensimillia - Leroy Smart (3:25)
6. Babylon Have The Nerve - Gentleman, Freddie McGregor, Publik Report (3:32)
7. Sensemelia Persecution - Buju Banton (4:01)
8. Ganja Farm - Beenie Man (3:26)
9. Guilty - Heavy Roots, Konshens (3:16)
10. Herbs Man - Zamunda (3:42)
11. After A Long Day At Work - Vitchous (4:20)
12. Bag Of Weed - Chezidek (3:00)
13. Marie - Talis (2:55)
14. Real High - Nitty Kutchie (3:21)
15. Mary Jane - Iya Champs (2:54)
16. Red Eye - Isha Bel (3:30)
17. Chalice - Norris Man (3:38)
18. Smoke Next To Me - Tuff Like Lion (3:13)
19. Backyard Sensi - Micah Shemaiah (4:06)
20. The Right Herb - Wayne Marshall (3:45)
21. Sensimillia Babe - Brown Sugar (4:01)
22. Sensimillia Love (Wonderful Feeling) - Faraji & Dwisdom (4:41)
What is 'Smokers Delight'? 
For a long time here has been a call to look at the medicinal benefits and uses of the cannabis plant. This message has been carried through music, words, sounds and power - none more so than in the reggae movement. These tunes combine classic with rare, new with old, hard with soft. A great session collection a hand picked reggae accompaniment, also a great addition to any reggae collection. These tunes reflect feelings, experiences and thoughts about smoking. Generally, being a taboo subject there is plenty of great quality music out there but is not being promoted. This series stands to change that.
Postage:
UK (Inc Mainland Scotland & Northern Ireland) 1st Class Standard Royal Mail 48-hour Post. Worldwide using Royal Mail International. 
Packaging:
Orders of quantity 4 CDs or less will be packaged and posted in cardboard sealed CD envelopes. Orders of 5 or more CDs will be packaged and posted in bubblewrapped envelopes.  Larger orders 20+are sent as parcels.
Eco-Friendly Packaging
We care for the environment
Get more Savings
Create a free account & get the latest news
FREE UK Delivery
Tracking provided for all orders over £24