Street Vibes Vol 46 - Dancehall, Bashment, Urban Reggae Up To The Time 2023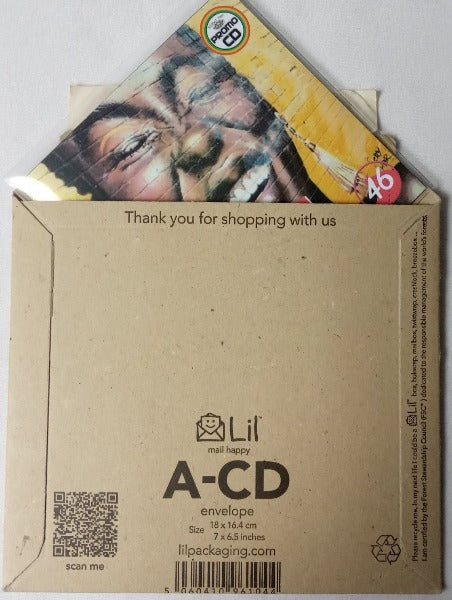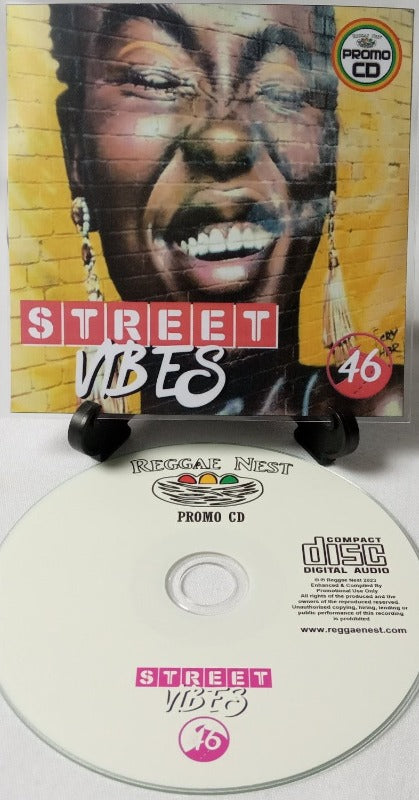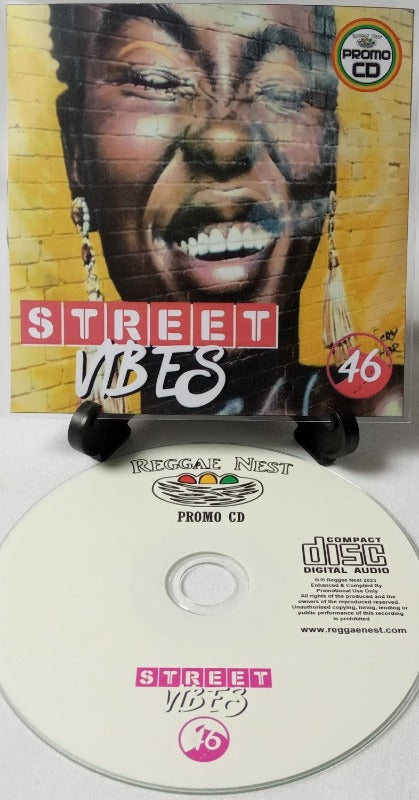 Street Vibes Vol 46 - Dancehall, Bashment, Urban Reggae Up To The Time 2023
Product description
Street Vibes Vol 46

Goods: A brand new promo CD
Music: Volume 46 of the 'Street Vibes' Series
Released: MAY 2023
Number of Tracks: 27
CD Description: Street Vibes Vol 45 provides a captivating blend of Dancehall, Bashment, and Urban Reggae beats. Featuring a range of vibrant and energetic music, it serves as a perfect soundtrack for any lively and upbeat occasion. This collection of tracks is sure to keep you moving and grooving to the very latest in urban reggae, up to the year 2023. With over 20 tracks, this collection provides an authentic insight into the cutting-edge sound of the world's most exciting music scene.
Age of Music: 2022/2023 (latest Releases)
Genres: Dancehall, Urban Reggae, Crossovers
Suitable for: New Dancehall/Reggae fans & Collectors, DJ's
Audio Quality: Audio from FLAC/WAV files
Duration: 78 mins
Product Description: CDs are fully printed and brand new in plastic sleeves, wrapped in packs and are sealed with 'Promo CD' stickers. They are not available anywhere else, they are promotional cds, for promotional use.
Tracklist for the disc is as follows:
Street Vibes Vol 46 - Total Playback = 78 min 23 secs
1. Lord I Thank You - Nitty Kutchie, Buju Banton
2. Hotta Lava - Izoardi, Isreal Voice, Turbulence
3. Serious Ting - Suga Roy
4. God Bless - Macka Diamond
5. Dem A Watch - Cutty Ranks
6. Good Friend Commandments - Badda General
7. Dunce Cheque - Valiant
8. Do Di Rock - Yaksta, Marlon Easy
9. Flexxa - Navigator
10. Mr. Tek It Back - Badda General
11. Over You - Tina, HoodCelebrity
12. Bun You Back - Gappy Ranks
13. Turn It Up - Charly Black, Sean Paul
14. Bruk Out - Gold Up, Jayanai, Leftside
15. Take It Easy - Blaiz Fayah, Busy Signal
16. Bumpa Roll - Queen Ladi Gangsta, JB The Artist
17. Likkle Miss Riding Hood - Moyann
18. The Body - Raine Seville
19. Every Gyal - Wasp
20. Celebration - Blvk H3ro
21. Bricks - Jah Vinci
22. Stack It N Pack It - Mavado
23. Our Love - Jahmiel
24. Prove It - Joby Jay
25. Diamond Love - Morgan Heritage, Popcaan,
26. Party Nice - Busy Signal, Crawba Genius
27. One World - Dangerwass

What is 'Street Vibes' Music?
Street Vibes is full of tracks that have been written and constructed to reflect modern influences, experiences and subjects. Some of these tracks may contain explicit lyrics. There are some tracks in this collection that feature combinations with other artists toasting in the track. The music often captures unique feelings, thoughts, moments and combined with the infectious dancehall beats that make a very pleasurable listen. Also, great to work out/exercise too!  Pumps real hard on big sound system speakers or pro car systems.
Eco-Friendly Packaging
We care for the environment
Get more Savings
Create a free account & get the latest news
FREE UK Delivery
Tracking provided for all orders over £24